⛳
🏀
🏒
NHL, NHLPA Agree on 56-Game 2021 Season
December 21, 2020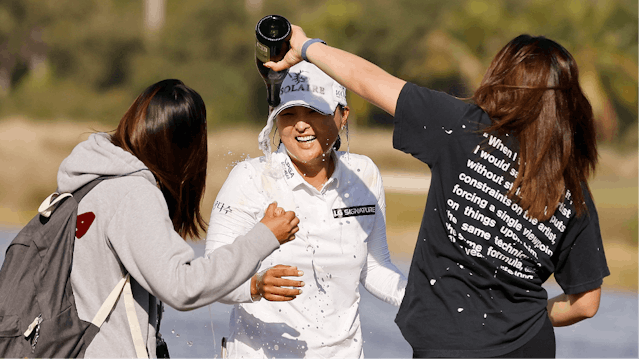 SOURCE: GETTY IMAGES
⛳️Golf: What's a girl gotta do to get paid? Oh, just win the CME Group Tour Championship, the LPGA's final tournament of the year. World No. 1 Jin Young Ko claimed victory yesterday, and with it, a $1.1 million paycheck.
Meanwhile, Canadian Brooke Henderson finished tied for seventh with a 10 under par. Not a bad Sunday at the office.
🏀Basketball: If you missed WNBA superstar Liz Cambage as much as we did last season, we're here to assure you that she's doing just fine in the land down under. After Cambage opted out of the 2020 WNBA season with medical exemption, she stayed in her native Australia and later played in the Women's National Basketball League (WNBL).
🏒Hockey: Okay, we can finally confirm this. The NHL and NHL Players' Association have agreed to a 56-game season, set to begin on January 13th, and announced the temporary realignment that includes a true North division of all seven Canadian teams (amazing). Let the games begin!
🏀

James Harden Has Never Won an NBA Championship

December 18, 2020
SOURCE: MARK J. TERRILL/ASSOCIATED PRESS
The background: Harden has been playing for the Houston Rockets since 2012. An eight-time NBA All-Star, the 2018 MVP has led the league in points per game for the past three years. But despite making the playoffs every season since he was drafted in 2009, Harden has never won a championship.
The lack of ultimate glory is a big sticking point for him, and fair enough. It's hard to be considered one of the GOATs without a championship ring on your finger. Which is why Harden is doing everything he can to get out of Houston.
The situation: After putting up with his diva ways for eight years, the Rockets aren't letting him go easy. So in pursuit of a trade that hasn't yet come, Harden has upped the ante. Over the past few weeks, he's skipped out on practices, broken COVID-19 protocols and gone clubbing (or, what he calls, "just training").
And after missing the team's first two preseason games, Harden finally showed up for work on Tuesday, but not exactly in game shape (no judgment here, who's in game shape these days anyway?).
The next step: While Harden seems to be doing everything he can (without breaching his contract, which still has two years remaining) to push the Rockets to trade him, he finally ended a media blackout to speak on his current priorities.
"Right now, I'm just focused on being here," Harden said during media availability after a team practice yesterday. TBH, we're not buying it.
The Rockets are back on the court tonight at 8 p.m. ET and start the regular season against the Oklahoma City Thunder on Wednesday. Whether Harden will be there to play his former team is anyone's guess.
🎾
🏒
This Week in Sports - Canada
December 18, 2020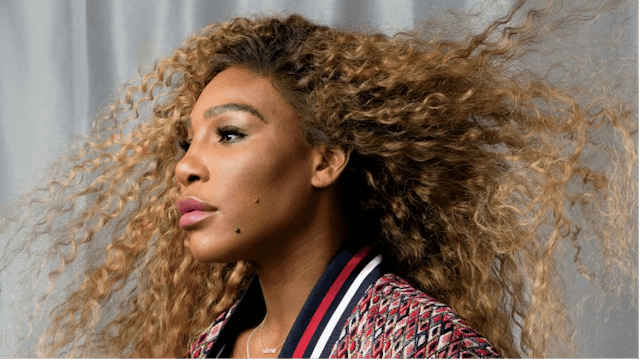 SOURCE: FAST COMPANY
🎾Tennis: While Serena Williams may not have won that elusive 24th major this year, she more than made up for it off the court. The tennis superstar made the annual "Most Productive" list by Fast Company, which also included NASCAR's Bubba Wallace.
While the rest of us were perfecting sourdough starters and working on jigsaw puzzles, Serena was busy training for Grand Slams, investing in startups and women's sports, supporting Black female entrepreneurs, running her S by Serena clothing brand and raising a three-year-old. What can't she do?
🎾More tennis: Things just keep getting better for Leylah Annie Fernandez. After qualifying for her first Grand Slam at the Australian Open in January, then making it to the second round of the U.S. Open and the third round of the French Open, Tennis Canada announced the teenage phenom and Milos Raonic (pronounced RAU-NITCH) as their Players of the Year.
🏒Hockey: The World Juniors start on Christmas Day in Edmonton, and while we're pretty pumped to cheer for Team Canada, we're saving a little room in our GISTer hearts for Team USA, too. We know, we know — but Team USA is about to make herstory.
Team USA's Theresa Feaster will become the first female assistant coach at the World Juniors and at any major men's championship in USA Hockey's history. Next step: following in her dad's footsteps to one day run an NHL team.
🏈

Three Weeks Left in NFL Regular Season

December 14, 2020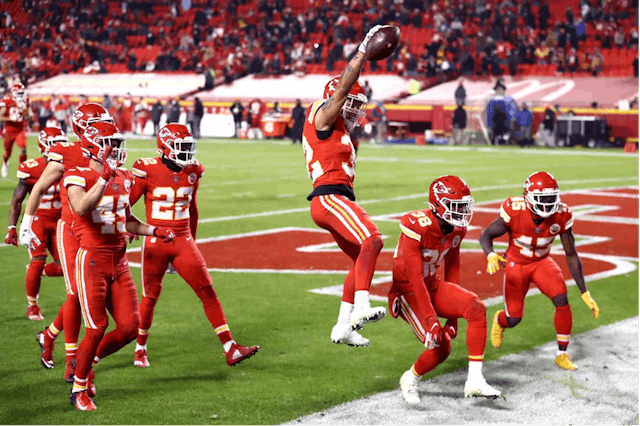 SOURCE: JAMIE SQUIRE/GETTY IMAGES
Who's in: Yesterday, the reigning Super Bowl champion Kansas City Chiefs became the first team to clinch a division title after beating the Miami Dolphins and winning the AFC West. Later in the day, the Green Bay Packers clinched the NFC North with a 31–24 win over the Detroit Lions.
Kansas City and Green Bay now join the Pittsburgh Steelers (who lost their second game in a row to the Buffalo Bills last night) and New Orleans Saints (who are still waiting for the return of quarterback Drew Brees) as the only teams to have punched their tickets to the postseason...so far.
Who's next: After last night's win, the Bills' playoff spot is within reach. A win over the Denver Broncos on Saturday (yes, Saturday) should do the trick. The Cleveland Browns, meanwhile, could end a 17-year playoff drought with a win against the Baltimore Ravens tonight and another against the NY Giants next week.
The LA Rams are close to their first taste of playoff football since Super Bowl LII (aka the Snooze Bowl) where they lost to the New England Patriots, and the Seattle Seahawks aren't far off, either. Check out the full playoff picture here.
Who's out: The still-winless New York Jets were eliminated weeks ago (shocker) and the Jacksonville Jaguars, Cincinnati Bengals and LA Chargers followed in quick succession. After yesterday's matchups, the Houston Texans and Atlanta Falcons joined them in the land of shattered dreams.
⚽

Canada Soccer Stars Huitema and Davies Respond to Racism on Social Media Posts

December 14, 2020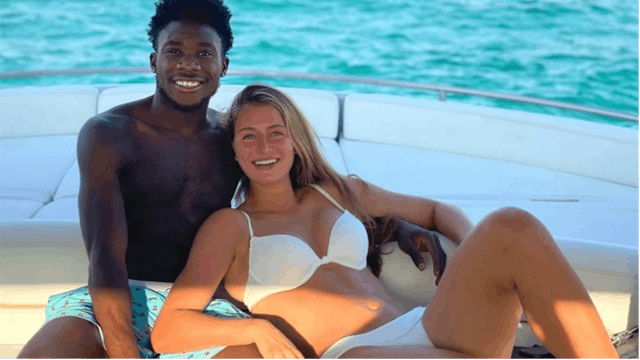 SOURCE: JORDYN HUITEMA/INSTAGRAM
The who: At just nineteen years old, Jordyn Huitema (pronounced HEIGHT-AH-MAH) is one of Team Canada's brightest stars and a top player for French club team Paris Saint-Germain. Back in August, she posted an Instagram (IG) photo (above) of her and her boyfriend, Alphonso Davies, Canada Soccer's Player of the Year and Lou Marsh Trophy winner.
The what: The post has since become a breeding ground for racism. Last week, Huitema used IG stories to share some of the comments and DMs she's received over the past four months, and it started a frenzy, racking up over 15,000 comments. Most of the comments condemn racism, but some condone it. We won't give you any examples, but trust us, they're disgusting.
The response: Huitema and Davies shared photos of each other on IG yesterday in solidarity, and the Canadian soccer community has come out in support of the pair. Canada Soccer released a statement, and women's team head coach Bev Priestman and men's team head coach John Herdman also tweeted their support.
In a year where anti-racism has been at the forefront, this further proves that racism is still raging in the soccer world and beyond. There is still so much work to be done.