⚽

CanWNT Scoreless in Latest Set of Friendlies

June 17, 2021
Source: Canada Soccer/Twitter
Euros: It's been a wild few days in Europe. Tuesday's matches saw a into Germany's stadium, injuring fans during Germany's 1–0 loss to France, and Portugal's 3–0 win over Hungary made Cristiano Ronaldo (who we , BTW) the Euros' .
Yesterday was a touch tamer, with wins for Wales, Italy and Russia, and three more matches are on deck today. Check out all the results and the full schedule .
CanWNT: Both of CanWNT's latest friendlies ended in scoreless draws, and though we're a bit nervous about their offense, the games proved the team's defense is solid as a rock. Let's hope in futbol too.
Speaking of, stay tuned for head coach Bev Priestman's Olympic roster announcement, expected over the next couple of weeks.
CanMNT: The guys can hang, too. They're riding a six-game winning streak, including , and for the first time in forever 24 years, they made it to the final round of World Cup qualifiers ahead of the Qatar 2022 World Cup.
⛳

Men's U.S. Open Preview

June 16, 2021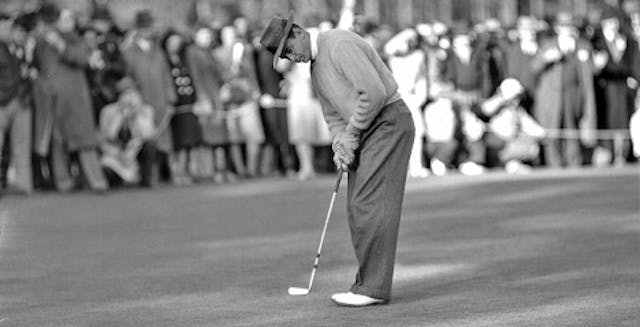 SOURCE: CAROL W. MARTIN/GREENSBORO HISTORICAL MUSEUM
QUOTE OF THE DAY
You not only have to be good, but you also have to have two horseshoes up your rear end. You've got to be lucky to win the U.S. Open.
—Seven-time major winner and four-time U.S. Open runner-up Sam Snead, who apparently was always horseshoe-less.
⛳️ The set-up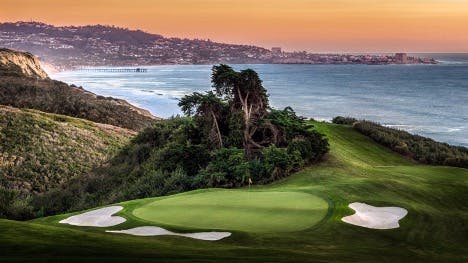 The U.S. Open is the third of four majors in men's golf, held annually on Father's Day weekend in June. This is the 121st edition of the event, and unlike the Masters, which is hosted every year at the same course (Augusta National in Georgia), the U.S. Open travels from sea to shining sea, showcasing the most challenging courses in the country.
This year's tournament will see 156 golfers — including seven amateurs and nine previous winners — vying for a piece of the $12.5-million prize pool, a $2.25-million winner's check and a shiny trophy.
All golfers will tee off in groups of three today and tomorrow, and the top 60ish who make the cut will continue on to the weekend rounds before the champion is crowned on Sunday.
🥊 The reigning champ...and his biggest rival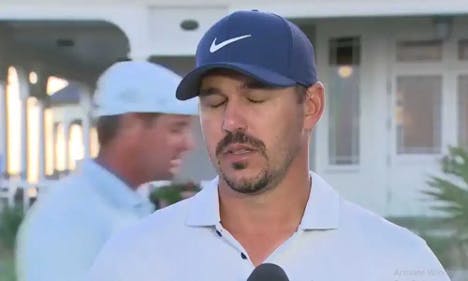 🇺🇸Bryson DeChambeau: Usually known for his flat cap and nerdy scientific approach to the game, the 2020 winner is making news lately for his un-golf-like public feud with Brooks Koepka (pronounced KEP-kah), which seems to stem from Koepka's annoyance at DeChambeau's methodical slow play on the course.
DeChambeau already has a PGA TOUR win under his belt this year — the Arnold Palmer Invitational — but since then, he's been hanging out in the middle of the leaderboard and living rent-free in Koepka's head.
🇺🇸Brooks Koepka: The 2017 and 2018 U.S. Open winner has ridden the press train these days, soaking up the meme-fueled media attention, but has also played pretty well on the course too. He won the Phoenix Open in February and came second at the PGA Championship (also a major) in May.
🏆 The other major winners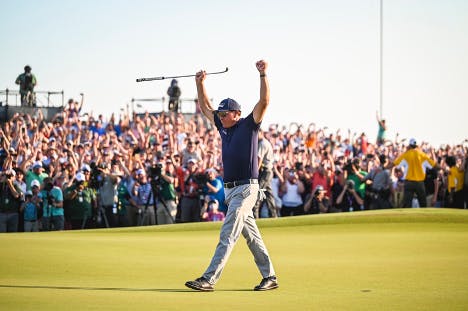 🇺🇸Phil Mickelson: The 50-year-old known as "Lefty" shocked the sports world when he won the PGA Championship last month, becoming the oldest major winner in history. The U.S. Open is the only major missing from Mickelson's trophy case, and having finished as the runner-up six times, it's very possible he'll win his first ever this weekend to finally complete the career Grand Slam.
🇯🇵Hideki Matsuyama: The man from Japan inspired a nation earlier this year at the Masters when he became the first Japanese golfer to win a men's major. Like Phil, the U.S. Open has remained elusive for Matsuyama, and his best finish was second place in 2017. Maybe having a green jacket on his shoulders will help propel him this time?
🇮🇪Shane Lowry: Technically, he's the reigning British Open (also known simply as The Open) champ, but he actually won in 2019 given last year's event was canceled. Still, the world's 40th ranked golfer has been playing great lately, tying for fourth at the PGA Championship and sixth at the Memorial Tournament.
🏌️‍♂️ The contenders
🇪🇸Jon Rahm: The golf gods giveth, and the golf gods taketh away. The Spaniard was on fire at the recent Memorial Tournament, with a six-stroke lead after three rounds. Then, he was told on the 18th green that he had COVID-19 and was forced to withdraw. It was heartbreaking to watch the new dad cry on the course, so we're hoping this will be a better weekend.
🇺🇸Jordan Spieth: After winning three majors early in his career, Spieth spent the last few years in a lull, but after "reverse engineering" his swing (whatever that means) he broke his drought with a Valero Open win in April and has notched seven top 10 finishes already this season.
🇺🇸Collin Morikawa: With a season to rival Spieth's, Morikawa has six top 10 finishes this year, including a win at the World Golf Championships, and a runner-up position at the Memorial Tournament. He's also not new to winning majors, having won last year's PGA Championship, despite only turning pro just two years ago.
🇬🇧Rory McIlroy: Despite being a four-time major winner (including the 2011 U.S. Open), it's been an up-and-down few years for the Northern Irishman. He missed the cut at the unofficial fifth major, the Players Championship, in March and at the Masters in April, but won May's tough Wells Fargo Championship.
🙈 The no-shows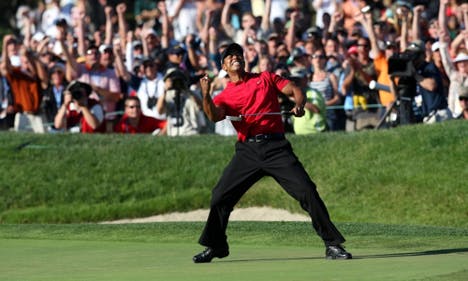 If you can't find your favorite golfer on this week's leaderboard, it might be because he's not actually playing. To make the field, the U.S. Open requires players outside of the top 60 to play in qualifiers, and this year, big names like Rickie Fowler and Jason Day didn't qualify. Better luck next year.
And of course, Tiger Woods is still out of contention as he recovers from his car accident injuries. NBC tried to get him in the broadcast booth for the event, but he "didn't want to do it." Fair.
👀 How to watch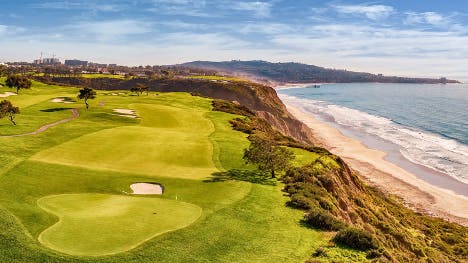 Because it's a biggie, all the action over the next four days will be broadcast live. Coverage will air on Peacock, NBC and Golf Channel in the U.S. and TSN and Golf Channel in Canada. Tee times will be released today, so check them out here and enjoy the 121st U.S. Open!
⚽

Exciting Action Continues for Day 4 of Euros

June 14, 2021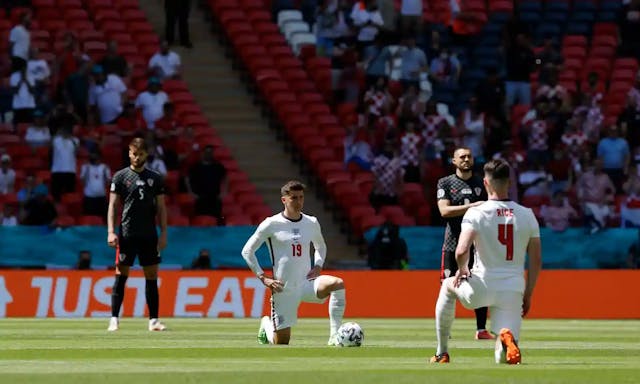 Source: Tom Jenkins/The Guardian
❤️Christian Eriksen is stable: In a very scary moment in Denmark's first match against Finland on Saturday, Danish footballer Eriksen collapsed on the field due to a now-confirmed cardiac arrest, requiring trainers to use a defibrillator and while on the pitch.
🏴󠁧󠁢󠁥󠁮󠁧󠁿England gets booed: Despite and players, the team was still booed by their home crowd when they took a knee ahead of yesterday's first match against Croatia (which England won 1–0). Disgusting. For more on this continuing act of racism, check out of The GIST of It.
🗓On the schedule: There are today, but only one is a can't-miss: Spain vs. Sweden at 3 p.m. ET. With both teams dealing with COVID-19 woes, some youngsters will be in the spotlight.
🎾

Barbora Krejčíková and Novak Djokovic Take Home 2021 French Open Titles

June 14, 2021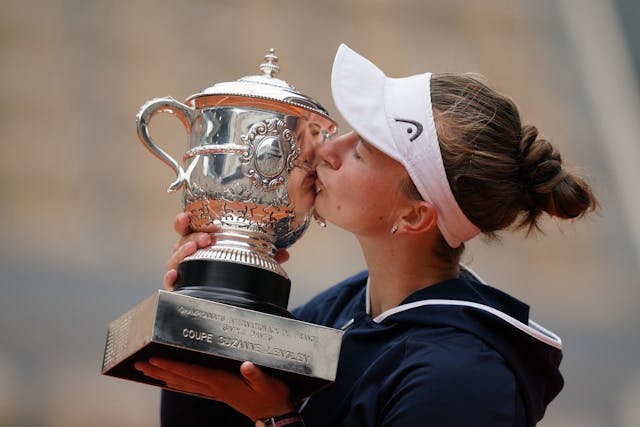 Source: Barbora Krejčíková/Twitter
Women's draw: Another year, another new women's singles champ. Barbora Krejčíková (pronounced krey-CHEE-koh-va), who had one singles title to her name before this tournament, beat Anastasia Pavlyuchenkova (pronounced pav-loo-CHEN-koh-va) on Saturday for her first ever major.
And yesterday, alongside partner Kateřina Siniaková (pronounced seen-yah-KOH-va), Krejčíková won the women's doubles title too, becoming the first woman since 2000 to win both the singles and doubles titles at the French Open. Get a girl that can do both.
Men's draw: World No. 1 Novak Djokovic continued his tennis world domination yesterday, winning his second French Open title and 19th Grand Slam title against No. 4 Stefanos Tsitsipas (pronounced see-see-PASS).
Up next: Wimbledon, mate. The next Grand Slam begins on June 28th, with Djokovic trying to tie Roger Federer (who is also playing) and Rafael Nadal () at 20 Grand Slam titles, whileSerena Williams is gunning for a . Mark your calendar.
🏀
⚾
⚽
Sports Quick Hits: Monday June 14th, 2021
June 14, 2021
Source: Darren Abate/AP
🏀NBA: Sure, , but the NBA action we're excited about is behind the bench. The Portland Trail Blazers and Orlando Magic are both searching for new head coaches, and not one, but two women — San Antonio Spurs assistant Becky Hammon and University of South Carolina head coach Dawn Staley — . About damn time.
⚽️Soccer: Though world No. 8 CanWNT delivered a disappointing 0–0 performance against No. 27 Czech Republic on Friday (just a day before what should be a national holiday: Christine Sinclair's birthday, who's now 38), coach Bev Priestman against a tough No .7 Brazilian squad today at 3 p.m. ET.
⚾️MLB: The Toronto Blue Jays 18-4 win over the Boston Red Sox yesterday looked more like a football score than baseball, with the Jays hitting eight home runs, the most ever by any visiting team at the Sox' 109-year-old Fenway Park. Watch them close out the series at 7:10 p.m. ET tonight. Do we hear nine?