🏈

NFL playoffs: Are you not entertained?

January 24, 2022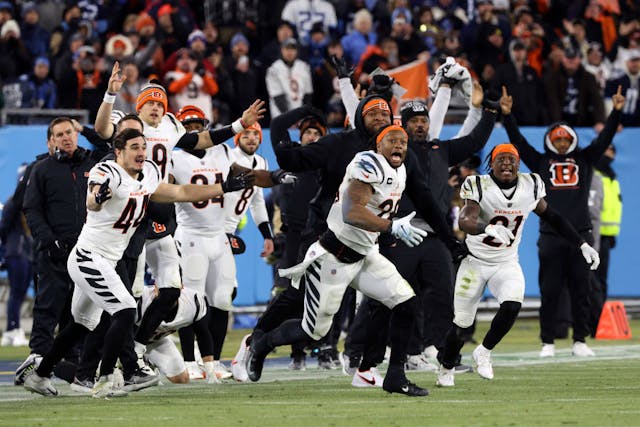 DYLAN BUELL/GETTY IMAGES
The GIST: Four elimination games, four walk-off wins. Our jaws are still on the floor after an incredible weekend of NFL Divisional Round playoff action.
AFC: On Saturday, led by rookie kicker Evan "Money Mac" McPherson and his next-level confidence, the No. 4 Cincinnati Bengals started things off by upsetting the top-seeded Tennessee Titans 19–16.
Cincy will travel to face QB Patrick Mahomes and the Kansas City Chiefs, who won a thrilling 42–36 overtime battle against the Buffalo Bills after three lead changes in the final two minutes of regulation. What a game.
NFC: In another clutch kicking performance — this one from San Francisco 49er Robbie Gould, the Niners canceled eliminated QB Aaron Rodgers and the No. 1 Green Bay Packers with a snowy 13–10 win, the biggest upset of the weekend.
Next weekend's NFC Championship game will feature the 49ers vs. the LA Rams, who overcame a 24-point comeback led by Tampa Bay Buccaneers QB Tom Brady and stunningly defeated the defending champs 30–27 with a walk-off FG yesterday. Wow.
Driving the conversation: Speaking of Brady, yesterday's 329-yard performance could be his last. The GOAT is reportedly uncertain about playing next year and will take some time this offseason to make a decision. We pretend we do not see it.
🏈

NFL playoffs: Guess who's back, back again

January 21, 2022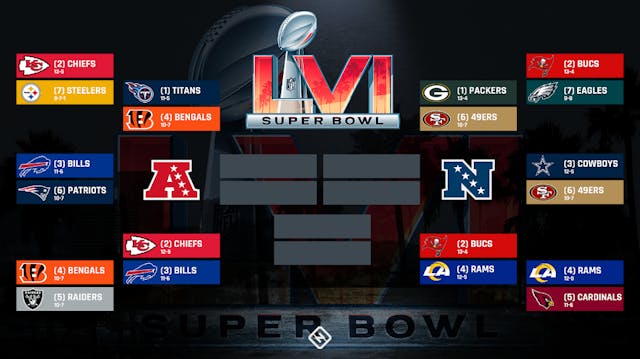 GETTY IMAGES
The GIST: After last week's thrilling Super Wild Card slate, it's been a long four days without football. Pause the Super Bowl halftime show trailer, and get ready for this weekend's Divisional Round games, starting with the AFC matchups.
No. 1 Tennessee Titans vs. No. 4 Cincinnati Bengals — Tomorrow at 4:30 p.m. ET
Fresh off a bye week, the top-seeded Titans will gain a huge boost with the (likely) return of star running back (RB) Derrick Henry. But don't count out the Bengals, who are riding high after their first playoff win since 1991, before texts were even invented.
No. 2 Kansas City Chiefs vs. No. 3 Buffalo Bills — Sunday at 6:30 p.m. ET
Expect a lot of scoring with two elite quarterbacks (QBs) — Kansas City's Patrick Mahomes and Buffalo's Josh Allen — set to square off. If KC's stadium runs out again, these two squads will provide more than enough fireworks.
No. 1 Green Bay Packers vs. No. 6 San Francisco 49ers — Tomorrow at 8:15 p.m. ET
Transitioning to the NFC, the Aaron Rodgers–led Packers face a 49ers team that only squeaked into the next round because of their opponent's terrible decision-making. San Francisco star wide receiver (WR) Deebo Samuel will help keep things close, but Green Bay should send the Niners packing.
No. 2 Tampa Bay Buccaneers vs. No. 4 LA Rams — Sunday at 3 p.m. ET
GOAT QB Tom Brady and the defending champion Bucs vs. reigning Defensive Player of the Year defensive tackle Aaron Donald and the Rams. If you can watch only one game this weekend, make it this one.
🏈

NFL Playoffs Preview

January 15, 2022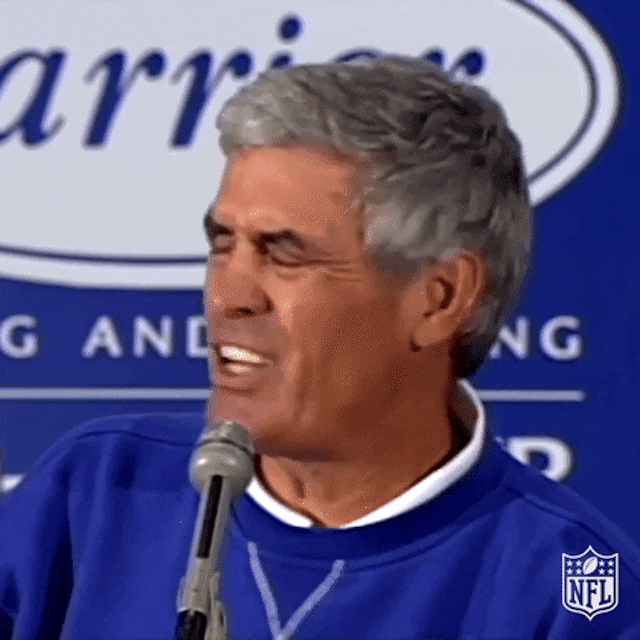 SOURCE: NFL/GIPHY
QUOTE OF THE DAY
Playoffs?! Don't talk about playoffs! You kidding me? Playoffs?! I just hope we can win a game!
— Former Indianapolis Colts head coach Jim Mora, giving one of the most infamous interviews in NFL history. Sorry, Colts fans, no playoffs for you this year.
⚙️ The setup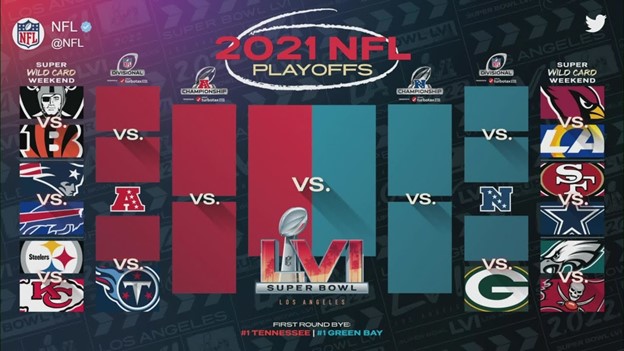 The NFL introduced an expanded playoff format last season, so nearly half of the 32 teams now have a chance to make a Super Bowl run. It all kicks off with a "super" wild card weekend slate featuring six (!!!) games running today through Monday.
Winners advance to next weekend's divisional playoffs, followed by the conference championships on January 30th, and it all culminates with the true reason for the season, the Super Bowl on February 13th.
The Tennessee Titans and Green Bay Packers secured the No. 1 seeds in the AFC and NFC, respectively, earning them automatic byes to next week's divisional round. But that still leaves 12 teams and three days of wild card action…
🔴 AFC Wild Card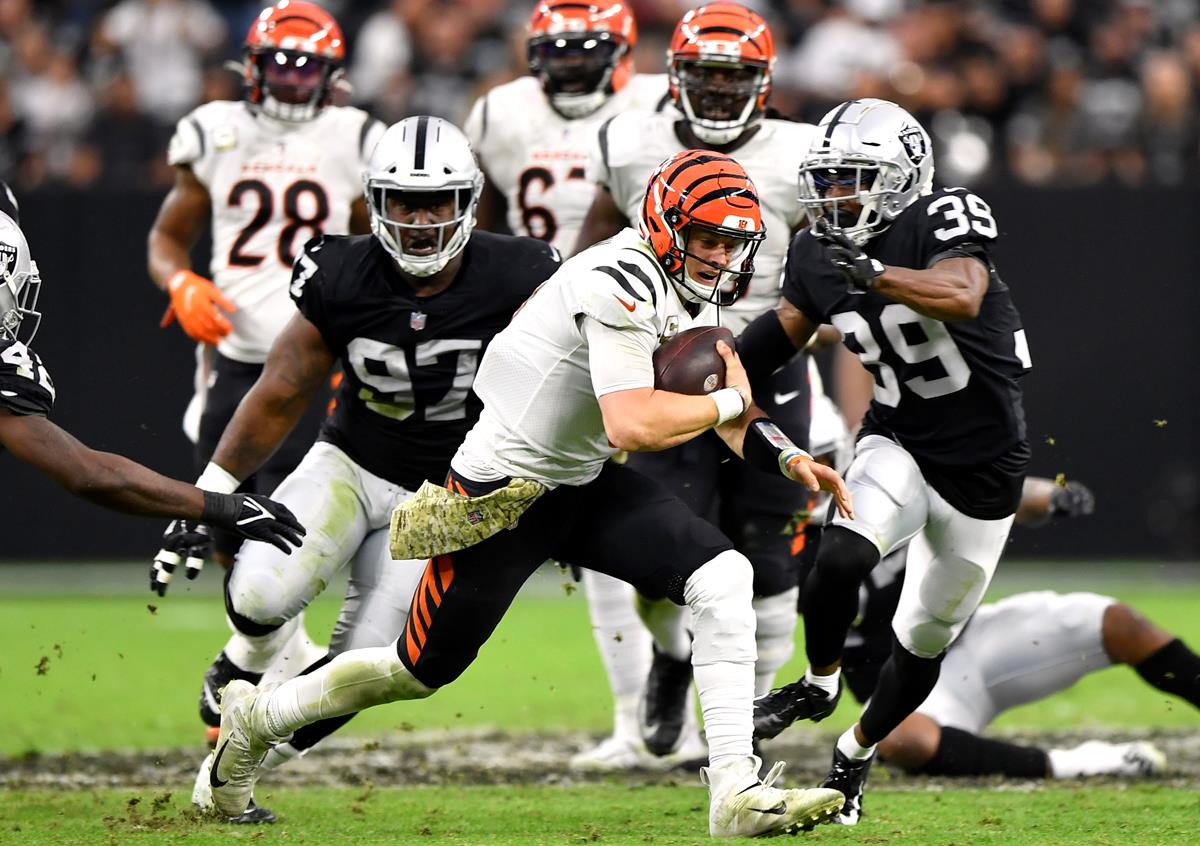 No. 4 Cincinnati Bengals vs. No. 5 Las Vegas Raiders — Today at 4:30 p.m. ET
Luck was on Vegas' side last week, as the Raiders punched their playoff ticket in the (literal) final seconds of the regular season after a tumultuous year for the front office.
As for the Bengals, it's been an up-and-down season, but the ups have been sky high thanks to quarterback (QB) Joe Burrow. Our prediction? More Jackpot Joey dance moves coming to a Cincinnati locker room soon. Party.
No. 3 Buffalo Bills vs. No. 6 New England Patriots — Today at 8:15 p.m. ET
A matchup of AFC East rivals, this will be the third meeting between the Bills and Pats this season. New England squeaked out a win the first time around, but Buffalo triumphantly won the most recent battle. This rubber match is anyone's for the taking.
No. 2 Kansas City Chiefs vs. No. 7 Pittsburgh Steelers — Tomorrow at 8:15 p.m. ET
Even Pittsburgh QB Ben Roethlisberger (who could be making his final NFL appearance) is saying his squad doesn't "have a chance," and TBH, we have to agree, especially with KC's QB Patrick Mahomes on fire as of late.
🔵 NFC Wild Card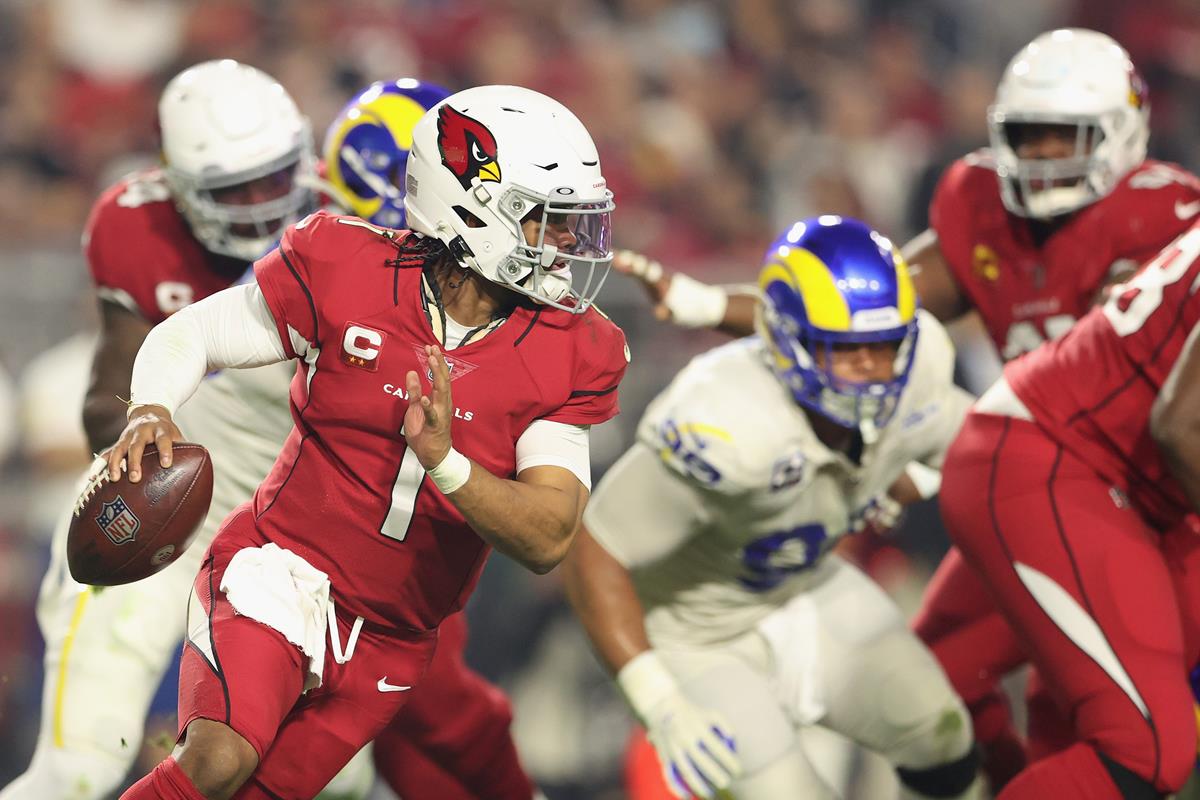 No. 2 Tampa Bay Buccaneers vs. No. 7 Philadelphia Eagles — Tomorrow at 1 p.m. ET
The defending champion Bucs started the season as Super Bowl favorites, but many of their offensive weapons have gone down with injuries (or have just walked off the field). That said, we know better than to bet against Tompa Tom Brady.
No. 3 Dallas Cowboys vs. No. 6 San Francisco 49ers — Tomorrow at 4:30 p.m. ET
The 'Boys rode a lockdown defense to the NFC East title, but the 49ers' momentum can't be overlooked — they've won four of their last five games. Expect the latest edition of this storied rivalry to be a close one.
No. 4 LA Rams vs. No. 5 Arizona Cardinals — Monday at 8:15 p.m. ET
Another intra-conference battle, the Cardinals started the season 7-0, but the Rams came on late to win the NFC West.
With the Rams' record-breaking wide receiver (WR) Cooper Kupp on one side and Cardinals powerhouse QB Kyler Murray on the other, the real winners will be fans of high-scoring games. So…everyone?
💪 Players to watch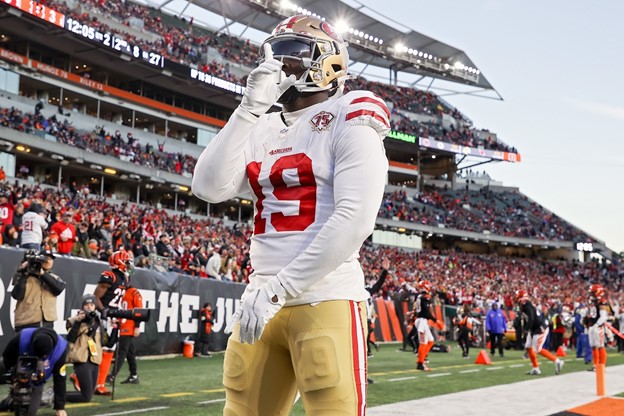 Deebo Samuel, San Francisco 49ers, WR: One of the most underrated players in the league, Samuel quietly posted a record-breaking season in SF, catching and rushing for multiple touchdowns (TDs). Oh yeah, and he can throw 'em too.
Dak Prescott, Dallas Cowboys, QB: After suffering a season-ending ankle injury last year, Dak is back and looking better than ever, fresh off a five-TD performance in Dallas' regular-season finale. Can he keep it going?
Aaron Donald, LA Rams, defensive tackle: The reigning Defensive Player of the Year posted 12.5 sacks this season and is the centerpiece of a stacked Rams defense. Opposing QBs, good luck.
Joe Mixon, Cincinnati Bengals, running back (RB): Mixon rushed for 1,205 yards this year, the third-most in the league. And the last time his Bengals faced the Raiders, he had two TDs. Expect more of that today.
Travis Kelce, Kansas City, tight end (TE): Kelce has hauled in nine TDs this season, the most of any TE in the league. His bromance with his QB and bestiePatrick Mahomes will be a key one to watch.
🔮 Prediction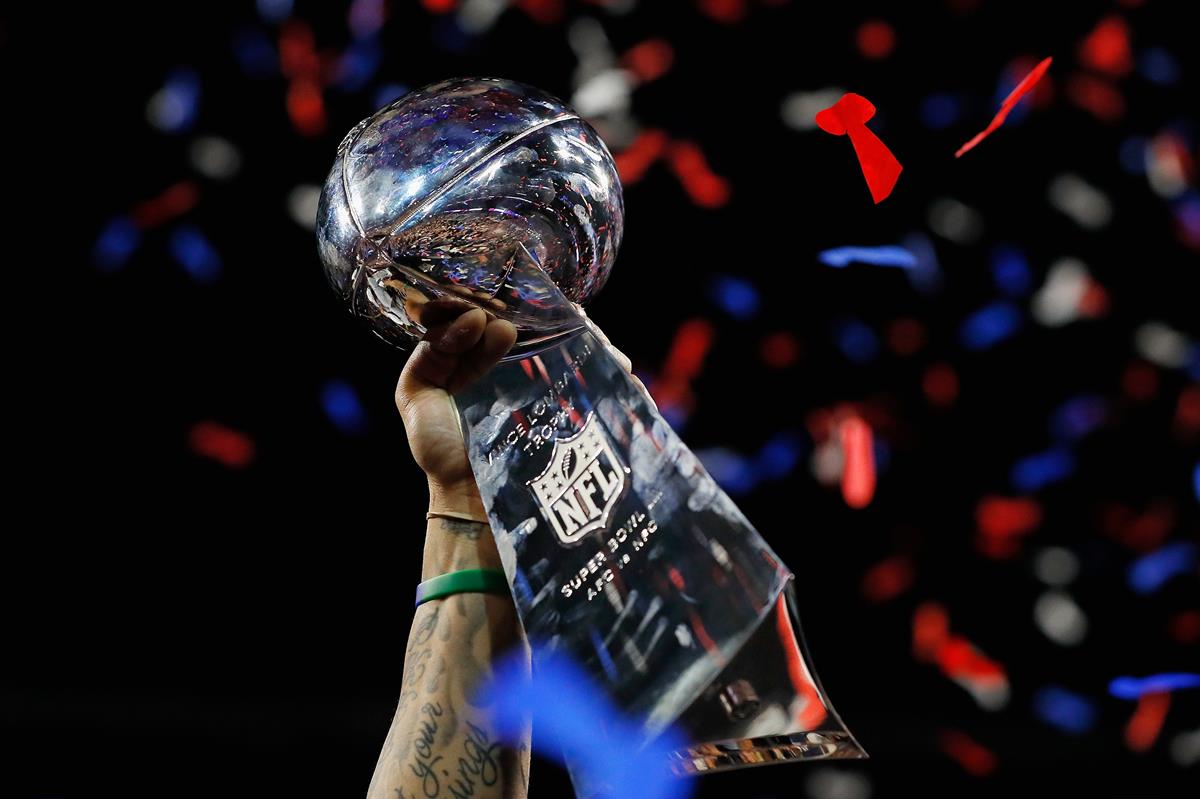 A playoff preview wouldn't be complete without a Super Bowl prediction, so here's ours. Vaccination status and untruths aside, we can't deny Packers QB Aaron Rodgers and his MVP-worthy season. We're picking Green Bay to win the NFC.
As for the AFC, the Titans may be the top seed, but Kansas City is undoubtedly the team to beat. We're thinking KC will make a third straight Super Bowl appearance.
And if you see us changing our prediction after a wild, wild card weekend…no you didn't. Cue up Taylor Swift and, baby, let the games begin!
🏈

NFL: End of the regular season

January 10, 2022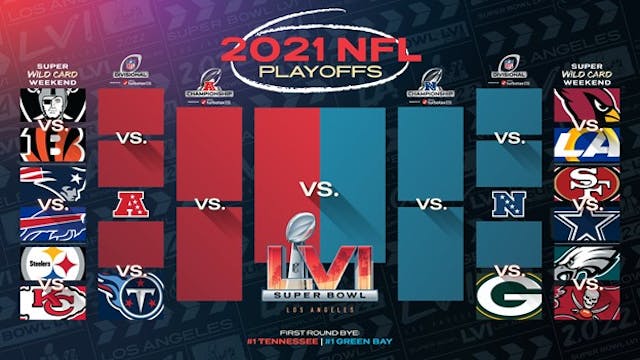 NFL/TWITTER
The GIST: The NFL's first 18-week season did not disappoint, with a handful of records broken and the final three playoff berths clinched during yesterday's regular-season finale. Jim Mora, it's your time to shine.
Who's in: The Las Vegas Raiders beat the LA Chargers 35–32 in overtime during yesterday's thrilling "win and you're in" Sunday Night Football matchup, clinching the No. 5 seed in the AFC. No ties here.
The Pittsburgh Steelers made the playoffs by the skin of their teeth — thanks to a walk-off field goal in overtime to beat their rival Baltimore Ravens and the Raiders' victory, the Steelers are the AFC's seventh seed. Clutch.
Over in the NFC, San Francisco 49ers quarterback (QB) Jimmy Garoppolo led his squad to a 27–24 come-from-behind overtime win over the LA Rams, punching their playoff ticket.
Who's out: Look away, Colts fans. The Indianapolis Colts entered Sunday with their playoff fate in their hands, but squandered their chance in a 26–11 loss to the lowly Jacksonville Jaguars. No, we're not clowning around.
Making history: Aided by the extra week of play, some long-standing single-season records fell yesterday. Miami Dolphins wide receiver (WR) Jaylen Waddle notched the most rookie receptions (102), while Pittsburgh Steelers outside linebacker T.J. Watt (of Watt brothers fame) tied the sacks mark (22.5).
And no records list would be complete without mentioning Tampa Bay Buccaneers QB Tom Brady, who recorded the most completions (472) and became the oldest player to pass for 5,000 yards. Because of course.
Looking ahead, there's more history to be made when the playoffs begin with Wild Card action next weekend. Stay tuned for a full special edition preview then — you're welcome in advance.
🏈

College Football National Championship Preview

January 09, 2022
SOURCE: ALABAMA FOOTBALL/TWITTER
QUOTE OF THE DAY
Absolutely not accurate.
— Alabama defensive coordinator (DC) Pete Golding when asked if it was true that head coach Nick Saban gave out fewer "ass chewings" this season. Sounds like an HR violation to us…
🏆 It all comes down to this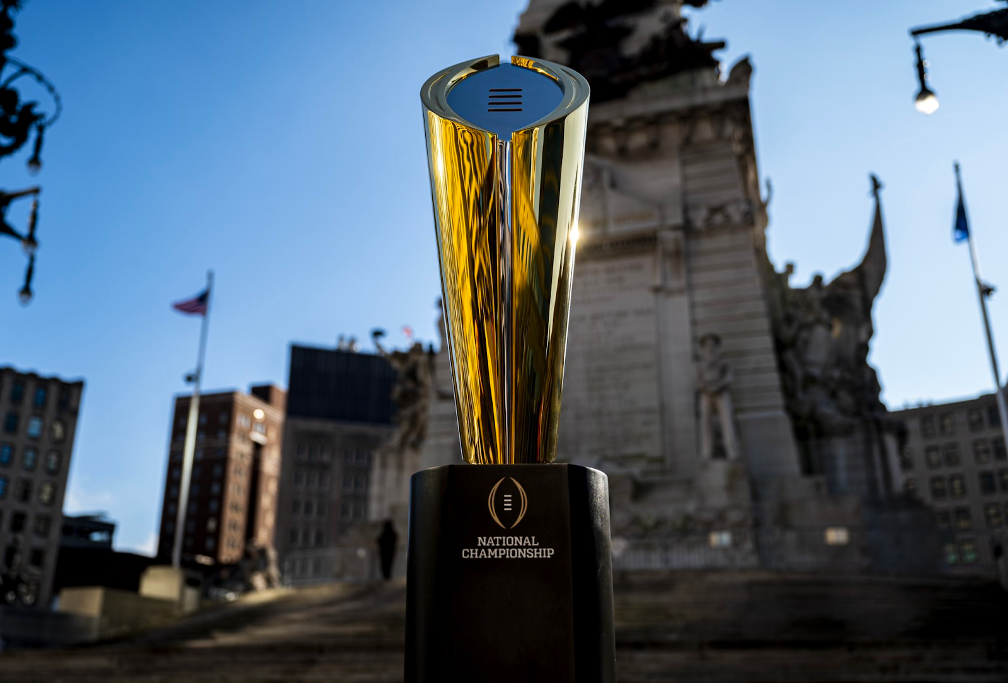 Despite the ups and downs (and the many variants) faced this season, tomorrow night's College Football Playoff (CFP) National Championship will feature the two teams everyone mostly expected: No. 1 Alabama vs. No. 3 Georgia.
The semifinals were cute: Alabama quickly silenced Cincinnati 27–6 in the Cotton Bowl Classic while Georgia manhandled Michigan 34–11 in the Orange Bowl. Thanks for playing!
Now before you buy earplugs to block out the "Roll Tides" or change the channel to The Bachelor, hear us out: this game offers plenty of fun storylines to keep even salty Cincinnati fans interested.
Just over a month ago, Alabama beat Georgia 41–24 in the SEC championship, completely flipping the narrative about these two teams: undefeated Georgia had been the top-ranked team since Alabama's upset loss to Texas A&M on October 9th.
For the first time in a long time, the Crimson Tide weren't the favorites. But 41 points and a Heisman Trophy–level performance from quarterback (QB) Bryce Young later, Alabama once again became the top dog. Sorry, Uga.
Not to worry Georgia fans — many believe that Alabama played an incredible game, while Georgia had an off day. Even Vegas has the Bulldogs as the slight favorite to take home the title. Interesting.
🤝 The teams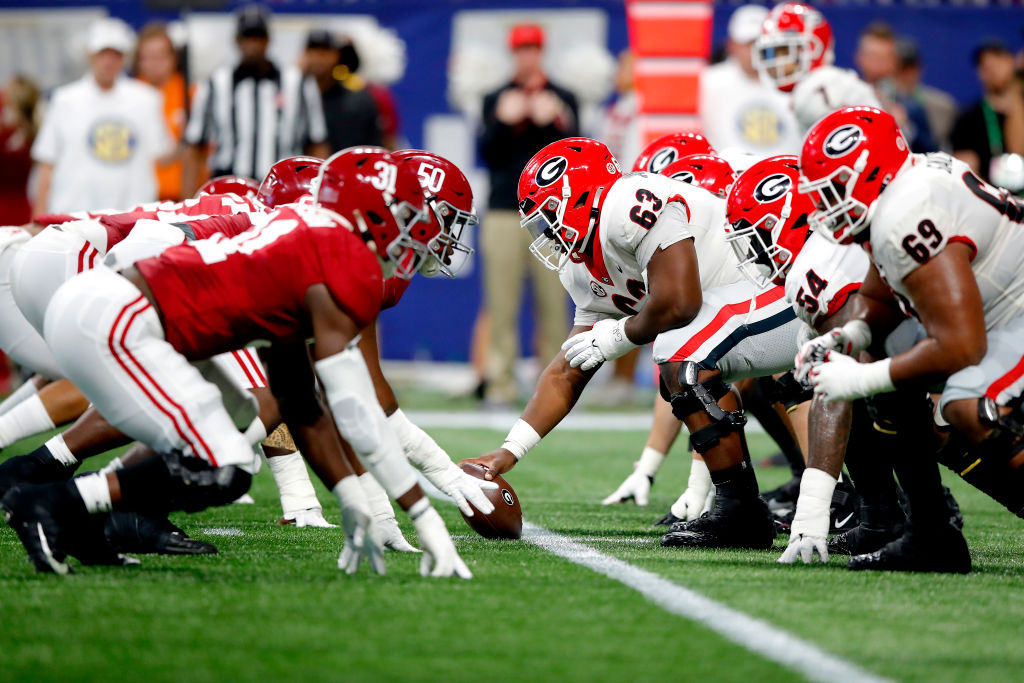 Defending champ Alabama is making its sixth National Championship appearance in the last seven seasons, and a win would earn them their fourth title in that time. Absolute dominance.
What's kept the Tide rolling all season is their incredible offense, led by superstar Young and supported by a host of talented receivers and running backs.
But teams have found success against 'Bama by exploiting their weaker offensive line. Both Texas A&M and LSU were able to sack Young four times, a feat Georgia never accomplished in the SEC championship. Taking notes, Dawgs?
As for Georgia, this will be their first National Championship appearance since the 2017–18 season when they lost to — wait for it — Alabama. A victory would give the Bulldogs their first championship since 1980.
Though Georgia QB Stetson Bennett and the offense are nothing to ignore, the Bulldogs' defense has been the focal point. Head coach Kirby Smart was formerly Alabama's DC and is one of the best defensive head coaches in the nation.
But when Georgia played Alabama last month, the Tide scored the most points against the Bulldogs' defense all season. They didn't adjust to 'Bama's tricks, and whether or not they learned from their mistakes will be key in tomorrow's championship.
🏈 The QBs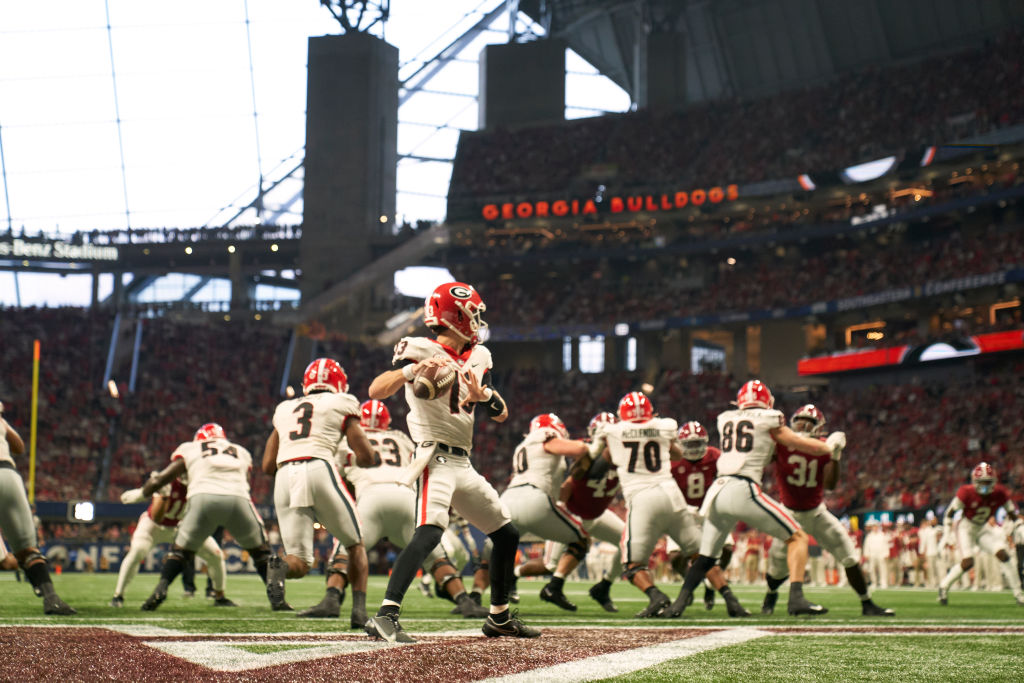 Forgive us for sounding like a broken record, but Alabama QB Bryce Young really is all that. He's exceptional at making great plays in tough situations and somehow always seems to find his receivers. Expect another standout performance.
Georgia QB Stetson Bennett is another story, though. Originally a walk-on, Bennett had to fight for his opportunities and was only given the starting spot after former starter JT Daniels was injured earlier this season.
But Bennett has proven himself. Though still doubted by some Georgia fans, he has the confidence and competitiveness to deliver the 'Dawgs their first title in 40 years. Maybe then he'll upgrade from his flip phone.
🥇 The playmakers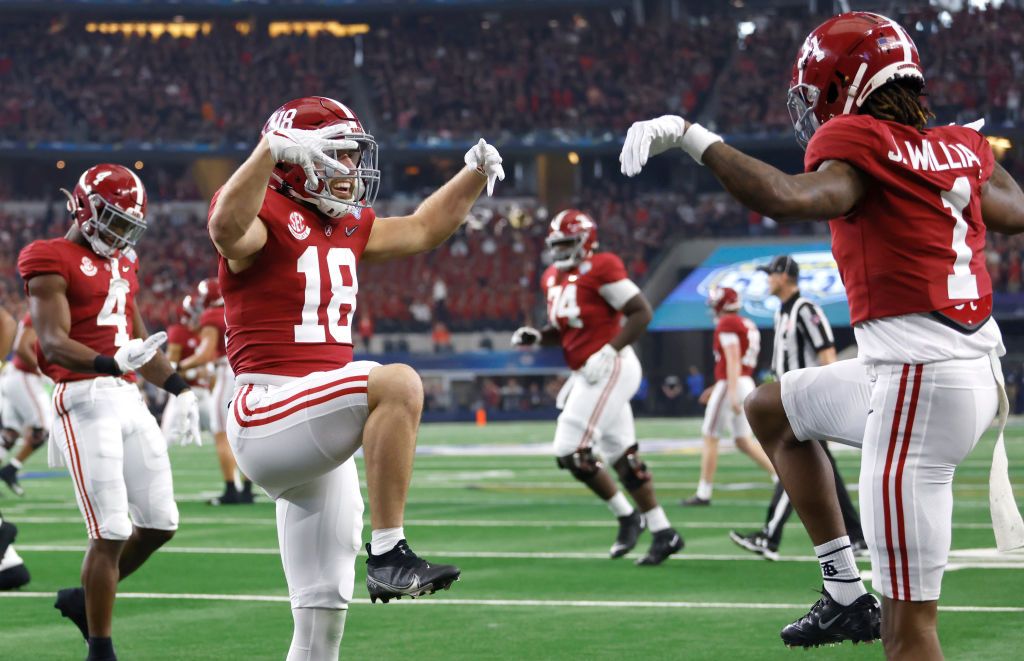 After Alabama receiver John Metchie III tore his ACL in the SEC championship, Ohio State transfer Jameson Williams became Young's new favorite target. He scored two touchdowns (TDs) against Georgia and led with seven receptions against Cincinnati. Flex that Crimson Crane.
Another 'Bama player to watch? Wide receiver Slade Bolden, who had three receptions and a TD against Cincinnati in the semis and is a reliable option with a knack for being in the right place at the right time.
For Georgia, tight end Brock Bowers continues to impress. The SEC Freshman of the Year has scored in the Bulldogs' last three games and has posted a single-season program record 12 TDs so far. We wouldn't be surprised if that record is extended tomorrow night.
On defense, Georgia senior defensive lineman Jordan Davis deferred entry into the NFL to bring a title home to Athens. One game shy of his goal, Davis has held up his end of the bargain, winning both the Outland Trophy, given to the nation's best inside lineman, as well as the Bednarik Award, given to the nation's best defensive player. Blockers, beware.
📋 The coaches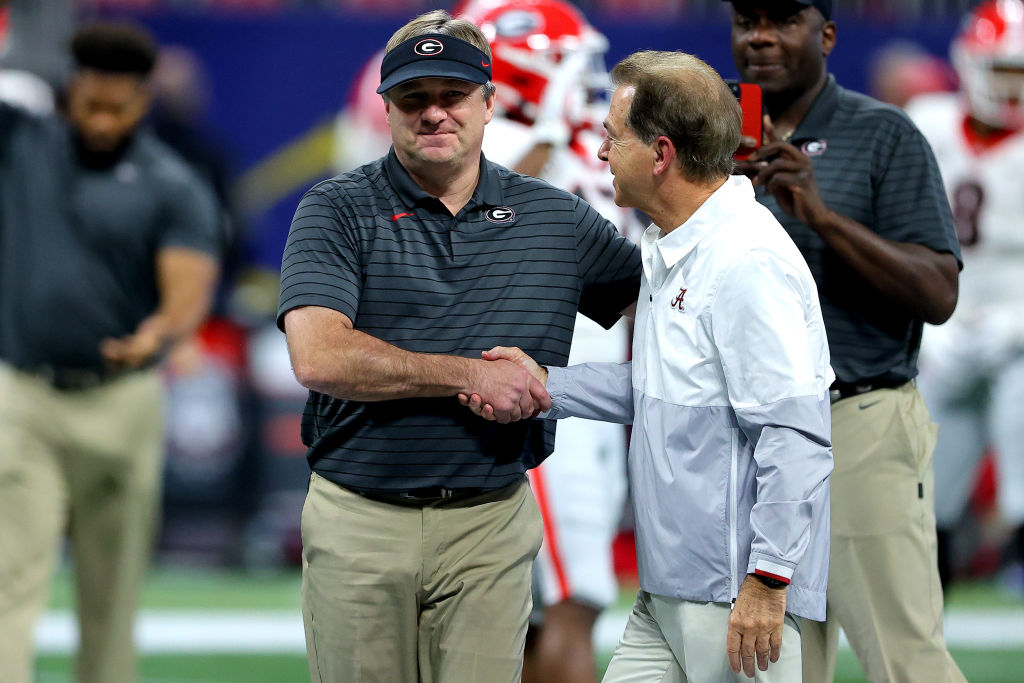 Fifteen years and five days ago, Nick Saban was welcomed to Tuscaloosaas Alabama football's head coach. Since then, he's won 183 games and six national titles and produced 39 first-round NFL draft picks. That's one impressive resume.
Saban is willing to do whatever it takes to win, and — thanks to all the talent on his roster — can adjust his game plan with ease.
An example? 'Bama's money-maker has been Young's connection with his receivers. But against Cincinnati, they shifted gears to focus on the rush, allowing running back Brian Robinson Jr. to rack up a record-setting 204 yards. Casual.
Georgia head coach Kirby Smart is well aware of Saban's success. As Alabama's former DC, Smart has joined a host of other former assistants who have tried (and failed) to best their old boss.
Smart is 0-4 against Saban, but he isn't an outlier. Saban was 24-0 (!!!) against former assistants until Texas A&M's Jimbo Fisher became the first to earn a winwhen his Aggies beat 'Bama.
But can Smart be the next? Depends on what Saban throws at him and how willing Georgia is to make a change. Smart has been criticized for his inability to adjust when things aren't working.
Will Smart learn from his mistakes? Or will the teacher once again humble the student?
Call us crazy, but we're going against the gamblers and putting all our chips on the Crimson Tide. Let's roll.
📺 How to watch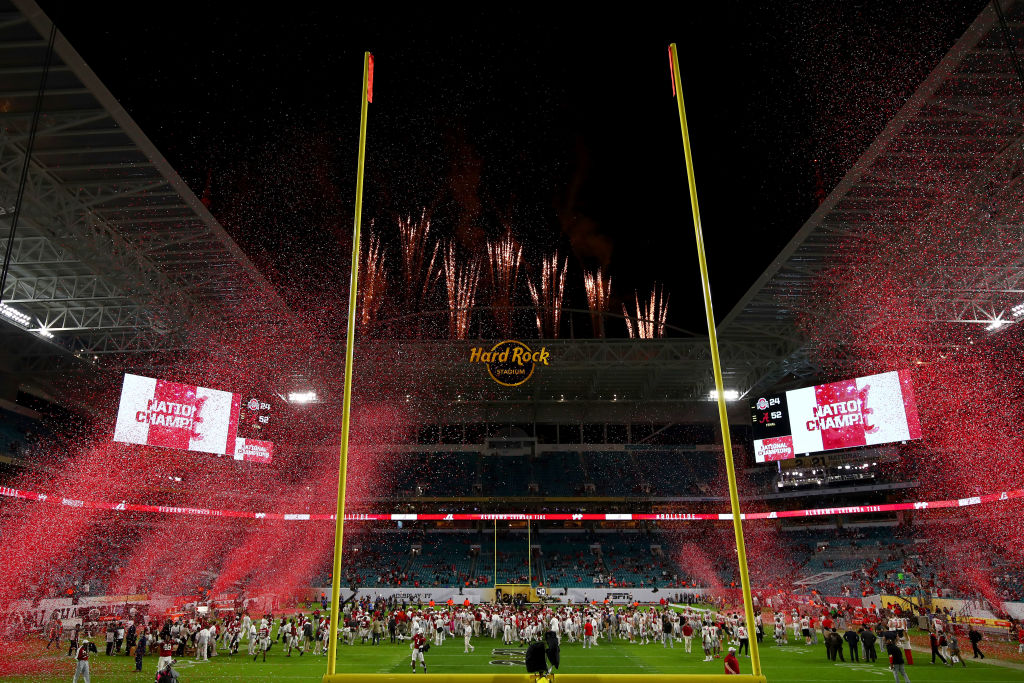 The battle begins tomorrow at 8 p.m. ET at Lucas Oil Stadium in Indianapolis, Indiana. It'll air live on ESPN (as well as on the ESPN app) in the U.S. and on TSN in Canada.
Who do you think will take home the trophy? Tweet at us @thegistusa or @thegistca and tell us your hottest CFP take.