Nazem Kadri pushes Lightning to the brink
June 24, 2022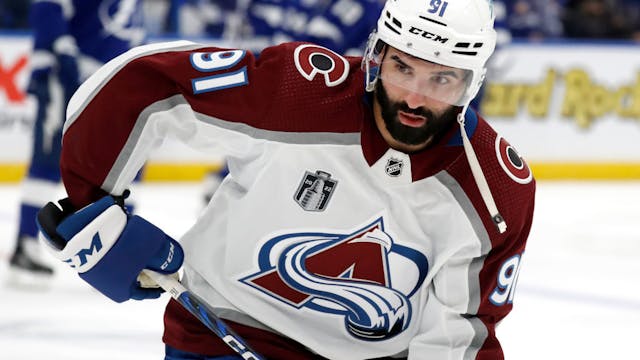 SOURCE: ELIOT J. SCHECHTER/GETTY IMAGES
The GIST: The Stanley Cup has entered the chat. The two-time defending champion Tampa Bay Lightning are officially on the brink of elimination, as the Colorado Avalanche lead the seven-game series 3-1 ahead of tonight's 8 p.m ET Game 5.
Wednesday's Game 4 recap: After Lightning center Anthony Cirelli gave Tampa the lead just 36 seconds into the game, the Avs clawed their way back to tie the game and eventually force overtime, where center Nazem Kadri, back from breaking his thumb 18 days prior, scored the game-winner to give the Avs a controversial 3–2 win and hand Tampa a rare home-ice loss.
Tonight's Game 5 preview: Cue up Lady Gaga because the Avs are on the edge of Stanley Cup glory for the first time since 2001. They have the zeal and momentum to win at home, but don't count the Lightning out just yet — winning is what "Champa Bay" does best, and goalie Andrei Vasilevskiy is hard to bet against.
Will Steven Stamkos and the Lightning push a Game 6, or will Colorado stars Gabriel Landeskog and Nathan MacKinnon finally lift their first Stanley Cup? Let's do that hockey.