The GIST: Hey 2020, just one more thing before you leave us forever: the U.S. Women's Open, please and thank you.
December 10, 2020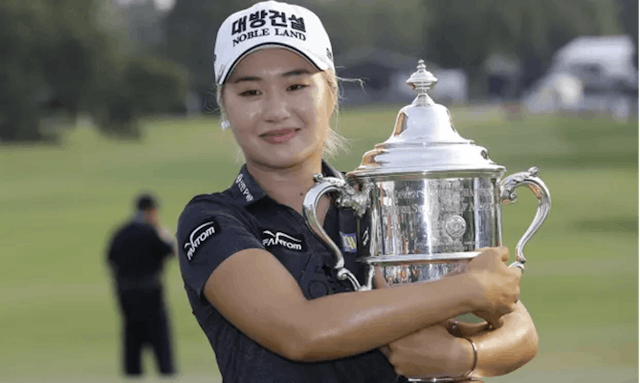 SOURCE: STEVE HELBER/AP
The tournament: The U.S. Women's Open was originally set for June, but thanks to a pandemic postponement, it begins today and ends Sunday. It's the last of four women's golf majors (one of the usual five was canceled), and is also the last big tournament of any pro sport in 2020. What a way to go out!
The reigning champ: Last year, Korea's Jeongeun Lee6 took home the 2019 U.S. Open hardware and her first career major. Along with the win, she recorded 10 top-10 finishes last year, but her 2020 has been more subdued (relatable) with 16th place as her best finish.
The "6" is not a typo nor a nod to Drake, BTW. Because five other players in Korean LPGA history have the same name, she added the number to stand out. Her fan club is called "Lucky 6" and she won last year's U.S. Open with a 6-under-par score. Maybe Lee6 can find some six-cess again this year?
The contenders: There's a strong field looking to dash Lee6's back-to-back hopes. American Lexi Thompson is back for her 14th consecutive U.S. Open appearance and is a heavy favorite to win after two straight top-five finishes. Kiwi Lydia Ko is the only golfer to finish in the top 20 in the first three majors this year and is looking for her third career major win.
The other three 2020 major winners — Sophia Popov, Mirim Lee and Sei Young Kim — are all in the hunt to double up on the hardware, while Canadian Brooke Henderson and American Danielle Kang are looking for their second career majors. Tee times start at 8:20 a.m. ET, so pick your player(s) and follow all the fun here.