The GIST: Thanks to a half-day time difference, the Australian Open has already begun, so let's get right to it.
February 08, 2021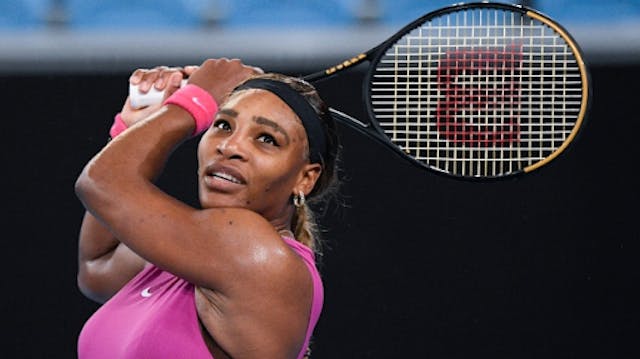 Source: Andy Brownbill/AP Photo
The set-up: The Aussie Open is the first of four Grand Slams (aka majors). All Grand Slams follow the same format: 128 singles players and 64 doubles pairs compete in single-elimination rounds in both the women's and men's events.
The off-court action: Due to Australia's strict rules for international travellers, there were a lot of around the tournament. But all that COVID-19 concern has seemed to overshadow another significant issue: the second-largest arena at , home of the Aussie Open, is still named after 24-time Grand Slam winner Margaret Court.
For years, Court has publicly renounced LGBTQ+ rights and has advocated for conversion therapy, and there have been to remove her name.
The women's on-court action: Fortunately, Serena Williams is aiming to erase Court from the record books. Williams is fighting for her 24th major win, which would tie Court's all-time record, though a may hold her back.
The men's on court action: A back injury may also prevent Rafael Nadal from becoming to win each major singles championship twice. But something tells us reigning champ and tournament favorite, Novak Djokovic (pronounced JOKE-OH-VITCH), isn't going to let that happen.
The Canadians: Meanwhile, Canada's chances at are strong with the return of 2019 U.S. Open winner Bianca Andreescu, following a 15-month injury leave. Our favorite is competing, too.
And on the men's side, Denis Shapovalov (11), Milos Raonic (14) and Felix Auger-Aliassime (20) are all seeded in the top 20 to start the show. Bring it home!
The Americans: The U.S. field is stacked. Along with both Williams sisters and Kenin, we have Coco Gauff, Sloane Stephens and Jennifer Brady on the women's side, and Taylor Fritz and Sam Querrey on the men's side. And though Osaka plays for Japan, she grew up in New York, so we consider her one of ours, too.