Queen of the court
March 06, 2022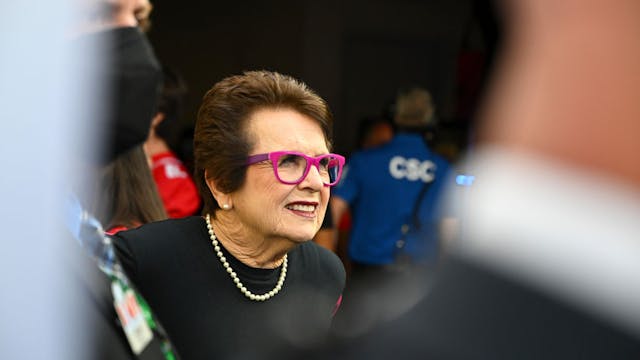 JOHN W. MCDONOUGH/SPORTS ILLUSTRATED VIA GETTY IMAGES
No history of women's sports is complete without the one, the only, Billie Jean King (BJK). Here's a quick rundown of why she's on top of our throne.
In 1970, BJK led a group of nine women in protesting unequal pay and opportunities to compete in the tennis world. The "Original Nine" broke off from the United States Lawn Tennis Association's (USLTA, now USTA) to create their own tennis tour that later became the Women's Tennis Association (WTA) we know today.
But King's most famous fight would occur in 1973, when she defeated (in straight sets, no less) former men's world No. 1/shameless hustler/self-proclaimed chauvinist Bobby Riggs in the "Battle of the Sexes."
Often asked whether the match was fixed, Riggs was crystal-clear: "...Billie Jean beat me fair and square. I tried as hard as I could, but I made the classic mistake of overestimating myself and underestimating Billie Jean King."
BJK put on her battle armor in the courts as well, taking to Capitol Hill to testify on behalf of Title IX. With her advocacy, the legislation passed in 1972. Now in its 50th anniversary year, it's worth reading the text in full:
"No person in the United States shall, on the basis of sex, be excluded from participation in, be denied the benefits of, or be subjected to discrimination under any education program or activity receiving Federal financial assistance." Never gets old.
To this day, King continues her relentless advocacy through her Women's Sports Foundation, which she established in 1974.
The Foundation is committed to "advancing the lives of women and girls through sports and physical activity" by providing financial support to athletes, funding research and impacting communities.