March 16, 2020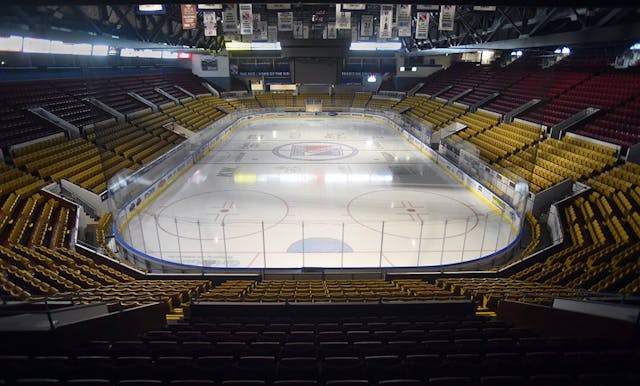 The GIST: Thanks to the COVID-19 pandemic, most sports are canceled (or postponed, at least). Here's #thegist on what's off, what's on and what's a big ol' question mark in the sports world.
Taking a time out: Last week, the NBA and NHL suspended their almost-finished regular seasons for at least a month, while the MLS put their very new season on hold. The MLB put a pause on spring training and will delay the start of their regular season, (which was due to start on March 26th) by at least two weeks, while the National Women's Soccer League (NWSL) canceled their preseason games altogether. And, in what arguably hit North America the hardest, the NCAA's March Madness basketball tournament was straight up canceled. Welp.
Around the world, soccer matches, auto races, curling championships and marathons have all been canceled or postponed too. Follow along here for the running list.
All systems go: Meanwhile the Ultimate Fighting Championship (UFC) decided to go ahead with all scheduled fights, albeit in empty arenas. WWE Wrestlemania 36 is also still happening (apparently with fans in attendance, SMDH) on April 5th, where former New England Patriot Rob Gronkowski is due to appear. Seems like a pretty irresponsible money grab to us.
The 2020 NFL Draft is still scheduled for April 23rd to 25th in Las Vegas, though we'll likely see some major modifications to the event (i.e. we probably won't see the draft picks travel by boat across the Bellagio fountain).
The land of uncertainty: The Olympic Games are the biggie. Fortunately, the Summer Games in Tokyo don't start until July 24th, so the IOC doesn't have to race to make any major decisions...yet. And Japan's prime minister Shinzo Abe is still confident the Games will go on. Appreciate the optimism, dude.
The only thing that has changed is the Olympic flame. Generally, this flame is transported all over the world, eventually making its way to the Olympic site. However, the Olympic flame is set to be transported straight to Tokyo this week without fanfare.