Guide to the PWHPA Secret Dream Gap Tour and the NWSL's upcoming sixth season.
November 26, 2020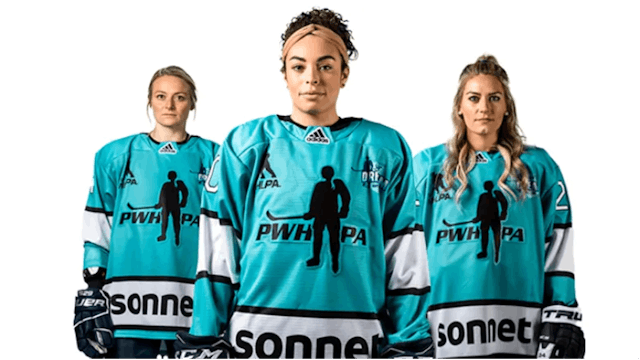 SOURCE: LORI BOLLIGER/CANADIAN PRESS
The GIST: While the NHL's January 1st start date may be in jeopardy and the Team Canada World Junior camp is in quarantine for two weeks, it's a good thing we have women's hockey to keep us entertained.
Give me the details: Ahead of the Secret Dream Gap Tour (and the inaugural Secret Cup), the Professional Women's Hockey Players Association (PWHPA) have introduced a new Toronto-based team called Team Sonnet, named after the PWHPA's big new partner, Sonnet Insurance.
Along with the unveiling of their sharp turquoise jerseys, the Toronto team also announced their star-studded roster that includes Sarah Nurse, Renata Fast, Natalie Spooner and Brianne Jenner. So stacked.
Tell me more: Meanwhile, the National Women's Hockey League (NWHL) announced that their upcoming sixth season will be jam-packed into a two-week schedule. The league's six teams will compete in a bubble environment in Lake Placid, NY, playing each other once before heading to a playoff round, then semifinals, and finally a one-game final for the Isobel Cup.
The bubble environment will accommodate the newest expansion team, Toronto Six, as the border to the U.S. remains closed. How thoughtful.
Wait, there are two leagues?: Not quite. The NWHL is a professional league in every sense, with set teams, a set schedule, player salaries (albeit very small), game broadcasts and plans to expand. The PWHPA, on the other hand, has a more fluid set-up, with a pool of players and showcase events in various cities.
The PWHPA was created in May 2019 after the Canadian Women's Hockey League (CWHL) folded. It has the support of over 200 of North America's top hockey players and a steadfast mission "to provide a united voice to players advocating for the creation of a sustainable professional league." Here, here!
They acknowledge the NWHL as a league, but not the league to officially represent women's hockey at the highest level in North America.