May 13, 2021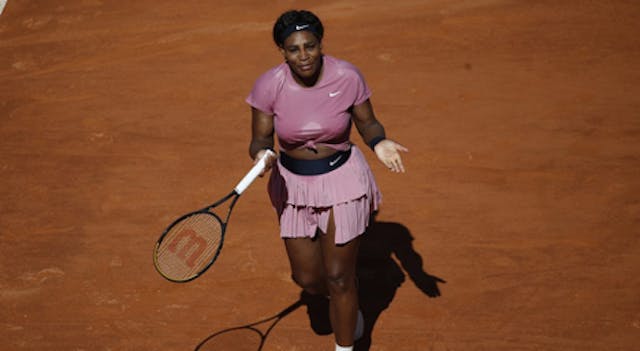 Source: Alessandra Tarantino/AP
🎾Tennis: Serena Williams has hit a new high. Yesterday's second round Italian Open appearance marked her 1,000th tour-level match, though the milestone didn't come with a win as she unfortunately lost to Nadia Podoroska.
Naomi Osaka also lost her second-round match, and defending champ Simona Halep retired in the second set of hers with an injury. Time for some gelato.
🏇Horse racing: Medina Spirit will run once more. The Kentucky Derby-winning, drug test-failing horse was given the all-clear to race in this Saturday's Preakness Stakes, the second race of the Triple Crown, but will undergo additional testing and monitoring throughout the weekend.
Meanwhile, trainer Bob Baffert has claimed that Medina Spirit's failed test was due to a steroid found in an antifungal cream used to treat the horse's dermatitis. We sincerely hope we never have to write that combination of words ever again.
💸Money: Forbes released their annual top 10 highest-paid athletes list, and unsurprisingly but still immensely frustratingly, there were no women included. At a heartstopping $180 million, MMA fighter Conor McGregor topped the list, which also included NBA star LeBron James, NFL quarterbacks Tom Brady and Dak Prescott and F1 driver Sir Lewis Hamilton.
The most interesting inclusion on the list is tennis star Roger Federer, who made less than $30,000 from playing tennis last year (he's been injured since early 2020), but around $90 million in endorsements. Money pwease.