February 03, 2020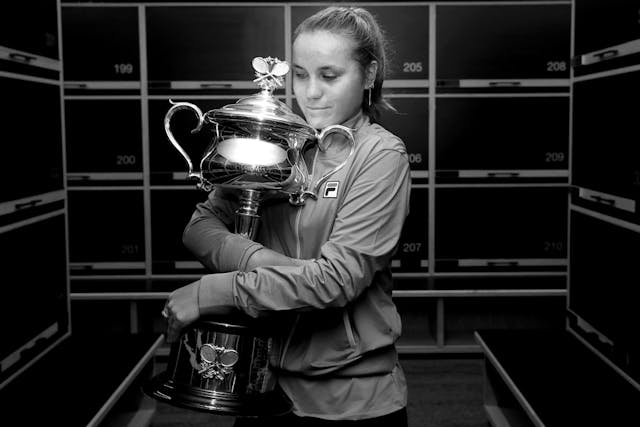 Australian Open: The Super Bowl wasn't the only championship match played this weekend. The Australian Open, the first Grand Slam event of the tennis season (the others being the French Open, Wimbledon and the US Open), officially came to a close with two monster matches. In the women's final on Saturday, 21-year-old American Sofia Kenin beat Spaniard Garbiñe Muguruza to win her first-ever Grand Slam title. And get this: it was also the first time Kenin had ever played in a Grand Slam final! From what we saw, it definitely won't be her last.
In yesterday's men's final, living legend Novak Djokovic (pronounced JOKE-OH-VITCH) held off the young gun Dominic Thiem (pronounced TEAM) in a five-set nailbiter to win his record eighth Aussie Open title and 17th (!!!) career Grand Slam. With the come-from-behind win, Djokovic is now World No. 1 and the first man to win a Grand Slam title in three different decades. Cool, no?
Soccer: Our Canadian women continue to LIGHT. IT. UP in the CONCACAF Women's Olympic Qualifying tournament. Team Canada put on another showcase this weekend, beating Jamaica 9–0 in the second of three group-stage matches. Jordyn Huitema (pronounced HEIGHT-AH-MAH), the teenage phenom from BC, scored five goals (like, how?!) and Janine Beckie recorded a hat trick.
Captain Canada Christine Sinclair sat this one out, but she'll have another chance to extend her lead as the world's top goal-scorer of all time (yasss queen!) when they take on Mexico tomorrow night at 6:30 p.m. ET in the final group-stage match. The semifinals (which Team Canada will definitely be playing in) are set for Friday.
Rugby: Apparently team sports are, like, our thing? On top of soccer, Canada had a wild weekend at the women's HSBC World Rugby Sevens Series tournament in Sydney, winning their third silver medal of the season. Team Canada has medalled in four of the five events this season, putting them in third place in the standings with just three events left. Oozing with pride!!
Basketball: The Toronto Raptors have straight up forgotten how to lose. With the help of NBA All-Stars Pascal Siakam, Kyle Lowry and head coach Nick Nurse, the boys from the #6ix won their 11th straight game yesterday, defeating the Chicago Bulls 129–102 and tying the franchise record for longest win streak. About that 2020 energy, baby!