The fallout in the sports world due to Russian invasion of Ukraine continues
February 28, 2022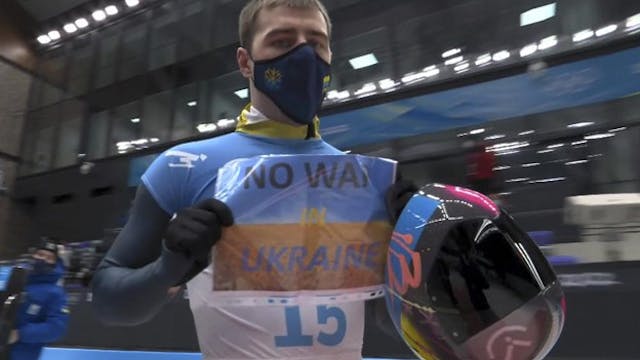 NBC VIA AP
The GIST: As the Russian invasion of Ukraine continues, so too does the fallout across the sports world, with governing bodies slow to respond despite athletes' pleas.
The latest from FIFA: After Poland, Sweden and Czechia refused to play against Russia in their upcoming World Cup qualifying matches, FIFA responded meekly, opting to move games out of the country to a neutral site while still allowing Russia to compete as the "RFU" (Russian Football Union), despite calls for a total ban.
FIFA contends "potential exclusion from competitions" is still on the table, but this weak response is a real (R)FU to soccer fans and supporters of democracy everywhere.
Elsewhere: The International Olympic Committee (IOC) has been similarly disappointing in their response. Though they condemned the invasion as a violation of the Olympic Truce and urged sports bodies to cancel events in Russia and Belarus (a Russian ally), they've neglected to take direct action against the countries themselves.
With the Paralympics set to begin on Friday and more than 30 athletes from Ukraine and other countries sending an open letter urging the IOC to suspend the Russian and Belarusian Olympic and Paralympic Committees, it's safe to say the pressure's on.
Meanwhile, more sanctions could be on their way. The International Ice Hockey Federation (IIHF) is expected to decide today whether to remove Russian teams from all remaining events this year and move the 2023 World Juniors and men's World Championship out of Russia.
On the ground: While governing bodies waffle, Ukrainian athletes are experiencing the impacts of war firsthand. Tennis player Dayana Yastremska shared the harrowing story of fleeing to France while her parents remain in Ukraine.
And Vladyslav Heraskevych — the 23-year-old skeleton athlete who flashed a "No War in Ukraine" sign at the Olympics earlier this month — is preparing to defend his country if needed. Stark reminders of the human toll of this ongoing conflict.