Women's hockey: Rivalry ready
February 08, 2022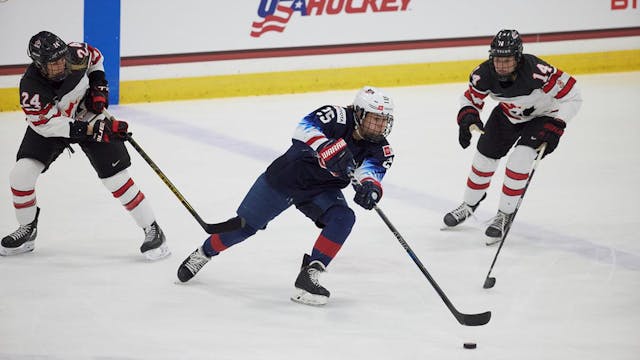 DAVID E. KLUTHO/SPORTS ILLUSTRATED VIA GETTY IMAGES
The GIST: It'll be a GIST house divided when Team USA and Canada (both 3-0) square off tonight at 11:10 p.m. ET. Here's why women's hockey belongs at the Olympics a preview of what will likely be a sneak peak of the gold medal game.
Recent history: The U.S. are the defending Olympic champions, having ended Canada's four-gold streak with a stunning shootout win in PyeongChang 2018.
But the red and white have had the edge of late: Canada topped the U.S. at the 2021 IIHF Women's World Championship and won the last two Rivalry Seriesexhibition matchups.
Team Canada: Canada has dominated round robin play, outscoring opponents 29–3 (not a typo) with nine of the top 10 points leaders on the squad. The North will rely on veteran Natalie Spooner to keep her offensive hot streak alive and goalie Ann-Renée Desbiens to step up in her first real test of the Games.
Team USA: The U.S. has similarly trounced their way through group play with 18 goals in three games. Plus, they're fresh off back-to-back shutouts. With four-time Olympian Hilary Knight leading the way with five points (three goals, two assists), will she be the shining armor for the U.S. again tonight?