🏅

2020 Tokyo Olympics Quick Hits

August 02, 2021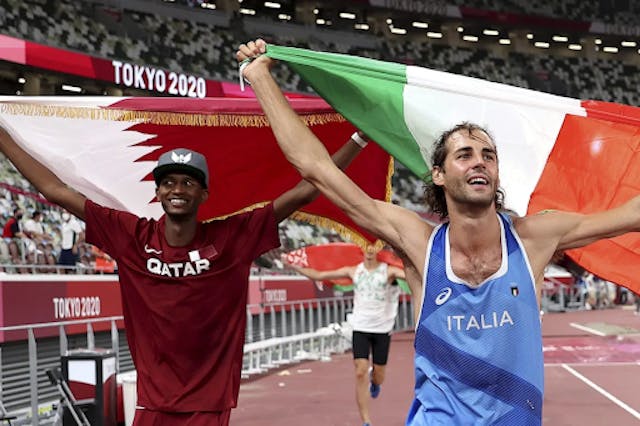 Source: Christian Petersen/Pool Photo via AP
❤️Share the love: After competing in sweltering heat for two hours, Qatari ​​Mutaz Barshim and Italian Gianmarco Tamberi were tied for the lead in the men's high jump. Though they could settle the winner in a jump-off, Barshim suggested the two friends (negating a silver medal) and the official said...sure. Sharing is caring.
🤍Trans pride: Kiwi weightlifter Laurel Hubbard made history today as the first openly transgender Olympian to compete in an individual event. Unfortunately, after failing all three of her attempts, she was ousted from the women's 87+kg event early.
And with CanWNT's win, Quinn becomes the first openly trans team-athlete to compete for gold. Representation matters.
💙Keep safe: Belarusian sprinter Krystsina Tsimanouskaya is seeking asylum in Japan following an incident with her national team. After allegedly making critical comments about the national coaching staff, the sprinter — who was set to compete today — was forcibly taken to the airport, but refused to return to Belarus.
She is now confirmed to be "" and has found refuge at the Polish embassy, where she's been granted a humanitarian visa.
🏅
🏊‍♀️
🏀
🏐
Latest Updates from Team Canada
August 02, 2021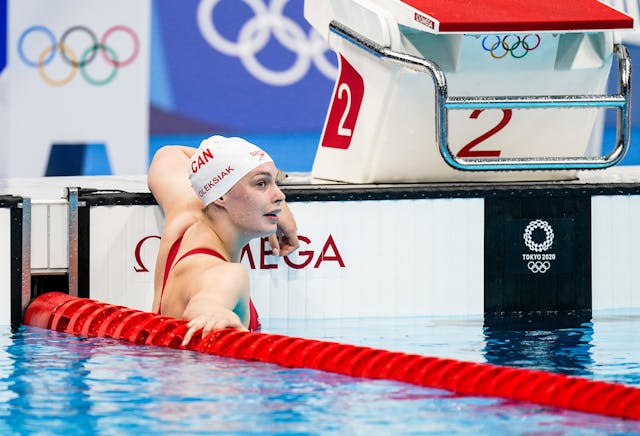 Source: Team Canada/Twitter
🏊‍♀️Swimming: Penny Oleksiak became the most decorated Olympian in Canadian history on Saturday night, winning her seventh-career Olympic medal — a bronze — in the women's 4x100m medley relay.
🏃‍♀️Track & Field: Andre de Grasse won bronze in the men's 100m — aka the fastest man in the world race — to finally put Canadian men on the medal board. de Grasse will be back in action tonight at 10:05 p.m. ET to qualify for the 200m, which he won silver for in Rio 2016.
🏐Volleyball: Both Canadian women's beach volleyball teams have advanced to tomorrow's quarter-finals. Heather Bansley and Brandie Wilkerson will play Latvia at 8 a.m. ET, while the still-undefeated duo of Melissa Humana-Paredes and Sarah Pavan play Australia at 9 a.m. ET. A win for both (fingers crossed) means they'll face each other in the semis.
🏀Basketball: After going 1-2 in group play, Canada's women's basketball team is out of the Olympics. A disappointing showing for the fourth-ranked team in the world.
⚽

History made for the Canadian women's soccer team

August 02, 2021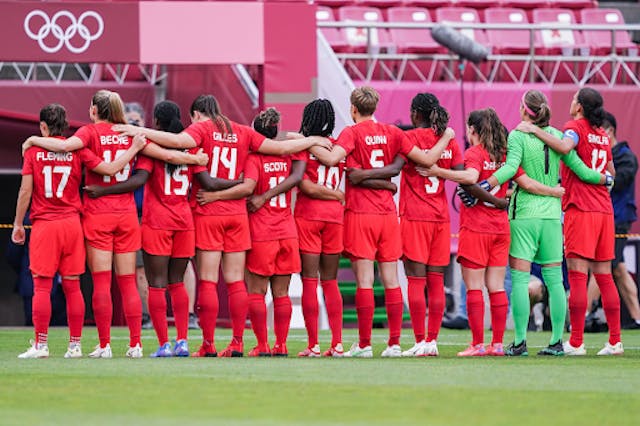 Source: Canada Soccer/Twitter
The rematch: Defense was the name of the game in this rematch of the London 2012 semifinal where Canada lost 4–3 (and went on to take bronze). Though the world No. 1 USWNT piled on the pressure, goalkeeper Steph Labb​​é and Canada's back line stood strong.
Operation colour change: After winning back-to-back Olympic bronze medals, today's W earned CanWNT the opportunity to play for something shinier: gold or silver.
They'll now face Sweden in Thursday's final at a reasonable time — 10 p.m. ET — and regardless of the outcome, Canadian history has been made.
🏅
⚽
Tokyo Olympics Quick Hits
July 27, 2021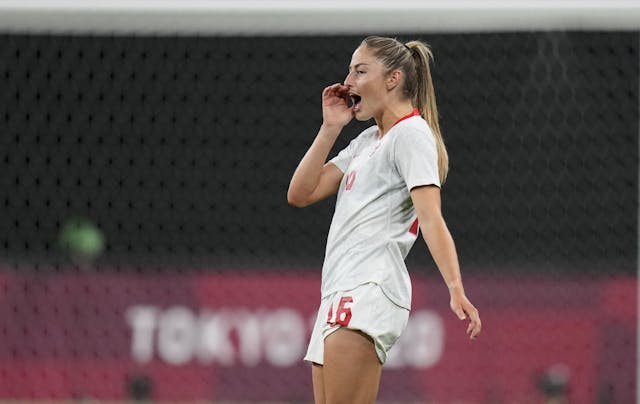 Source: Janine Beckie/Twitter
⚽️Soccer: CanWNT drew their final match of the group stage against Great Britain this morning, but the result was good enough to push the team through to the knockout stages. Canada will now face Brazil in the quarter-finals on Friday at 4 a.m. ET.
🥇First medals: Bermuda is now the smallest country (by population) to ever win a gold medal, after triathlete Flora Duffy won the country's first gold yesterday, finishing her race in 1:55:36. Small but oh so mighty.
Meanwhile, the Philippines are still celebrating their first-ever Olympic gold, after weightlifter Hidilyn Diaz won in the 55kg category on Monday. And as the cherry on top, Diaz also set an Olympic record, lifting a combined weight of 224kg.
🏄‍♀️Surfing: American Carissa Moore shredded her way to history, winning the first-ever women's Olympic surfing gold in the sport's debut Games. The four-time world champion capitalized on the , scoring a 14.93 in the gold medal heat. We're stoked.
🏅
🥎
🏊‍♀️
🤼
Team Canada Medal Updates
July 27, 2021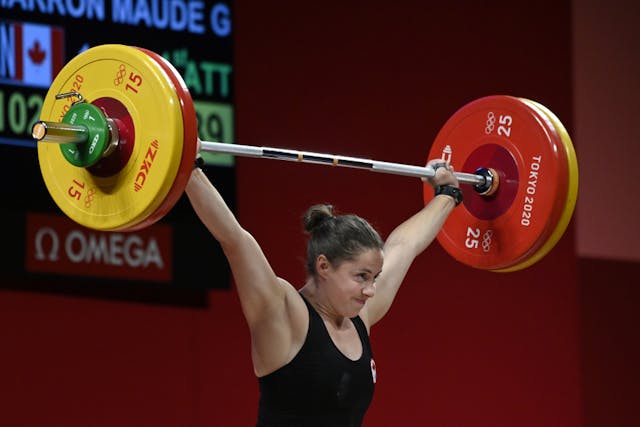 Source: Bernard Brault/La Presse
🏋️‍♀️Weightlifting: Canada's second gold medal is extra shiny and new. Just a couple of hours ago, Maude Charron won Canada's first gold medal in weightlifting since 2012, crushing the competition in the 64kg event.
🏊‍♀️Swimming: Another medal from the aquatic centre last night. Windsor's Kylie Masse, who spent the pandemic training in her parents' backyard pool, in the women's 100m backstroke, upgrading her bronze from Rio 2016.
🥎Softball: Team Canada won its first-ever softball medal early this morning with a nail-biting 3–2 win over Mexico. After Mexico tied it up in the fifth inning, it was Kelsey Harshman who drove in the winning run. The team's was priceless, making it all the more sad that softball to the Olympics in 2024.
🤼‍♀️Judo: Two days ago, Canada had never won a medal in judo. Now, we have two. After Jessica Klimkait won the bronze yesterday, Catherine Beauchemin-Pinard followed it up in the women's 63kg event today. All that shimmers is gold bronze.