🏀
🏆
🏒
⛷️
The GIST's Quick Hits - The Ice Edition
March 01, 2021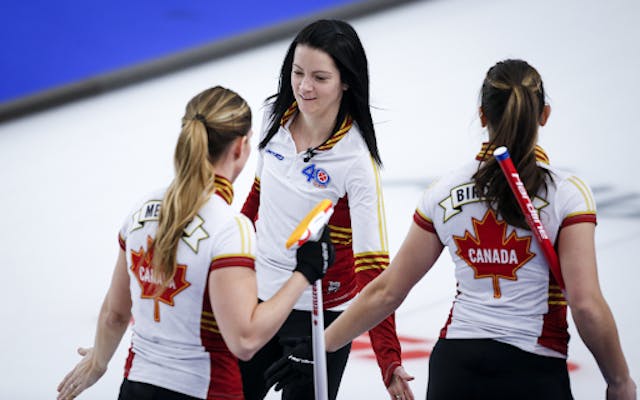 Source: TSN Curling/Twitter
🥌Curling: Talk about déjà vu. In a rematch of last year's final, skip Kerri Einarson led Team Canada to the Scotties Tournament of Hearts victory for the second straight year, beating former champ Rachel Homan and Team Ontario last night.
🏒PWHPA: Team New Hampshire beat Team Minnesota in the first-ever pro women's game at Madison Square Garden. But really, didn't we all win? Check out and then mark your calendar for the next one: .
🏒NHL: The highly anticipated showdown between Toronto Maple Leaf Auston Matthews and Edmonton Oiler Connor McDavid started on Saturday and...Matthews sat out with a wrist injury (though the Leafs still won 4–0). Fingers crossed he'll be back in the line-up for tonight's rematch at 10 p.m. ET.
🎿Ski cross: The ski cross World Cup wrapped up in Georgia (the country) over the weekend, where Canadians Courtney Hoffos and Chris Del Bosco won silver in the inaugural mixed team event, while Jared Schmidt won bronze and Reece Howden clinched the men's overall title. Is it yet?
🏀NBA: Okay, so the Toronto Raptors don't compete on ice, but they did get iced yesterday when their game against the Chicago Bulls was . Thanks to , the Raps didn't have enough players to fill an eight-man roster, so they'll try again at a later date.
🏀
🏒
The GIST's Quick Hits - CAN
February 25, 2021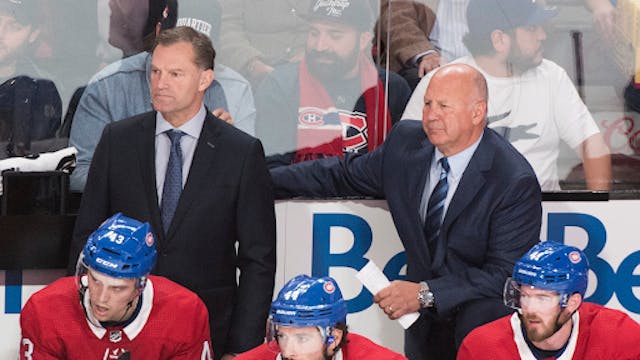 Source: Sportsnet Stats/Twitter
🏒NHL: The North Division witnessed its first coaching casualty yesterday. Hours after the middle-of-the-pack Montreal Canadiens lost their second straight game to the lowly Ottawa Senators, the Habs fired head coach Claude Julien and assistant coach (and former Habs captain) Kirk Muller.
In the interim, the Habs replaced Julien with assistant coach Dominique Ducharme, and filled the assistant spot with former Vancouver Canucks star Alex Burrows. Watch how the Canadiens respond to the shakeup against the Winnipeg Jets tonight at 8 p.m. ET.
🏀NBA: Don't call it a comeback...yet. After a miserable start to the season (we're talking 2-8 in the first 10 games), the Toronto Raptors are sitting pretty in fifth place in the Eastern Conference. Sure, the East only has four of 15 teams with winning records, but hey, we'll take it.
🏆
🏒
⚽
The GIST's Bits & Bites - CAN
February 25, 2021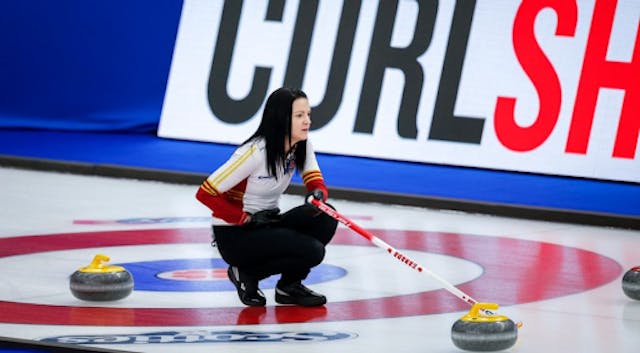 Source: Jeff McIntosh/CP
🥌Curling: It's almost playoff time at the Scotties Tournament of Hearts. Today is the last day of round robin play, and reigning champion Kerri Einarson and have one last obstacle ahead of an undefeated record: three-time Scotties champ Rachel Homan and Team Ontario. Follow all the "hurry hard!" action .
🏒Hockey: It's going to be a big weekend for the . Saturday marks the start of the 2021 Dream Gap Tour, with a primetime game between Team New Hampshire and Team Minnesota in New Jersey before Sunday's megashow: the first-ever pro women's hockey game at Madison Square Garden in NYC.
⚽️Soccer: Oh no, Canada. With an unfortunate 2–0 loss to Brazil yesterday, Team Canada ended the SheBelieves Cup on a low note. Although two losses and one win wasn't the strongest showing, how nice was it to see this team out on the pitch again? They'll be back in action in a friendly against England on April 13th.
⛳

Tiger Woods injured in a single-car accident

February 25, 2021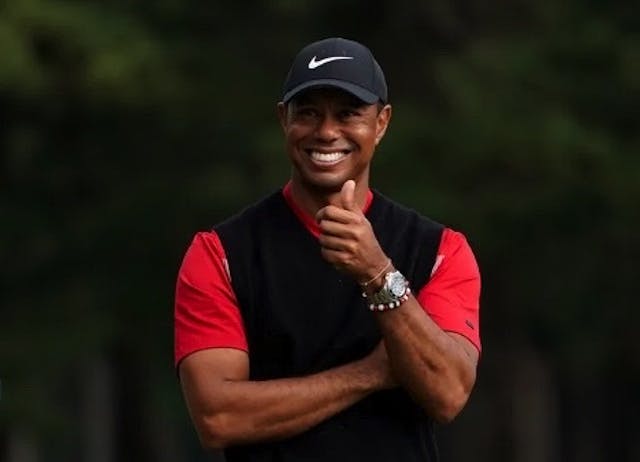 Source: Lee Jin-Man / AP
The accident: Tiger suffered multiple leg injuries in Tuesday's accident, which occurred just after 7 a.m. PT in Southern California (12 p.m. ET). He was extricated from his SUV and taken to a trauma center, where he underwent immediate surgery to insert a rod into his right tibia and pins and screws around his shattered right ankle and foot.
Investigators found no signs of impairment that could have contributed to the accident, and the LA County Sheriff confirmed that it was just that: "purely an accident."
The response: Tiger's career has had a significant influence not just on golf, but all sports. Fellow athletes like NFL quarterback Baker Mayfield, tennis stars like Serena Williams and Rafael Nadal, and golfers like Justin Thomas, Rory McIlroy and Jack Nicklaus all tweeted their support for the legend.
Former Presidents Barack Obama and Donald Trump also shared messages of support, while a talented fan made this sand tribute at the iconic St. Andrews Golf Club in Scotland.
The future: Tiger's future was already a bit hazy, thanks to a recent back surgery (his fifth) that threatened to keep him out of the Masters in April, so these new injuries could spell the end of pro golf for the 45-year-old.
Whether you're a Tiger fan or not, he made golf — an elitist, stuffy, mostly white sport — a game for everyone. Regardless of his golf future, we count ourselves lucky to have witnessed his incredible career so far, through the ups and the downs.
⚽

CANWNT Continues in SheBelieves Cup

February 22, 2021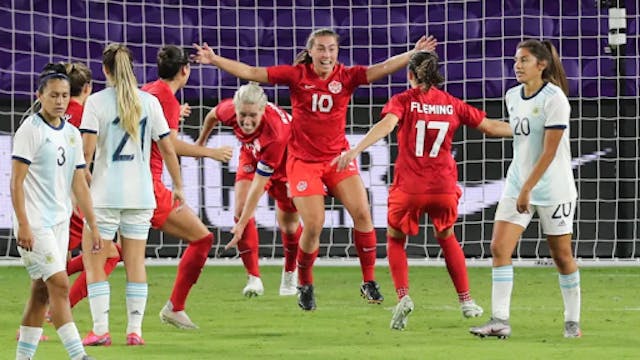 Source: Alex Menendez/Getty Images
So far: The World No. 8 team held their own against Team USA in the opening match of the tournament on Thursday, but came out on the losing end of the 1–0 final after American Rose Lavelle's 79th-minute goal.
One goal was all the difference in yesterday's match, too. Sarah Stratigakis for Canada in extra time to pull out the 1–0 win over Argentina.
This win was Canada's first of the year, and the first under new head coach Bev Priestman. Canada now sits in the middle of the leaderboard with one match to go.
Up next: The last game is set for Wednesday, with Canada playing Brazil, while the tournament-leading USWNT takes on Argentina. Follow all the action .