🏀

The kids are alright

March 25, 2021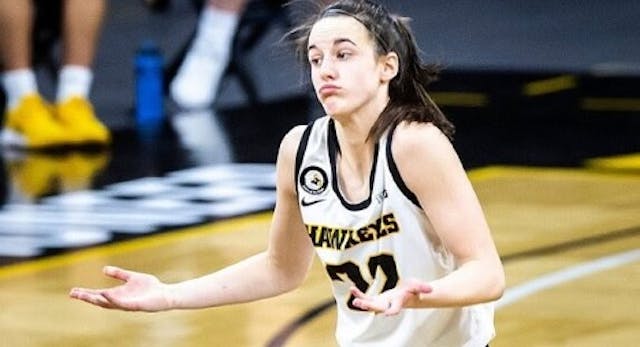 Source: Joseph Cress/ Iowa City Press-Citizen via Image Content Services LLC
Women's: There were some close calls, but all four No. 1 and No. 2 seeds advanced to the Sweet Sixteen, including defending champs No. 2 Baylor. Notably, No. 1 UConn advanced to their 27th (!!!) consecutive round of 16 and gave us all the reunion we've been waiting for.
Speaking of UConn, in the tourney's must-see matchup thus far, freshman Paige Bueckers (pronounced BECKERS) and the Huskies are set to take on freshman (and the nation's leading scorer) Caitlin Clark and No. 5 Iowa at 1 p.m. ET on Saturday.
Then tune in on Sunday at 7 p.m. ET to watch No. 2 Louisville take on No. 6 Oregon. Louisville staved off No. 7 Northwestern in the second round while Oregon toppled No. 3 Georgia. Can the Ducks and TikTok star Sedona Prince pull off another upset?
Men's: The men's tourney has been historically wild, with 11 upsets through the first two rounds. If you're looking for an underdog to cheer for and, like us, had your No. 15 seed Oral Roberts fandom cut short after reading their code of conduct policy, we recommend father-son led No. 11 Syracuse.
Yes, it feels a bit strange to call Syracuse an underdog, as the Orange are making their 24th Sweet Sixteen appearance, but we'll be on upset alert when they take on No. 2 Houston Saturday at 9:55 p.m. ET.
Sunday's slate also features an unexpected lower seed. No. 11 UCLA has a record 11 NCAA titles, but they'll need to upset No. 2 Alabama at 7:15 p.m. ET to snag title number 12. Check out the full Sweet Sixteen schedule here
⚽

Bend it like Beckham

March 23, 2021
Source: USSF Giphy
QUOTE OF THE DAY
"It fires her up, for sure...it's just the perfect nickname for her. She is such a 'Tower of Power,'... just look at her."
—Kristie Mewis on her sister and USWNT teammate Sam, who's about to kick off the UEFA Women's Champions League quarterfinals.
⚽️ How it works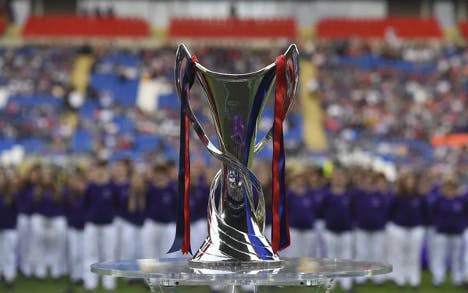 The UEFA Champions League is the biggest club (not country) soccer tournament in the world. UEFA, which stands for Union of European Football Associations, is the governing body for European soccer, and the top-tier teams from around the continent make up the Champions League.
The tournament is held annually and over the entire club regular season. Club teams play within their national leagues, and those rankings determine their entry into the Champions League.
The top two teams from the strongest 12 national associations are entered, and one team from each of the rest. From there, teams play in as many as two qualifying rounds before moving to a knockout round of 32, then round of 16, and so on.
The knockout phase consists of two legs (odd phrase, we know) for each round, meaning teams play one home and one away match. The goals from each match are added together, and the team with the better aggregate score moves on. If there's a tie, the team with more away goals advances. If they're still tied, then the teams go to extra time and if needed, a penalty shootout.
The qualifiers took place in November and the round of 32 in December. The round of 16 happened in early March, quarterfinals begin tomorrow, semis start at the end of April and the final is set for May 16th in Sweden.
This is the last season that the women's Champions League will run this way, because starting next year, the qualification system and early rounds will be structured much more like the men's Champions League.
The new structure will feature mini-tournaments and a group stage to start. Say hello new format, goodbye gender disparity (just kidding, we'll get to that in a bit).
😎 The stars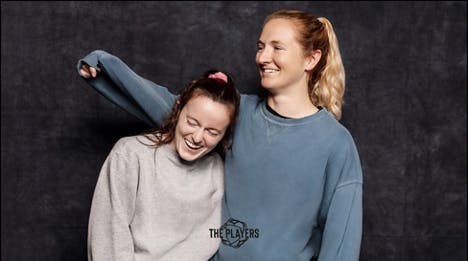 Sure, soccer is a team sport, but that doesn't mean there aren't standouts. And you might need to watch with sunglasses because of how bright these Champions League stars shine.
Rose Lavelle and Sam Mewis: These two are the best Americans not playing in America right now. The Manchester City midfielders already have a FIFA Women's World Cup under their belts (remember Lavelle's three-goal performance in that 2019 tournament?), but now they're looking for their first Champions League title.
Kadeisha Buchanan: This Olympique Lyonnais (aka Lyon) defender and 2020 Canadian Player of the Year is no stranger to winning. Buchanan's won both the Champions League and France's league title four times, as well as the Coupe de France thrice. Magnifique.
Pernille Harder: The reigning UEFA Player of the Year (she's won it twice, BTW) is looking to make a third Champions League final. She lost twice when she was with VfL Wolfsburg, but after a record-breaking transfer in September that sent her to Chelsea FC, she's trying to bring victory to England this time.
🤩 The favorites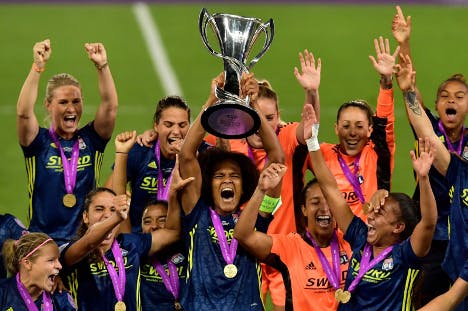 Olympique Lyonnais: Already the most successful club in women's soccer history, Lyon are the heavy favorites to win it all...again. Since the inception of the women's Champions League in 2001, Lyon have won it a record seven times, including the last five. Can you say dynasty?
They'll kick off their quarterfinal matches against national rival Paris Saint-Germain (PSG) tomorrow at 1 p.m. ET.
Bayern Munich: As Germany's best team, Bayern have sailed into the quarterfinals, winning 9-1 on aggregate over Kazakhstan's BIIK Kazygurt in the round of 16. Now they face Sweden's FC Rosengård, who are good, but probably the weakest in a very stacked field.
😴 The sleepers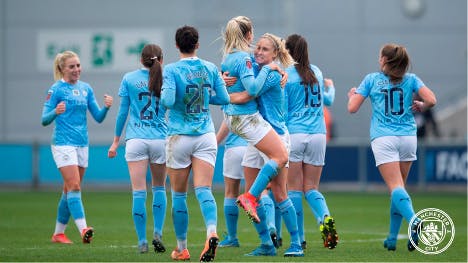 Manchester City FC: Man City are propelled by not only their North American stars, but also a number of English players looking for their first Champions League title. Here to help this year is former Lyon defender Lucy Bronze, who joined Man City after winning last year's Champions League. Nothing like a vet.
They're facing the top team in the Spanish league, FC Barcelona, who had an easy road to the quarters but will face their toughest challenge yet in England's second-best team...
VfL Wolfsburg: It's hardly fair to call the 2020 runners up a sleeper pick, but they come into this tournament as the second-best German team. And considering how strong the field is, Wolfsburg has their work cut out for them. Their matches against England's top team, Chelsea FC, are the ones we're most looking forward to.
💰 Show me the money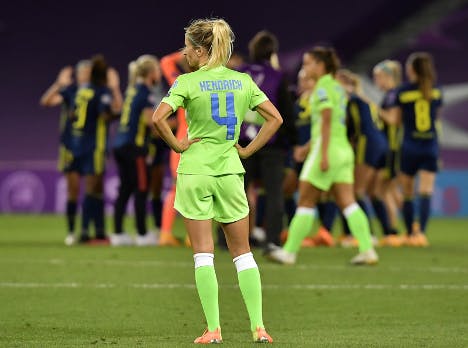 Because you know we have to talk about the prize money disparity. While this is the second biggest event in women's soccer behind the FIFA World Cup, the Champions League champions will win a mere €250,000 (equivalent of $298,477 USD). The runners up will make a bit less at €200,000, and it only drops from there.
Teams that advance to the knockout phase are also paid €20,000 for each match they play in, but considering the travel for their away games, that often doesn't cover the cost to play.
In stark contrast, any team that makes it to the men's Champions League group stage earns €15 million. Teams that make it to the quarterfinals are guaranteed €35 million (plus bonuses for wins and draws) and the champions stand to earn a minimum of €76 million.
Add to that even more money for something called the "UEFA coefficient," and we're in the nine figures. Bayern Munich earned an estimated €130 million from their 2020 win. We're speechless.
Like basically every other sport, soccer has a lot of catching up to do to close the pay gap. UEFA has yet to say if next year's structure change includes a prize money increase, but we doubt it'd be even close to what the men are making.
There's still a long way to go, but we'll continue to support these amazing women until they get there (and beyond).
So there you have it: Your primer for the UEFA Champions League quarterfinals. Now let's watch some soccer. Find the full schedule here and check out the matches live on DAZN in Canada and on Univision or CBS All Access in the U.S.
🏀

Women's March Madness: Let me take you dancing

March 22, 2021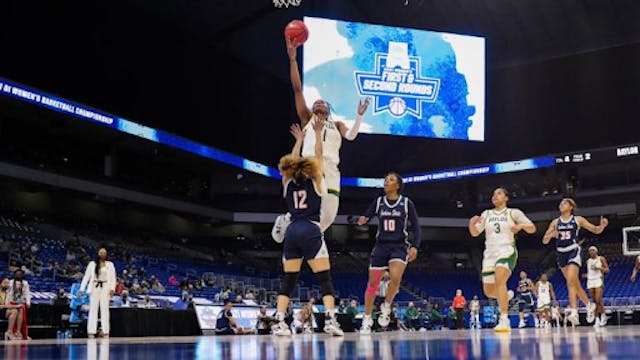 Source: Getty Images
The great divide: The sports world was fired up this weekend (and rightfully so!) after Oregon Duck Sedona Prince the very obvious behind-the-scenes differences between the men's and women's tournaments.
After and the media joined Prince's call for action, the NCAA finally took full responsibility for the unequal treatment and ".
The NCAA also vowed to do better moving forward. Thanks for doing the bare minimum!
Moving along: The women's tournament began yesterday and so far, no major upsets. , the top team in the Alamo region and the entire tournament, started their run to the championship with a score win over Utah Valley last night, and the top seeds in all three other regions — UConn, South Carolina and NC State — won as well.
Still to come: Another 16 games are set for today, including the No. 2 seeds in the Alamo, Hemisfair and Mercado regions: Louisville, Maryland and Texas A&M. And the round of 32 begins tomorrow. Check out the full schedule . Let's focus on the court now, shall we?
🏀

Men's March Madness: Livin' on a prayer

March 22, 2021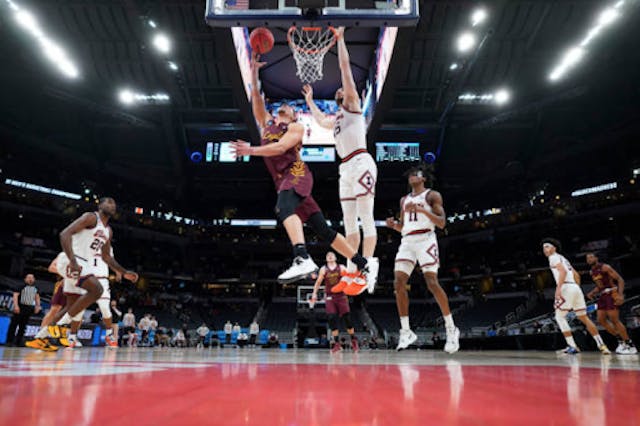 Source: Jack Dempsey/NCAA Photos via Getty Images
The upsets: Indianapolis? More like upset-tropolis. After five (!!!) top-five seeds lost in the opening round, the hits kept coming in the second round with No. 1 Illinois — a favorite to win the entire tourney — losing 71–58 in yesterday's intrastate battle to No. 8 Loyola-Chicago. .
No. 11 Syracuse joined the party, toppling No. 3 West Virginia 75–72 yesterday, clinching their 24th Sweet Sixteen appearance, and their 20th under head coach Jim Boeheim in the process. Who knew March was prime season?
And No. 15 Oral Roberts followed up their huge first round upset over No. 2 Ohio State with another, defeating No. 7 Florida 81–78 yesterday to become only the second 15-seed to make the Sweet Sixteen. We love a Cinderella story.
COVID-19: ICYMI, on Saturday, the first round matchup between No. 7 Oregon and No. 10 VCU was declared a no-contest due to COVID-19 protocols for VCU. Under the NCAA's pre-determined COVID-19 plan, Oregon automatically advanced to the next round.
What to watch: Second round action continues later today. We'll have our split screens on all day, TBH, but the game we're most excited for is the 6:10 p.m. ET matchup between No. 5 Creighton and No. 13 Ohio.
No. 12 UCSB took Creighton down to the wire in the first round, with the Bluejays pulling out a 63–62 nailbiter. Meanwhile, Ohio pulled off a huge win, defeating defending champion, and No. 4, Virginia 62–58. Upset alert, round two, baby.
🏀
🎾
⛷️
The GIST's Quick Hits - CA (March 22, 2021)
March 22, 2021
Source: Rebecca Blackwell/AP Photo
🎾Tennis: Canadian tennis has a new champion! Leylah Annie Fernandez yesterday in straight sets over Viktorjia Golubic (pronounced GO-LUH-BICH) in the Monterrey Open. The 18-year-old didn't drop a single set the entire tournament.
🏀NBA: March is not Nick Nurse's month. Not only has the Toronto Raptors' head coach had to watch his team lose eight straight (dating back to February 26th), but after an outburst directed towards an official in which he threw his face mask on Friday night, Nurse was fined $50k. Salt on the wound.
In non-Raptor news, LA Laker LeBron James is out indefinitely with an ankle sprain he sustained in Saturday's loss to the Atlanta Hawks, and Charlotte Hornets rookie LaMelo Ball is out indefinitely with a fractured wrist. The injury bug is out for blood.
🎿Skiing: Oh, you want more Canadian champs news? We got you. Freestyle skier Rachael Karker won her in the halfpipe yesterday, while Brendan Mackay took home a silver medal in the men's event.