🏒

Montreal Canadiens Could Make History During Game 6

June 24, 2021
Source: Jean-Yves Ahern/USA TODAY Sports
Montreal Canadiens vs. Vegas Golden Knights: The Canadiens are one win away from becoming the first Canadian team to reach the Stanley Cup Finals in a decade, and the setting could not be more perfect. It's Saint-Jean-Baptiste Day in Quebec — the province's biggest holiday — and tonight's Game 6 begins at 8 p.m. ET in Montreal.
Thanks to a 4–1 win on Tuesday, the Habs lead the series 3-2, and if they can't put it away tonight (fingers, toes and eyes crossed), they'll try again in Game 7 on Saturday...in Vegas. In Carey we trust.
Tampa Bay Lightning vs. New York Islanders: Speaking of Game 7, the Isles tied up the other semifinal series 3-3 with a 3–2 overtime win last night, redeeming their 8–0 (!!!) loss on Monday. Game 7 is set for tomorrow at 8 p.m. ET. Can the Lightning make it back-to-back?
🏀
🏈
Ottawa: Brad Sinopoli Announces Retirement and Future Plans
June 24, 2021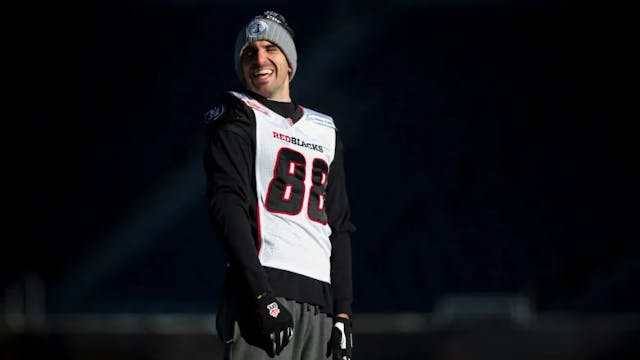 Source: Kevin Light/CBC
🏈Redblacks: After nine seasons in the CFL, including five with the Redblacks, wide receiver Brad Sinopoli yesterday. The CFL's two-time Most Outstanding Canadian won't go far though: the former Ottawa Gee-Gee is sticking around the city as a .
🏀BlackJacks: Elsewhere at TD Place, the Canadian Elite Basketball League (CEBL)'s third season tips off tonight at 7 p.m. with an Ottawa BlackJacks home game against the Niagara River Lions. Though games are still closed to fans, you can or listen to the amazing HannaH Sunley-Paisley and AJ Jakubec broadcast on TSN 1200.
⛳
⚽
🏀
Sports Quick Hits: June 24th, 2021
June 24, 2021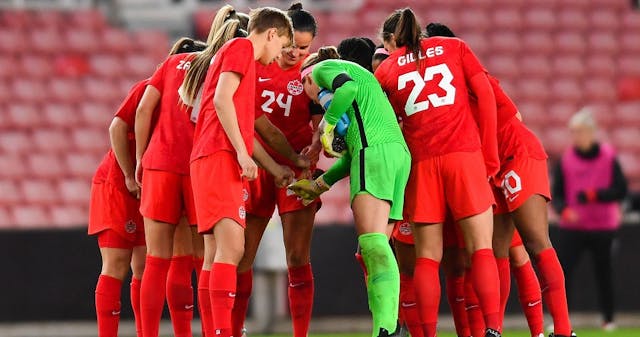 Source: Canada Soccer
⚽️Soccer: The CanWNT's Olympic , and it's no surprise that the GOAT Christine Sinclair will lead the team for her fourth Games, alongside 2020 Canadian Player of the Year Kadeisha Buchanan, Jessie Fleming, Quinn, Janine Beckie, Desiree Scott and goalkeepers Stephanie Labbé and (warning: grab a tissue before you click that link).
There were a few surprises though: vet Sophie Schmidt and up-and-comer Jordyn Huitema (pronounced HIGH-teh-ma) were included as alternates.
⛳️Golf: Another weekend, another major. This time, it's the Women's PGA Championship, the fourth of five LPGA majors. Reigning champ Sei Young Kim will be back in contention, alongside past winners Brooke Henderson (Canadian!) and Danielle Kang, and 2021 LPGA tour event winners Nelly and Jessica Korda, who are each looking for their first major. Follow along .
🏀Basketball: Move over, The Last Dance. Michael Jordan made his greatest contribution yet when he announced the Jordan Brand's "" campaign, featuring 11 WNBA players. .
🏀

Trae Young Stands Out in NBA Conference Finals

June 24, 2021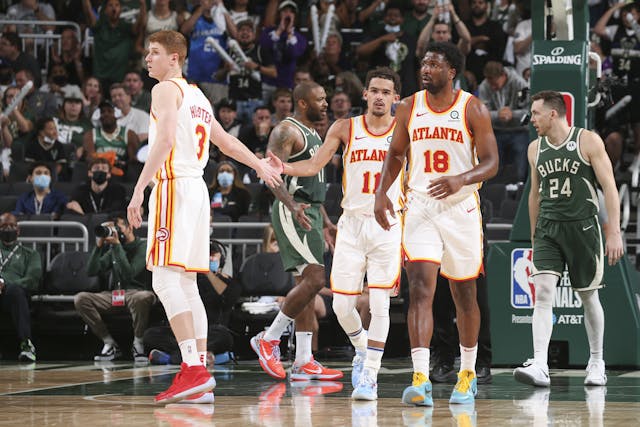 Source: ESPN Stats & Info/Twitter
Conference Finals: The Phoenix Suns have gotten a head start in the West, already up 2-0 on the LA Clippers thanks to a from Deandre Ayton in Tuesday's Game 2. Chris Paul — who'd been out due to COVID-19 protocol — will be back in the Suns' lineup tonight for Game 3 at 9 p.m. ET. The brooms are getting excited.
Toronto Raptors: No, the Raps aren't playing, but they did win something this week. The Raps snagged the fourth overall pick in Tuesday night's , marking their highest pick since . Their last fourth overall draft picks? Chris Bosh in 2003. We're taking this as a good sign before the 2021 NBA Draft on July 29th.
On the not bright side, Kyle Lowry surprisingly on Team USA's Olympic roster to instead focus on free agency. The 2016 gold medal winner becomes a in July, but we're not ready to say goodbye.
🏒

Stanley Cup Semifinals Series Tied on Both Ends

June 21, 2021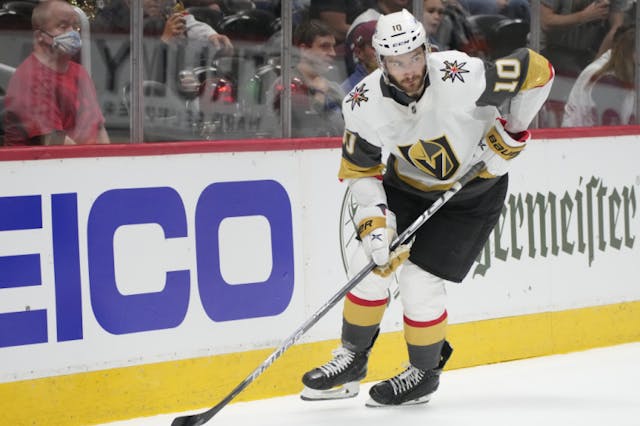 AP PHOTO/DAVID ZALUBOWSKI
The series: The Golden Knights tied the series 2-2 with a 2–1 overtime (OT) win last night, proving that their decision to replace starting goalie Marc-Andre Fleury, after on Friday, with backup Robin Lehner was worth it.
Though Montreal opened the scoring with , it was Vegas who had the last laugh, with Quebec-native Nicolas Roy just 1 minute and 18 seconds into OT. Tough. Game 5's back in Vegas tomorrow at 9 p.m. ET.
The other series: Meanwhile, the reigning Stanley Cup champs, the Tampa Bay Lightning, are facing their own pesky challenge in the New York Islanders. After the Isles won Game 4 on Saturday, the series is tied 2-2 heading into Game 5 tonight at 8 p.m. ET.