The Jays' youthful roster will take on the Tampa Bay Rays in the first round of the MLB playoffs.
September 28, 2020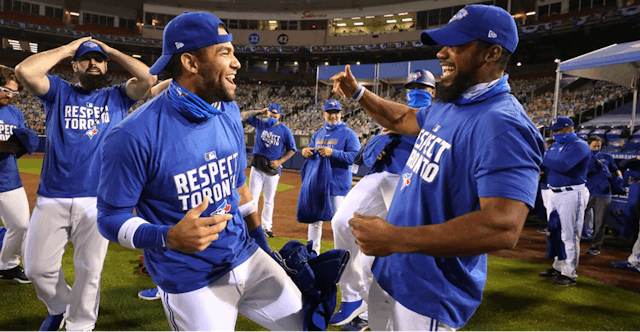 SOURCE: TORONTO BLUE JAYS/TWITTER
The GIST: After the untimely postseason losses of the Toronto Raptors and almost every Canadian NHL team, us Canadians now have an unlikely playoff team to get behind: the Toronto Blue Jays.
The team: The Jays were meant to be in a rebuilding year and weren't really supposed to make the playoffs, but here we (thankfully!) are. With hot new pitcher Hyun-jin Ryu (who joined Toronto in a blockbuster deal last December) and some heavy-hitting second-year sluggers, the Jays have been relying on their youthful confidence to get them to the postseason.
The Jays are the youngest team in the postseason, with an average age of 25.9, and are making history as the only team to ever enter the playoffs without a single player who has at least 10 years of MLB experience. Experience shmerience.
The players: Off the mound, look for Teoscar Hernández, Randal Grichuk and Vladimir Guerrero Jr. to hit dingers and run up the score. Meanwhile, look to Bo "The Flow" Bichette and Cavan Biggio to hold things down on defense.
The postseason: The Jays finished eighth in the AL, so they have a tough matchup against the No. 1 Tampa Bay Rays. The Jays' roster is virtually unrecognizable since they last made the playoffs in 2016, so here's hoping that youth outweighs experience in this one. Game 1 starts tomorrow at 5 p.m. ET. Play ball!