April 06, 2022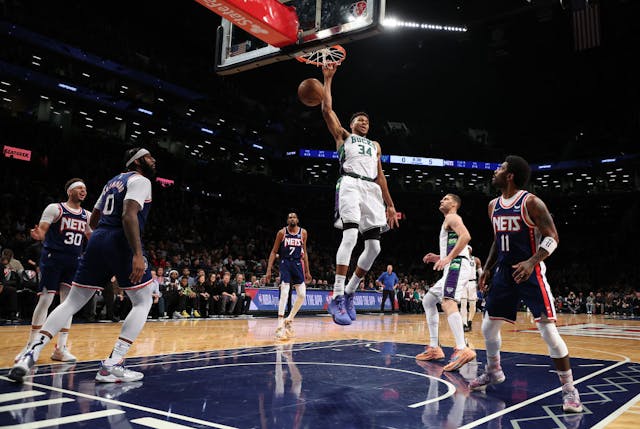 AL BELLO/GETTY IMAGES
The GIST: After a month of college basketball madness, it's time for the NBA chaos to begin. The season somehow ends Sunday and, as discussed on yesterday's episode of The GIST of It, crucial playoff seeding is on the line over the next five days.
The set-up: The league's play-in tournament (which was introduced last year) is, as hoped, adding an extra layer of drama. The top six teams in each conference are guaranteed a playoff spot, but the seventh through 10th place teams will have to battle it out next week to secure the final two playoff berths.
As a play-in tournament team, your season can come down to one game, as opposed to a best-of-seven playoff series. So while it's crucial for contending squads to avoid it, ninth and 10th place teams have the unique opportunity to play spoiler.
Eastern Conference: The 10-team field is set, but squads are playing musical chairs in the standings. Miami Heat, Boston Celtics, Philadelphia 76ers, Milwaukee Bucks, Chicago Bulls and Toronto Raptors fans can breathe easy, your teams have all clinched playoff spots.
As for the Cleveland Cavaliers, Brooklyn Nets, Atlanta Hawks and Charlotte Hornets? Seeding is still TBD, but all four teams will have to duke it out in the play-in tourney. Inhale…and exhale.
Western Conference: Five teams (the Phoenix Suns, Memphis Grizzlies, Golden State Warriors, Dallas Mavericks and Utah Jazz) are playoff locks, while the Denver Nuggets and Minnesota Timberwolves are jockeying for the coveted sixth seed.
But the real intrigue came from a team who won't be joining the party. Two years after winning the championship, the LeBron James–led LA Lakers were officially eliminated from playoff contention after losing to the Phoenix Suns last night. Yikes.