NHL Conference Semifinals: Desperate times
May 23, 2022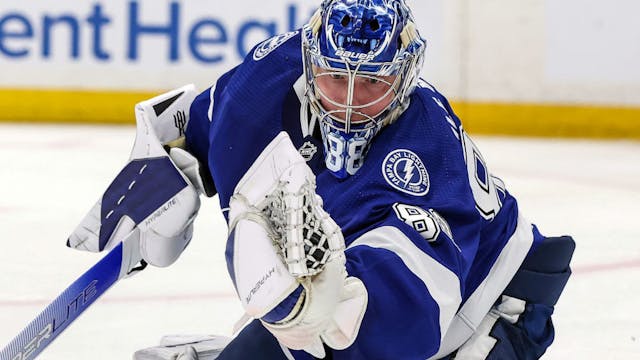 MIKE CARLSON/GETTY IMAGES
The GIST: While some teams are right where they want to be, others are calling for desperate measures. Regardless, the intensity is only growing as Round 2 of the playoffs heads into elimination territory.
Eastern Conference: The fight of Florida is turning out to be, well, not much of a fight at all. Steven Stamkos and the Tampa Bay Lightning powered a 5–1 win over the Florida Panthers yesterday, securing a 3-0 series chokehold in the process. The defending champs will be dusting off their Nimbus 2000s in hopes of a sweep tonight at 7 p.m. ET.
In the other semi, the NY Rangers topped the Carolina Hurricanes 3–1 yesterday, successfully closing their series deficit to 2-1. With Rangers' netminder Igor Shesterkin playing lights out in front of the Madison Square Garden home crowd, the 'Canes will need to try something new tomorrow night at 7 p.m. ET.
Western Conference: In typical Battle of Alberta fashion, the rivalry between the Edmonton Oilers and Calgary Flames remains boiling hot. The Oilers have gained a 2-1 series lead after last night's 4–1 victory, propelled by Evander Kane's natural hat trick. But something tells us this series will be a back and forth affair. See for yourself tomorrow at 9:30 p.m. ET.
Sprinkling in some postseason grit are the Colorado Avalanche (leading 2-1) and St. Louis Blues. With Blues' goaltender Jordan Binnington out for the remainder of the series (lower body), and the Avs losing defenseman Samuel Girard to a broken sternum, both teams are ready to rumble in tonight's 9:30 p.m. ET Game 4.