NBA Conference Finals: Celtics even up the series
May 20, 2022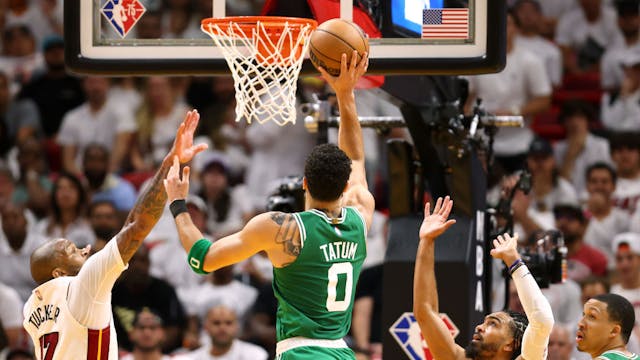 SOURCE: MICHAEL REAVES/GETTY IMAGES
The GIST: With the Eastern Conference through two games and the Western Conference preparing for its second, the NBA Conference Finals are just heating up.
Eastern Conference: After a turnover-heavy performance in Game 1, the No. 2 Boston Celtics channeled their inner Big Sean last night, bouncing back with a stunning 127–102 victory over the No. 1 Miami Heat, their first home loss of the playoffs.
The series next ships up to Boston for tomorrow's 8:30 p.m. ET Game 3, where Celtics role player Derrick White is already waiting after missing Game 2 for the birth of his first child. Talk about a whirlwind.
Western Conference: With seven (!!!) players scoring in double digits in Wednesday's Game 1, the No. 3 Golden State Warriors jumped out to an early and convincing series lead, routing the No. 4 Dallas Mavericks 112–87.
The Warriors also clamped it down on defense, holding Dallas superstar Luka Doncic to just 20 points. Expect blood, sweat and — if Golden State wins again tonight at 9 p.m. ET — tears from Mavs fans.