Bend it like Beckham
March 23, 2021
Though you may not be able to physically travel to Europe these days, we want to mentally take you there. The UEFA Women's Champions League quarterfinals start tomorrow, so today we're giving you the scoop on all you need to know. We don't always talk about European soccer, but this is a BFD, so stay with us.
Source: USSF Giphy
QUOTE OF THE DAY
"It fires her up, for sure...it's just the perfect nickname for her. She is such a 'Tower of Power,'... just look at her."
—Kristie Mewis on her sister and USWNT teammate Sam, who's about to kick off the UEFA Women's Champions League quarterfinals.
⚽️ How it works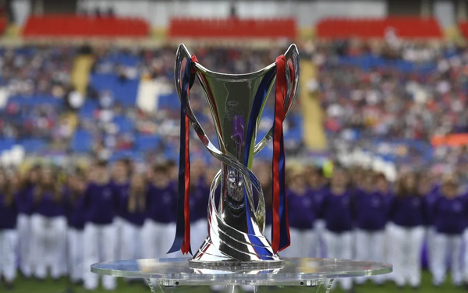 The UEFA Champions League is the biggest club (not country) soccer tournament in the world. UEFA, which stands for Union of European Football Associations, is the governing body for European soccer, and the top-tier teams from around the continent make up the Champions League.
The tournament is held annually and over the entire club regular season. Club teams play within their national leagues, and those rankings determine their entry into the Champions League.
The top two teams from the strongest 12 national associations are entered, and one team from each of the rest. From there, teams play in as many as two qualifying rounds before moving to a knockout round of 32, then round of 16, and so on.
The knockout phase consists of two legs (odd phrase, we know) for each round, meaning teams play one home and one away match. The goals from each match are added together, and the team with the better aggregate score moves on. If there's a tie, the team with more away goals advances. If they're still tied, then the teams go to extra time and if needed, a penalty shootout.
The qualifiers took place in November and the round of 32 in December. The round of 16 happened in early March, quarterfinals begin tomorrow, semis start at the end of April and the final is set for May 16th in Sweden.
This is the last season that the women's Champions League will run this way, because starting next year, the qualification system and early rounds will be structured much more like the men's Champions League.
The new structure will feature mini-tournaments and a group stage to start. Say hello new format, goodbye gender disparity (just kidding, we'll get to that in a bit).
😎 The stars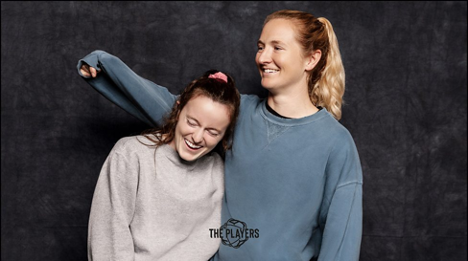 Sure, soccer is a team sport, but that doesn't mean there aren't standouts. And you might need to watch with sunglasses because of how bright these Champions League stars shine.
Rose Lavelle and Sam Mewis: These two are the best Americans not playing in America right now. The Manchester City midfielders already have a FIFA Women's World Cup under their belts (remember Lavelle's three-goal performance in that 2019 tournament?), but now they're looking for their first Champions League title.
Kadeisha Buchanan: This Olympique Lyonnais (aka Lyon) defender and 2020 Canadian Player of the Year is no stranger to winning. Buchanan's won both the Champions League and France's league title four times, as well as the Coupe de France thrice. Magnifique.
Pernille Harder: The reigning UEFA Player of the Year (she's won it twice, BTW) is looking to make a third Champions League final. She lost twice when she was with VfL Wolfsburg, but after a record-breaking transfer in September that sent her to Chelsea FC, she's trying to bring victory to England this time.
🤩 The favorites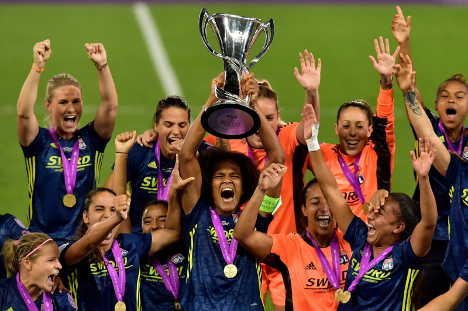 Olympique Lyonnais: Already the most successful club in women's soccer history, Lyon are the heavy favorites to win it all...again. Since the inception of the women's Champions League in 2001, Lyon have won it a record seven times, including the last five. Can you say dynasty?
They'll kick off their quarterfinal matches against national rival Paris Saint-Germain (PSG) tomorrow at 1 p.m. ET.
Bayern Munich: As Germany's best team, Bayern have sailed into the quarterfinals, winning 9-1 on aggregate over Kazakhstan's BIIK Kazygurt in the round of 16. Now they face Sweden's FC Rosengård, who are good, but probably the weakest in a very stacked field.
😴 The sleepers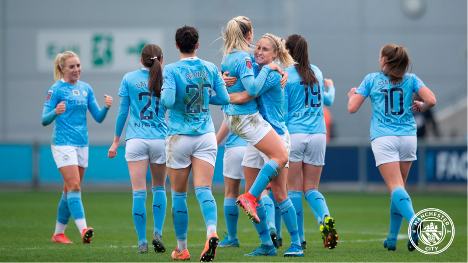 Manchester City FC: Man City are propelled by not only their North American stars, but also a number of English players looking for their first Champions League title. Here to help this year is former Lyon defender Lucy Bronze, who joined Man City after winning last year's Champions League. Nothing like a vet.
They're facing the top team in the Spanish league, FC Barcelona, who had an easy road to the quarters but will face their toughest challenge yet in England's second-best team...
VfL Wolfsburg: It's hardly fair to call the 2020 runners up a sleeper pick, but they come into this tournament as the second-best German team. And considering how strong the field is, Wolfsburg has their work cut out for them. Their matches against England's top team, Chelsea FC, are the ones we're most looking forward to.
💰 Show me the money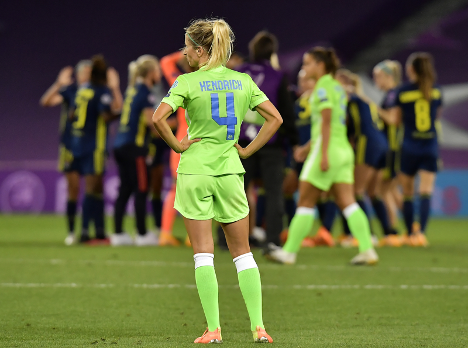 Because you know we have to talk about the prize money disparity. While this is the second biggest event in women's soccer behind the FIFA World Cup, the Champions League champions will win a mere €250,000 (equivalent of $298,477 USD). The runners up will make a bit less at €200,000, and it only drops from there.
Teams that advance to the knockout phase are also paid €20,000 for each match they play in, but considering the travel for their away games, that often doesn't cover the cost to play.
In stark contrast, any team that makes it to the men's Champions League group stage earns €15 million. Teams that make it to the quarterfinals are guaranteed €35 million (plus bonuses for wins and draws) and the champions stand to earn a minimum of €76 million.
Add to that even more money for something called the "UEFA coefficient," and we're in the nine figures. Bayern Munich earned an estimated €130 million from their 2020 win. We're speechless.
Like basically every other sport, soccer has a lot of catching up to do to close the pay gap. UEFA has yet to say if next year's structure change includes a prize money increase, but we doubt it'd be even close to what the men are making.
There's still a long way to go, but we'll continue to support these amazing women until they get there (and beyond).
So there you have it: Your primer for the UEFA Champions League quarterfinals. Now let's watch some soccer. Find the full schedule here and check out the matches live on DAZN in Canada and on Univision or CBS All Access in the U.S.