CanWNT advances to CONCACAF semis
July 13, 2022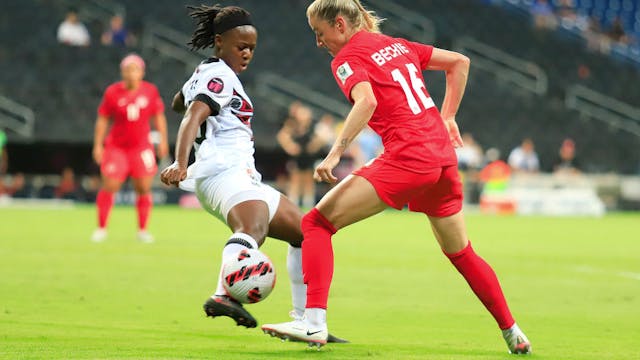 SOURCE: ALFREDO LOPEZ/JAM MEDIA/GETTY IMAGES
The GIST: And then there were four. After going undefeated in round robin play to top Group B at the high stakes CONCACAF W Championship, CanWNT is on to tomorrow's single-elimination semis. *bites nails*
What's on the line: The CONCACAF W Championship determines which squads will compete in the upcoming 2023 World Cup and the 2024 Olympics. The CanWNT already clinched one of the four World Cup spots up for grabs, but only the tournament winner will automatically qualify for the Olympics. No pressure.
Semifinal preview: The red and white will face Jamaica (the second-place finishers in Group A) tomorrow at 10 p.m. ET. While Jamaica scored four goals in their win over Haiti on Monday, they've struggled against other teams, netting just one goal in two games last week. Plus, Canada's yet to concede a goal all tourney. Let's keep it that way.
A player to watch? Forward Janine Beckie. She's been pivotal in the CanWNT attack, contributing three assists and a goal to boot.
USWNT vs. Costa Rica: As for the other semi, our southern neighbors topped Group A and will face Costa Rica (second in Group B) tomorrow at 7 p.m. ET. Expect a lockdown defensive battle — the USWNT's yet to concede a goal all tourney while Costa Rica's allowed just two. Could there be a 2020 Olympics semifinal rematch in our future?