A Whole Latte Cover Ahead of the NWSL's Fall Series
September 03, 2020
The NWSL's Fall Series will start this weekend without some big USWNT names (think Megan Rapinoe, Sam Mewis, Rose Lavelle)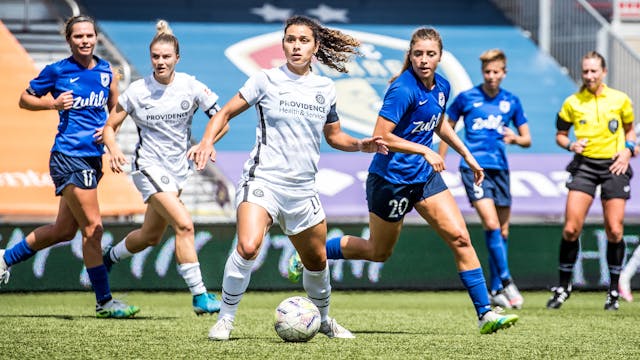 SOURCE: NWSL/TWITTER
The GIST: You know what goes great with pumpkin spice lattes? The NWSL's new Fall Series. And lucky for us all, it starts on Saturday.
What's the set-up?: Quick refresher: the league's nine teams will be playing in regionalized "pods" of three (to cut down on travel). Each team will play two home and two away games (against their other pod buddy teams) over the next seven weeks.
And even though the series begins in just about 48 hours, we only have the first three weeks of the schedule, with Sky Blue FC (FC stands for Football Club) and the Washington Spirit kicking things off on Saturday at 1 p.m. ET.
All games will be streamed globally (!!!) on Twitch, and CBS will nationally air one NWSL Game of the Week every Saturday, starting with the Sky Blue FC vs. Spirit tilt this week.
Sweet. Are all the big names playing?: Not all. Arguably the biggest name in American soccer, OL Reign star and captain Megan Rapinoe, is sitting this one out, just as she did for the Challenge Cup in July. She hasn't given a reason, but we've seen her floating around the WNBA wubble lately supporting her partner Sue Bird. Couple goals.
In fact, a pretty significant number of players won't participate in the Fall Series. Due to the uncertainty of the league's next steps after the Challenge Cup, over 30 players have been loaned out or transferred to European, Asian or South American clubs, including USWNT and Spirit star Rose Lavelle, who will play out 2020 with Manchester City (whose season starts on Saturday). Oh, bloody hell.