NBA playoffs: Grizzlies' Morant unhappy with officiating
May 09, 2022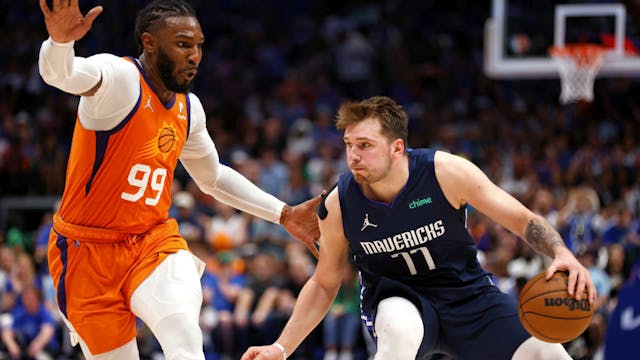 SOURCE: RON JENKINS/GETTY IMAGES
The GIST: Grab your balloons and streamers because the NBA is proving four really is a party with a thrilling Game 4 doubleheader behind us and more pivotal action on deck tonight.
Yesterday's games: Sunday brought two stunners, with a pair of squads evening their series at two games apiece. First, despite a game-high 35 points from Phoenix's Devin Booker, the Western Conference No. 4 Dallas Mavericks notched a 111–101 home win over the top-seeded Suns. Page = turned.
Over in the East, the No. 4 Philadelphia 76ers defeated the top-seeded Miami Heat 116–108, with Philly's Joel Embiid (24 points) showing out in his second game back since suffering an orbital fracture. Now it's anyone's ball game.
Tonight's games: After Saturday's narrow 103–101 win — highlighted by Giannis Antetokounmpo (pronounced YAH-niss ah-det-oh-KOON-boh) notching 42 points and notably very few fouls — the East's No. 3 Milwaukee Bucks (up 2-1) host the No. 2 Boston Celtics at 7:30 p.m. ET.
Then, in what continues to be the most contentious matchup, the No. 3 Golden State Warriors — fresh off a monster 142–112 Game 3 win — look to take a 3-1 series lead over the No. 2 Memphis Grizzlies at 10 p.m. ET.
Memphis superstar Ja Morant — who's unlikely to play in Game 4 due to a knee injury — tweeted (and then promptly deleted) his displeasure with what he believed was a flagrant foul against him during Saturday's loss. As if this series needed more drama.