April 09, 2020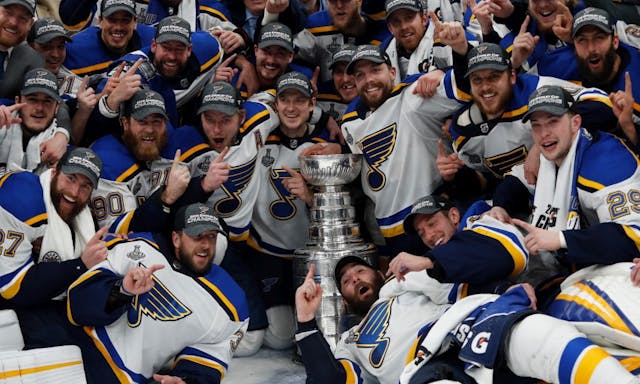 SOURCE: FORTHEW!N
The GIST: Yesterday would have been the first day of the NHL playoffs. *insert sad face with a single tear emoji* So, in the absence of a hockey postseason, here's what we think would've happened — based on how we left things — if the season hadn't been put on hold.
Eastern Conference: After inevitably netting enough goals to move him up to 6th place on the all-time career goals list, Alexander Ovechkin and his Washington Capitals would've faced the Carolina Hurricanes in the first round. The Caps would've taken the series 4-1, with the only loss coming when the 'Canes were forced to use their unstoppable emergency back-up goalie David Ayres again.
The Philadelphia Flyers and Pittsburgh Penguins would renew their Battle of Pennsylvania rivalry, and this series would've gone to seven excruciating games, with Sidney Crosby scoring the Game 7 series-winning goal in overtime to complete a Gordie Howe hat trick after fighting Gritty in the second period.
Western Conference: The Battle of Alberta would have taken center stage. The Edmonton Oilers and the Calgary Flames had a few tumultuous meetings in the regular season, and the first round of the playoffs wouldn't have been any different. The Flames would win the series in five games, but not before both teams lost at least seven players to suspensions.
And, of course, the St. Louis Blues would pump their victory song "Gloria" through the loudspeakers of their home arena with such annoying persistence that their opponents, the Nashville Predators, would elect to forfeit the entire series after Game 2 and head back home to the real Music City.
The Stanley Cup: Oh, you're wondering who would win the Cup, eh? The spirit of Laura Branigan is just too powerful. The St. Louis Blues are your back-to-back Stanley Cup champions.
What's actually happening in the NHL...: A third Colorado Avalanche player tested positive for COVID-19, though he's said to be doing well in self-isolation. And in some scary non-COVID-19 health news, Oilers' prospect Colby Cave is in a medically induced coma as he recovers from emergency surgery after a cyst caused a brain bleed. Wishing our very best to these guys.
Meanwhile, the league is still monitoring the pandemic situation and is considering North Dakota as a potential location to finish out the season. Interesting.