Gatorade partners with Vayner3, OneOf for first-ever NFT drop
July 22, 2022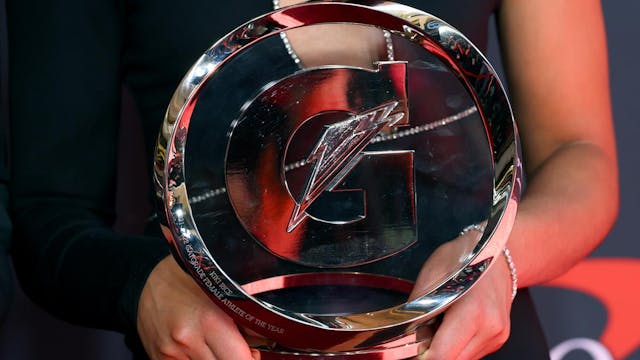 SOURCE: LEON BENNETT/GETTY IMAGES
The GIST: Gatorade celebrated its Players of the Year on Tuesday by dropping its first NFT collection. The beverage brand linked its annual fête for high school's top talent with its maiden digital collectible voyage, aptly titled "The Gatorade Game Changers: Athlete of the Year." Not everyone is feeling the chill of crypto winter, it seems.
The details: The NFTs were minted in collaboration with marketplace OneOf and blockchain consultancy Vayner3, and featured winners like Kiki Rice, an incoming UCLA hooper who took home Female Athlete of the Year. Collectors had to act fast, though — the NFTs were only available until Wednesday. Urgency tactics at their finest.
OneOf banked a cost-covering 2% of sales, but all profits plus 8% of secondary sales will be redirected to Good Sports, a charity that increases sports access and opportunities for youth in high-need communities.
Zooming out: NFT creators are building serious relationships with sports' rising stars. Memorabilia companies — including NFT brands — comprised over 17% of name, image and likeness (NIL) deals in 2021–22, leading the pack for commercial partnerships. The new strategy to attract Gen Z seems to be reaping varying levels of success.
The consideration: The move into NFTs is more risky than just a few months ago. Crypto valuation is hemorrhaging and NFT sales have been dropping since last fall. Daily sales currently sit at 217K, a major departure from the November peak of nearly 1.3 million. Here's hoping that popularity is truly cyclical.