NHL playoffs: Lightning's Colton scores last-second game winner
May 20, 2022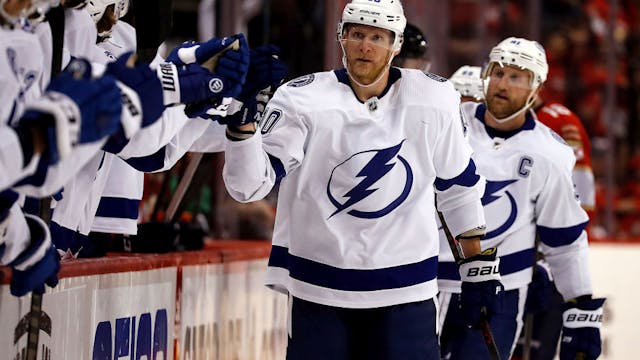 SOURCE: ELIOT J. SCHECHTER/NHLI VIA GETTY IMAGES
The GIST: As the Game 2s of the second round wrap up tonight, it's clear these eight remaining teams are ready to battle as we head into a Game-3-filled weekend. Are you ready for it?
Last night's games: With a gutsy game-winning goal from Ross Colton in the dying seconds, the Tampa Bay Lightning snagged a pivotal 2–1 Game 2 victory over the Florida Panthers. Up 2-0 in the series, the Lightning will head home to Tampa for Sunday's 1:30 p.m. ET Game 3. Can the Lightning strike thrice?
Out west, the St. Louis Blues managed to defeat the Colorado Avalanche 4–1, to leave the Mile High City fans singing, well, the blues. With the series split at one game apiece, St. Louis will attempt to draw on its home crowd energy to earn the W in tomorrow's Game 3 at 8 p.m. ET.
Tonight's Game 2s: After notching a 2–1 overtime win over the NY Rangers on Wednesday, the Carolina Hurricanes will aim to gain a 2-0 series lead on home ice tonight at 8 p.m. ET. With Hurricanes goalie Antti Raanta standing on his head, NY forwards Chris Kreider and Artemi Panarin have their jobs cut out for them.