May 11, 2020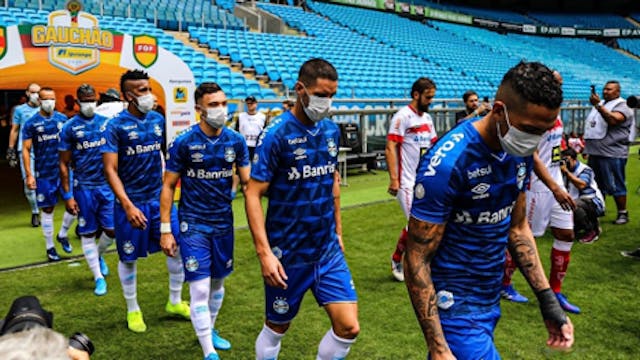 LUCAS UEBEL/GETTY IMAGES
The GIST: We're making progress, people! Well...sort of. While the COVID-19 pandemic is still raging, sports leagues around the world are slowly restarting. But, unfortunately, it seems to be a bit of a "two steps forward, one step back" situation.
How so?: Take the Ultimate Fighting Championship (UFC), for example. After a nearly two month hiatus, the mixed martial arts league hosted their first fight night on Saturday in a spectator-less arena in Florida, and the event went off almost without a hitch.
The only complication? One of the fighters, Ronaldo Souza, tested positive for COVID-19 just a day before his fight, but not before participating in the weigh-in with his opponent, Uriah Hall, and UFC president, Dana White, and hanging out with other fighters. So not okay.
That's not great: It's really not. Meanwhile, over in Europe, Germany's pro soccer league Bundesliga is set to restart on Saturday (yay!), but Dynamo Dresden, a team in the second-tier league, is now in isolation after two players tested positive for COVID-19 (not yay). Still, the Bundesliga CEO was adamant that they will proceed with the restart, even without an entire team.
On a similar note, another five players in Spain's La Liga (which recently began individual training) have tested positive, and the English Premier League's "Project Restart" has hit a roadblock, as three players on Brighton have also tested positive. Maybe, just maybe, we're getting ahead of ourselves?
Yeah, seems like it. Are any other leagues restarting?: The MLB is talking with team owners today to discuss a potential July start featuring a modified 80-game season with a regionalized schedule (and, TBH, we're totally okay with it — we've always found the 162-game regular season too long).
And the NBA has started letting players train again, though they may not have a decision on how the regular season will proceed until June. It's been reported that once the season starts, players will be tested for COVID-19 daily, and should a player test positive and need to be quarantined, there would be no stoppage in play. Not sure how we feel about that.