NBA playoffs: 76ers, Mavs & Grizzlies face elimination
May 11, 2022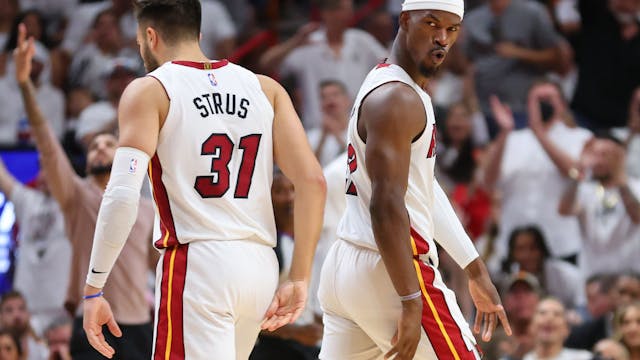 SOURCE: MICHAEL REAVES/GETTY IMAGES
The GIST: Though the league MVP has already (reportedly) been crowned, there's still lots of conference semifinal basketball to be played. Let's ride.
Last night's games: In the Eastern Conference, the top-seeded Miami Heat notched a huge 120–85 win, bouncing back from two straight losses to take a 3-2 series lead over the No. 4 Philadelphia 76ers. The Heat are now one win away from their second conference finals appearance in the last three years and could clinch it tomorrow at 7 p.m. ET. Caliente.
In the West, the No. 1 Phoenix Suns took a 3-2 series lead of their own with a 110–80 win over the No. 4 Dallas Mavericks. Can Coach of the Year Monty Williams lift his Suns to a second straight conference finals? He'll have a chance tomorrow at 9:30 p.m. ET.
Tonight's games: No time to lie around, because it's about to be an epic Game 5 between the East's No. 2 Boston Celtics and No. 3 Milwaukee Bucks. The Celtics evened the series with Monday's 116–108 comeback win and will have the Boston faithful behind them for tonight's 7 p.m. ET contest.
Then in the West, the No. 3 Golden State Warriors (leading 3-1) will have a chance to punch their conference finals ticket when they take on the No. 2 Memphis Grizzlies at 9:30 p.m. ET.
Memphis star Ja Morant is doubtful to return after missing his squad's narrow Game 4 loss with a knee injury and the Warriors will likely still be without head coach Steve Kerr, who tested positive for COVID-19 before Monday's tilt.