Toronto Raptors: Back to life, back to reality
March 02, 2022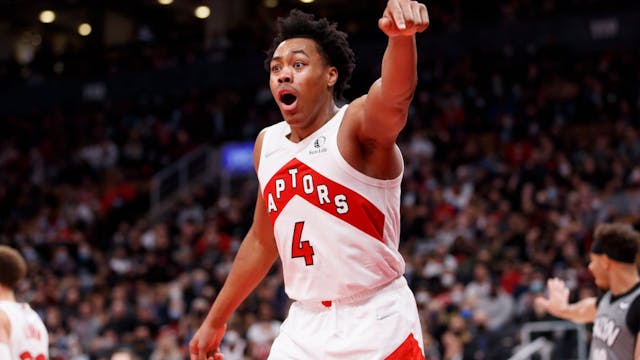 COLE BURSTON/GETTY IMAGES
The GIST: In front of a packed home stadium for the first time since December 18th (!!!), the Toronto Raptors were successful in the 6ix, claiming back-to-back wins over the Brooklyn Nets.
Last night: Toronto was certainly comfy in their crib, topping the Kyrie Irving and Kevin Durant–less Nets 109–108 last night, with young boy Scottie Barnes lighting up the floor for the Fred VanVleet–less Raptors. Feeding off that fan energy no doubt.
What's next: The Raps are hosting the lowly Detroit Pistons tomorrow at 7:30 p.m. ET. Do we hear three in a row? Doesn't seem like too much to ask.
Playoff picture: Currently sitting in a play-in spot at seventh in the Eastern Conference, the Raptors have just over a month left in the regular season to secure a postseason berth after missing out last year. Redemption, here we come!