October 29, 2020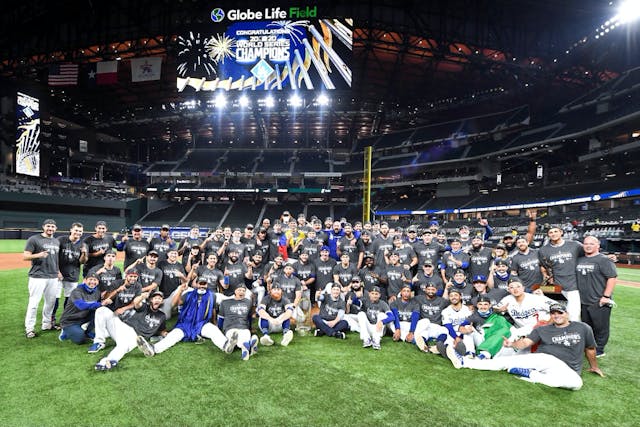 SOURCE: ENRIQUE HERNANDEZ/TWITTER
The GIST: The LA Dodgers are your undisputed 2020 World Series champions...but what would 2020 be without a bit lot of drama?
Spill!: The Dodgers led the series 3-2 heading into Tuesday's Game 6 against the Tampa Bay Rays. By the top of the eighth inning, the Dodgers were up 2–1 but down a player, as third baseman Justin Turner was pulled from the game after his Monday COVID-19 test came back positive...a little too late.
Turner was told to immediately isolate while his team went on to score another run and win the game — and the World freaking Series — 3–1. Not wanting to miss out on the fun, Turner took to the field to celebrate with his teammates and their families.
No way!: Yes way, and the MLB is not too pleased. Turner refused to leave the field when MLB officials asked him to during the postgame celebrations and at moments he even took off his mask, so the league has started a full investigation into the matter. We understand that Turner wanted to celebrate his first career World Series win with his team, but c'mon man, it's a pandemic!
Yikes. Back to the good news?: Let's do it. This World Series win was a long time coming for the Dodgers — their first since 1988 — so allow us to nerd out over some fun facts, will you?
With this win and the Lakers' NBA Championship, the city of Los Angeles has once again won multiple titles in a single year. Ten cities have had multiple major league clubs win titles in the same year, but LA has now matched New York's record, having each done it six times.
Tennis legend, gender equality activist and Dodgers minority owner Billie Jean King now has 39 Grand Slam trophies and one World Series ring. Get it, BJK (and by "it," we mean a bigger trophy case)!

All 18 of the Dodgers' postseason games were started by pitchers, including superstar Clayton Kershaw, who have spent their entire careers in the Dodgers organization. The sports family that pitches together, wins together.