April 06, 2020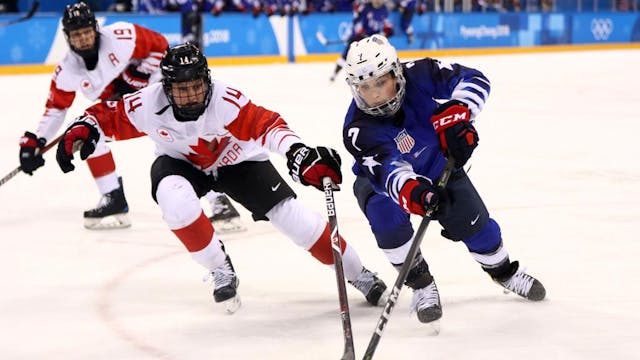 SOURCE: NHL.COM
The GIST: If it weren't for the COVID-19 pandemic, we'd be busy enjoying the IIHF Women's World Hockey Championship (WWHC) that was set to take place in Halifax and Truro, Nova Scotia, from March 31st to April 10th. And because we miss the good ol' hockey game so freaking much, we're highlighting our top three women's international hockey moments.
3. Team Canada and Team USA are far and away the two powerhouses in women's hockey — they've placed first or second at the WWHC every year since the tournament started in 1990...until last year. The 2019 WWHC saw the Finnish take home the silver after upsetting Canada 4–2 in the semifinals and just losing to the US in overtime (OT) in a v. controversial final.
And as much as we live for the classic Canada-USA rivalry, we loved seeing a fresh face in the finals. It demonstrated just how much the women's game is improving and how much it's growing globally, and it reminded us that in sports, you can't take anything for granted.
2. There's nothing like the rivalry between Team Canada and Team USA at the Olympics, and the 2018 PyeongChang Olympic gold medal game was no exception. After Canada had owned the podium four Olympics in a row (from 2002 to 2014), the US was out for revenge.
Midway through the third period, Canada was up 2–1 and the gold medal was within reach...until the Lamoureux twins (you know, the sister act we talked about last week) kicked it into high gear: Monique scored to force the game into overtime (which settled nothing) and Jocelyne netted the winner in the shootout to give the US their first Olympic gold medal in 20 years (much to the chagrin of Canadian ice dancing star, Scott Moir).
1. If the 2018 Olympic gold medal game was drama, the 2014 Olympic gold medal game in Sochi was DAH-RA-MA. Early in the third period, the US was up 2–0 over the Canadians and seemed to have a stranglehold on the game — that is, until Canada's Brianne Jenner scored to make it 2–1 with three minutes left.
With just over a minute left in the game, Canada pulled their goalie in order to have an extra attacker on the ice to try to tie it up. And that decision was almost a costly one for Canada, as the Americans had a shot on the empty net but the puck just hit the post. Talk about anxiety-inducing.
Canada then sped back up the ice, and you guessed it, SCORED with moments to spare thanks to Marie-Philip Poulin (pronounced POO-LEHN). The game then went into overtime, where, on a power play (that, TBH could have been a penalty shot), Poulin scored again, ending what is arguably the greatest women's hockey game ever played.