The GIST: A series of outrageous events led to the firing of New York Rangers (NYR) president John Davidson and general manager Jeff Gorton.
May 06, 2021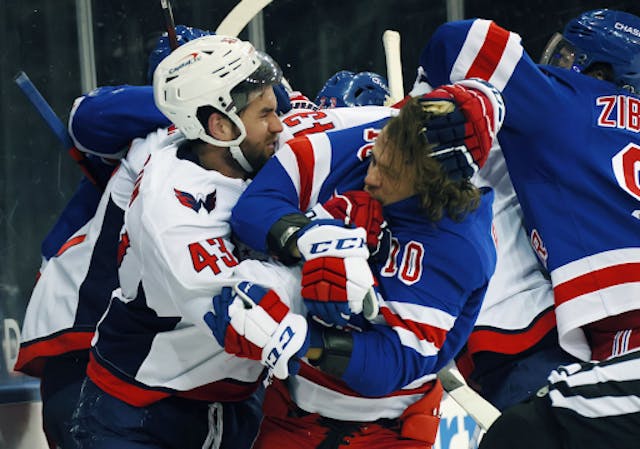 Source: Bruce Bennett/USA TODAY Sports
The incident: It started during Monday night's Rangers vs. Washington Capitals game. Caps strongman Tom Wilson — who has a and subsequent disciplinary action — acted severely outside traditional hockey violence boundaries and , injuring him.
The backlash: The Rangers a strongly worded statement on Tuesday, calling for harsher punishment and for the NHL to fire Parros. The statement was well-received by everyone...except the NYR owners, who (plot twist) yesterday.
The two teams faced off again in their final meeting of the season last night, and unsurprisingly, things started with . The first period alone and Wilson leaving with an upper body injury.
The Caps are off to the playoffs now and the Rangers aren't, but something tells us that in October, they'll pick up right where they left off.
The postseason: Speaking of, there's still no postseason start date. Due to the Vancouver Canucks' previous COVID-19 outbreak and ensuring four-week hiatus, the regular season won't end until May 19th, way past the original May 11th playoff start.
The happy news: Let's end on a high. Team Canada made it to the IIHF U18 Men's World Championships final after a stunning 8–1 defeat over Sweden yesterday. Canada will now face Russia in today's final. Watch it on TSN3 at 9 p.m. ET.