NHL playoffs: First round wraps up
May 16, 2022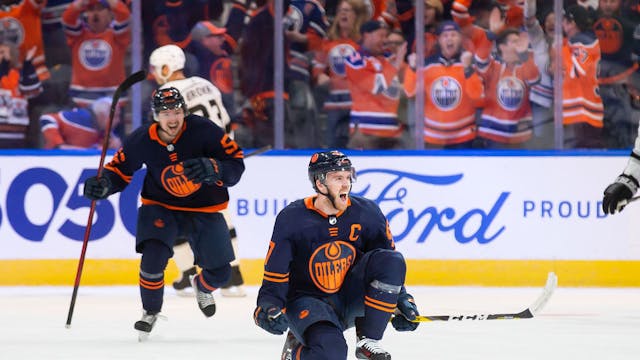 SOURCE: CODIE MCLACHLAN/GETTY IMAGES
The GIST: Last night was more than just the Junos; it also marked the close of the first round of the NHL playoffs. While some teams broke their curses, others are still waiting for their happy ending.
Calgary Flames: Johnny Gaudreau and the Flames burned through the Dallas Stars with a thrilling 3–2 overtime (OT) win in last night's Game 7, advancing to the second round for the first time in seven years. Who else but Johnny Hockey with the game winner? Feeling hot, hot, hot.
Their opponent for Round 2? None other than their rival Edmonton Oilers. Taking the Battle of Alberta to a new level.
Edmonton Oilers: It came down to a nail-biting Game 7 finish, but the Oilers, led by superstar Connor McDavid, shut out the LA Kings 2–0 on Saturday to advance to the second round for the first time in five years.
Now that the curse is reversed, if the Oilers can remain electric offensively and goalie Mike Smith stays strong, Calgary could be in for a reckoning.
Toronto Maple Leafs: Look away, Leafs fans. In a tight Game 7 battle, the Leafs fell 2–1 to the two-time defending champion Tampa Bay Lightning in heartbreaking fashion on Saturday.
With their first round exit, the Leafs, who haven't won a playoff series since 2004, also became the first team in NHL, MLB and NBA history to lose a winner-take-all game in the opening round of the playoffs five years in a row. Time for some major changes.
The rest of round two: With the NY Rangers' 4–3 OT win over the Pittsburgh Penguins last night, they'll move on to face the Carolina Hurricanes, with the Tampa Bay Lightning taking on the Florida Panthers in the other Eastern Conference semifinal.
As for the West, the Colorado Avalanche will face the St. Louis Blues alongside the Battle of Alberta.