Toronto Raptors: The series is for the taking
April 27, 2022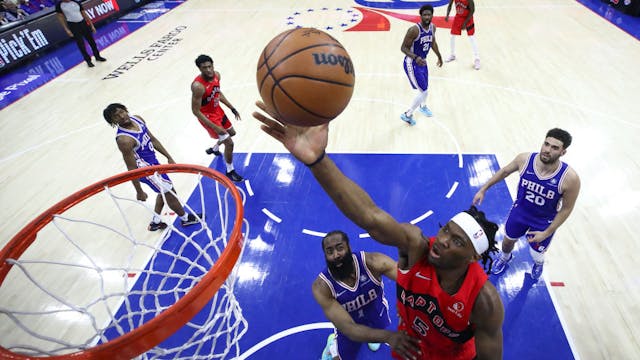 SOURCE: TIM NWACHUKWU/GETTY IMAGES
The GIST: Do you hear that sound? It's the buzz around the Raptors returning to the 6ix for Game 6 against the 76ers.
Game 5 recap: It was a big Raps lineup that made Monday's 103–88 Game 5 domination possible. Toronto's Precious Achiuwa kept an injured Joel Embiid at bay while OG Anunoby has been burning the candle at both ends, keeping James Harden to just 92 points this series and scoring 99 of his own.
Game 6 preview: Yes, no NBA team has ever come back from a 3-0 series deficit, and yes, All-Star Fred VanVleet is still injured, but the Raps' gritty defense is quickly chipping away at Philly's flow, and with 76er Matisse Thybulle out again due to Canada's COVID-19 vaccination rules, this game is for the taking — watch them take it.
All to say, as long as Pascal Siakam stays spicy and the Raps make things difficult for Embiid and Harden, Toronto will become the fourth team in league history to force a Game 7 after going down 3-0. Even Charles Barkley thinks they can do it.