Proof is in the progress
March 29, 2021
The GIST: We've gone from 64 amazing teams to just the "Elite Eight." It's time for the quarterfinals of the NCAA's women's basketball championship.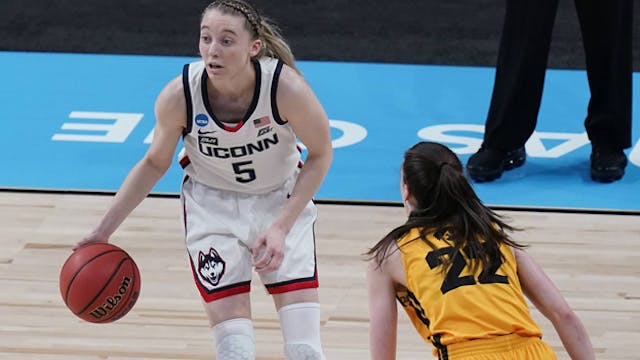 Source: Eric Gay/AP Photo
Sweet, Sweet Sixteen: Before we look ahead, let's quickly reflect on the epic Sweet 16 matchup that was Paige Bueckers (pronounced BECKERS) and No. 1 UConn versus Caitlin Clark and No. 5 Iowa. While these two players are the top freshmen in the NCAA, neither dominated the game on Saturday.
Instead, it was a showcase of the depth both teams possess, with UConn comfortably edging out Iowa 92–72 (the score doesn't reflect how fun it was to watch). Bueckers complemented fellow freshman Aaliyah Edwards, as well as the game's top scorer Christyn Williams.
Elsewhere, No. 1 NC State was upset by No. 4 Indiana, and No. 3 Arizona knocked off the very strong No. 2 Texas A&M. Goodbye, whatever was left of our bracket.
Eight isn't enough: The Elite Eight games start today. First up in the River Walk region, UConn plays No. 2 Baylor in arguably the most exciting game of the tourney yet. These powerhouses' regular season matchup was canceled due to COVID-19 protocols, so this is the first time we'll see them face off.
The Mercado region is the only region without top seed representation. Instead, the upsetters, Indiana and Arizona, will play each other for a spot in the Final Four in tonight's late game.
Tomorrow, the top team of the tournament, No. 1 Stanford, faces No. 2 Louisville (who sadly beat Oregon last night...we'll miss you Sedona Prince!) and Hemisfair's No. 1 South Carolina takes on another underdog, No. 6 Texas. Follow all the action here.