International Women's Day: Put women's sports on TV
March 08, 2022
Tired: Saying no one watches women's sports. Wired: Looking at the numbers.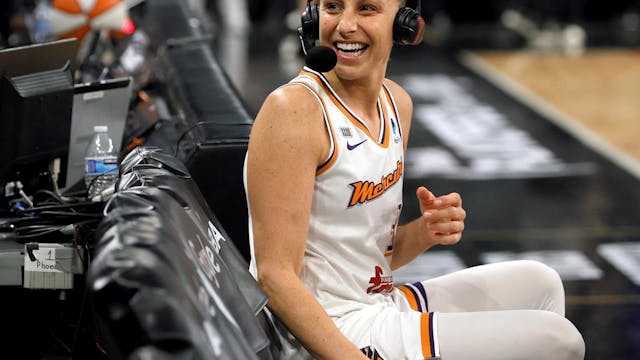 ETHAN MILLER/GETTY IMAGES
The stats don't lie — more viewers than ever are watching women's sports, and it's past time to level the broadcasting playing field.
🏀 WNBA: In 2020, regular-season WNBA viewership across networks was up 68%. In 2021, viewership increased by another 49%. An average of 548,000 viewers watched the 2021 WNBA Finals — a 63% increase from 2020. Count it.
⚽️ NWSL: An average of 525,000 viewers tuned in to see the Washington Spirit beat the Chicago Red Stars in the 2021 NWSL title game, a 216% increase from the 2019 championship.
🎾 Tennis: The real (teenage) dream of the 2021 US Open was the average of 2.44 million viewers who watched teen sensations Emma Raducanu and Leylah Fernandez battle for the crown in the women's singles championship match.
The women's final peaked at 3.4 million viewers, which was ESPN's highest peak of the tournament. Compare that to the men's final, which averaged 2.05 million viewers and a peak of 2.7 million viewers. Boom.
🏅 Olympics: But wait, there's more. Women reigned supreme during the Tokyo 2020 Olympics, with women's sports accounting for nearly three-fifths of NBC's total evening primetime Olympic media coverage.
In Canada, four out of the five most viewed Olympic moments were women's events, and a record-breaking 4.4 million Canadians watched the women's soccer gold-medal match. Amazing things happen when you put women's sports on TV.