Third time's the charm
April 16, 2020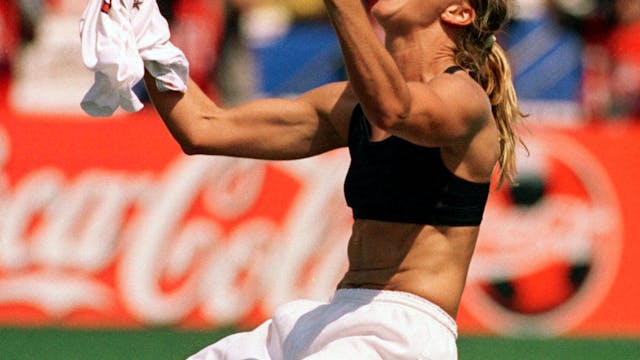 SOURCE: AP PHOTO/THE SAN FRANCISCO EXAMINER, LACY ATKINS, FILE
The GIST: The National Women's Soccer League (NWSL) was supposed to kick off (literally) this Saturday, but due to the COVID-19 pandemic, has extended their training moratorium (sounds bleak, no?) until May 5th. So to give you the soccer fix you so desperately need, we're giving you a herstory lesson — and we promise it's not the boring kind — on women's pro soccer in North America.
The 1900s: Before diving into women's pro leagues in North America, we first have to take a step back and look at what was happening internationally. While men's soccer made its Olympic debut in 1900 and had its first FIFA World Cup in 1930, the first FIFA Women's World Cup was in 1991 and women's soccer only became an Olympic sport in 1996. Let that sink in for a minute.
It was only after the US won the FIFA Women's World Cup in 1999, in front of 90,185 spectators — the largest crowd at a women's sporting event to-date — that women's soccer really began to kick (get it?) into high gear.
Early 2000s: Feeding off the momentum of the epic World Cup win, the first women's professional soccer league in the United States — the Women's United Soccer Association (WUSA) — began play in April 2001. Unfortunately, in September 2003, the league folded due to financial problems and a "lack of public interest." Translation: insufficient media coverage and endorsement support from corporations.
In 2009, the next pro league started, named the Women's Professional Soccer League (WPS). And despite a strong showing in 2009, following the 2008 US Olympic gold medal win, the league started having problems in 2010. There were internal team struggles, legal battles and, again, financial issues, which led to the league closing its doors in May 2012. Ugh.
The 2010s: At this point, the soccer world was incredibly frustrated at the tumultuous state of women's pro soccer (like, no duh) and the North American soccer federations finally recognized that to produce high-quality national players, you need to have a local pro league. So the US Soccer Federation (USSF), Canadian Soccer Association (CSA) and Mexican Football Federation (FMF) announced there would be eight teams in a new professional women's soccer league — the NWSL — that would be funded by the USSF. Ironic.