The GIST: After a match that at times looked more like a diving competition than a soccer game, the Academy Award UEFA European Championship goes to…Italy.
July 12, 2021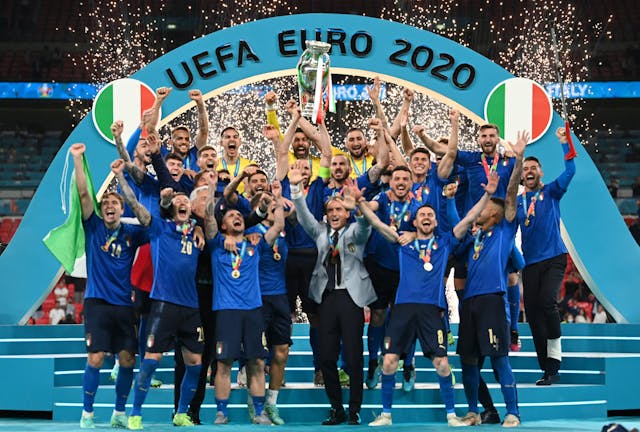 Source: UEFA Euro 2020/Twitter
The big game: It was supposed to be the perfect setup for an England win. At home in front of 60,000 fans at Wembley Stadium, the English team opened with a Luke Shaw dagger in the second minute,
England held up for a while, but in the end, it wasn't meant to be. Italy came back strong, and forcing extra time. After a scoreless 30 minutes of overtime, it all came down to the absolute worst way to win a game: penalty kicks.
The aftermath: Back to those English fans. We previously talked about them for taking a knee before matches, but things got worse yesterday when Black players Marcus Rashford, Jadon Sancho and Bukayo Saka were targeted in after they missed their penalty kicks. Disgusting.
The English team quickly condemned the attacks, and Rashford's home club Manchester United and Saka's Arsenal sent out messages of support.
Up next: With the Euros over and on Saturday, it's time for the Concacaf Gold Cup, North America's continental tournament, all in preparation for next year's 2022 FIFA World Cup in Qatar.
Of course, we can't forget about the next biggest soccer event: the Olympic soccer tournament, . The U23 teams will compete on the men's side, but it's the we're especially psyched for. Get excited.