NHL playoffs: Oilers, Lightning bounce back
May 06, 2022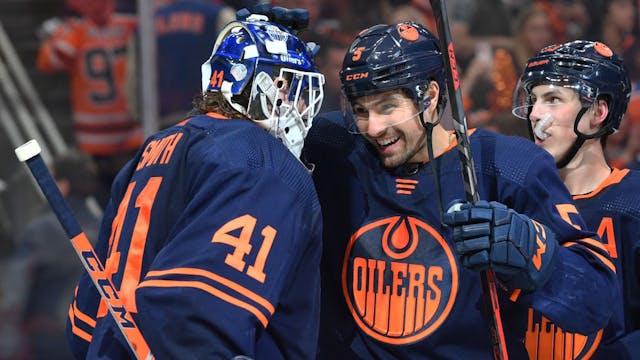 SOURCE: ANDY DEVLIN/NHLI VIA GETTY IMAGES
The GIST: As the good ol' hockey games unfold, tension across Canada is certainly growing.
Calgary Flames: With a ho-hum performance, the Flames fell 2–0 to the Dallas Stars last night, tying the series 1-1. After a slow first period, Calgary just wasn't clicking enough to overtake the Stars' steady press.
Edmonton Oilers: After a rough Game 1, Oilers goalie Mike Smith came back with a vengeance, notching a shutout in the team's 6–0 Game 2 victory on Wednesday. In front of a rockin' home crowd, Edmonton's offensive depth was on display, as an array of players (including returning defenseman Darnell Nurse) were able to sink one past the LA Kings defense.
With the series tied 1-1, the Oilers will need to keep up their attack to snag another win tonight at 10 p.m. ET, and with another on Sunday, they could finish the weekend with a commanding lead over LA.
Toronto Maple Leafs: The Leafs should have taken Han Solo's advice ahead of Wednesday's (May the fourth) Game 2, well, collapse, against the Tampa Bay Lightning. Tampa goalie Andrei Vasilevskiy showed his typical brick wall playoff form, as the defending champs kept the Leafs offense flustered and in the sin bin, leading to a 5–3 Lightning win. Oof.
As the series heads to Tampa, the Leafs will need to stay out of the penalty box if they want to best Lightning coach Jon Cooper's killer last change matchups and get a little action in at 7:30 p.m. ET tonight.