The GIST: Australia takes COVID-19 precautions very seriously, and 72 tennis players stuck in quarantine are experiencing that for themselves.
January 18, 2021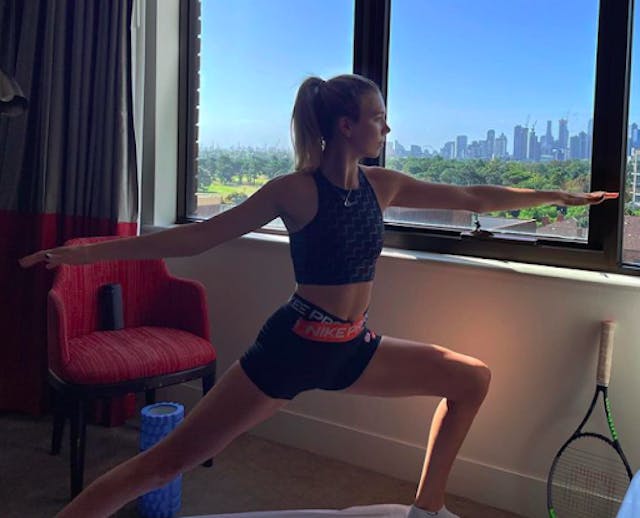 Source: Katie Boulter/Instagram
The background: The first major of the season, the Australian Open, is set to begin February 8th in Melbourne. Given Australia's mandatory two-week isolation requirement for all international travellers (even the athletic ones), players were advised to arrive around three weeks early to be safe.
To help accommodate this, the Open organized 17 chartered flights, exclusively for participating players, coaches and officials.
All passengers had to show proof of a negative COVID-19 test before boarding the flight, and upon arrival, players were expected to quarantine in hotel complexes that would still allow them to train and practice on outdoor courts.
The problem: Five travellers — including — from three of the flights tested positive for COVID-19 upon arrival in Melbourne, which forced all 201 passengers into an even stricter 14-day quarantine.
That means that 72 players (none of whom have tested positive, BTW) cannot leave their hotel rooms for two weeks. No outdoor practices, no on-court training, no fresh air for two whole weeks.
The affected: Andreescu, who is set to return to the big stage after 15 months of injury leave, is stuck in quarantine, along with her coach, fellow Canadian Vasek Pospisil, Victoria Azarenka, Kei Nishikori and about 30% of players set to play in the Aussie Open. And .
Players have taken to Twitter to complain about the forced quarantine, claiming Tennis Australia didn't properly prepare them, while Tennis Australia claims all players were made aware of the rules before travel. A classic case of "they said, they said."