April 01, 2022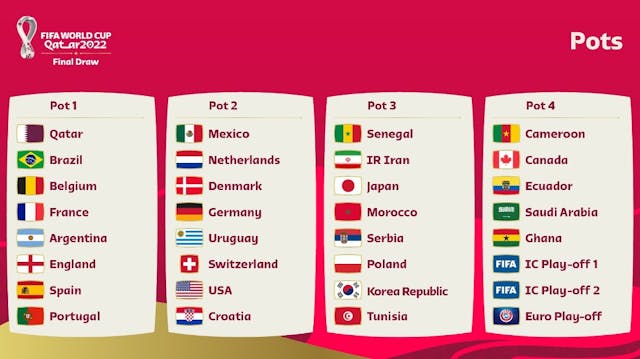 FIFA.COM/TWITTER
The GIST: Cross your fingers and toes because the draw for November's men's World Cup is today, and the CanMNT, who haven't played in the World Cup since 1986, will soon learn their group fate. So let's break down the (pretty confusing) process.
The setup: The draw, taking place in World Cup host nation Qatar, begins today at 12 p.m. ET. Based on their international ranking, the 29 teams and three placeholders are currently divided into four pots and will ultimately separate into eight World Cup groups (A through H) — the teams they'll play against in the tourney's group stage.
The 32 teams have been equally divided among the four pots, with the top internationally ranked teams in Pot 1 and so on.
As hosts, Qatar is automatically placed in the top pot (Pot 1) and are joined by the seven highest-ranked teams (Brazil, Belgium, France, Argentina, England, Spain and Portugal).
With their loss to Panama on Wednesday, the CanMNT dropped from No. 33 to No. 38 in the world rankings, sliding from Pot 3 to Pot 4 in the process. Welp.
The draw: Now for the exciting part. Host nation Qatar has already been placed in Group A. The other Pot 1 teams will then be randomly assigned (they literally pull their names out of a bucket) Groups B to H. After all Pot 1 teams have been placed, the same is done with the Pot 2 teams, and on it goes.
Countries from the same confederation cannot be in the same group, meaning an all-GIST battle between the USMNT and CanMNT is off the table, at least for the group stage.
Why's the draw such a BFD? The stronger the group, the harder it is to advance to the knockout stage, as only two of the four teams in each group move on.
Zooming out: Amid the excitement, today's draw also brings Qatar's human rights abuses squarely into focus. Migrant workers were exploited in the rush to build infrastructure ahead of the World Cup, resulting in thousands of deaths.
Plus, homosexuality is illegal in Qatar and punishable with several years in prison.
Norwegian Football Federation president Lise Klaveness (notably one of just a handful of women to lead a federation) bravely criticized the host nation yesterday. Stay tuned.