January 30, 2020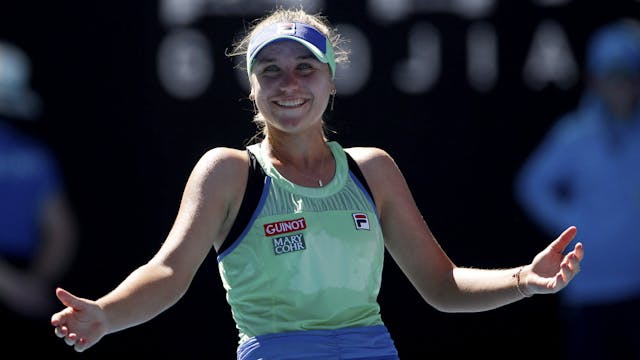 The GIST: Believe it or not, we're almost down to the final matches of the Australian Open — the first grand slam tennis tournament of the season!
What's up with the women?: The stage is set for Saturday's finals with Sofia Kenin taking on Garbiñe Murguruza. How'd this happen? Well, last night, or we guess early this morning, World No. 1 and Aussie-standout Ashleigh Barty took on No. 14 American Sofia Kenin, with Kenin upsetting Barty in straight sets. Meanwhile, Simona Halep was also upset by Garbiñe Murguruza in straight sets. TBH, we didn't see these two upsets coming, but you have to love an underdog story.
And how about the men?: Two of the biggest names in tennis history, Roger Federer and Novak Djokovic (pronounced JOKE-OH-VITCH), played their semi in the wee hours of this morning with Djokovic completely dominating Fed also in straight sets. We guess straight-set energy was in the air last night?
As for the other semifinal, Alexander Zverev (pronounced SVAIR-EV) and Dominic Thiem (pronounced TEAM) take the court on Friday at 3:30 a.m. ET. And this match could get interesting — Zverev has quietly beasted the competition on the way to his first Grand Slam semifinal, but Thiem upset Spanish legend Rafael Nadal in the quarter-finals. Tricky, tricky.
Who will win it all?: You can never be too sure in sports, but our bet would be on young-gun 21-year-old Sofia Kenin to win her first Grand Slam title and that Djokovic will walk away with his second-straight, and record eighth, Aussie Open.