🏈

NFL Off-field Drama

November 30, 2020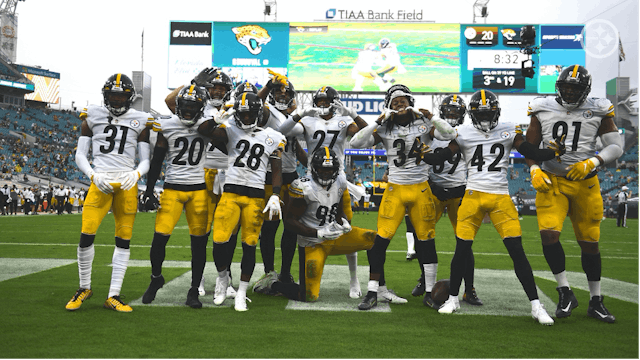 SOURCE: PITTSBURGH STEELERS/TWITTER
Where to start?: The undefeated Pittsburgh Steelers (10-0) had their highly anticipated Thanksgiving game against the Baltimore Ravens (6-4) postponed to yesterday and then again to tomorrow night due to ongoing COVID-19 issues with both teams.
As of yesterday, the Ravens had 22 players on the COVID-19 reserve list. For their part, the Steelers have placed four players, including running back (RB) and cancer survivor James Conner, on the list, too.
Yikes: Yikes is right. In other COVID-19 news, all four Denver Broncos quarterbacks (QBs) were put on the COVID-19 reserve list after one of them tested positive last week and the other three interacted with him without masks, leaving the team QB-less heading into yesterday's matchup against the New Orleans Saints.
The NFL chose not to postpone the game (cue eye roll), leaving the Broncos with little choice but to promote practice squad wide receiver (WR) Kendall Hinton to starting QB. The Broncos also tried to sign offensive assistant coach Rob Calabrese as back-up, but the league wouldn't allow it.

To no one's surprise, NOLA won 31–3. Guess they won't be making a Keanu Reeves movie about this game.
Is the NFL trying to fix this mess?: Apparently, but it doesn't seem to be working. Moving in the right direction, the Saints and New England Patriots are the latest teams to be fined for protocol violations, and the league is also looking at bubbles for the playoffs.
🏈

NFL Sunday Recap

November 30, 2020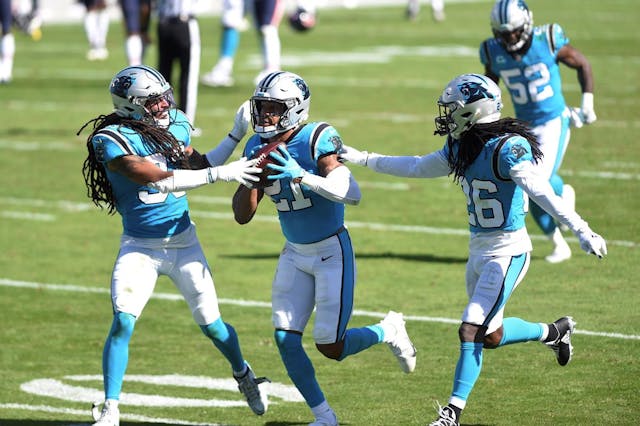 SOURCE: PFF/TWITTER
Here are our favorite history-making highlights from yesterday's games:
Take it on the Chinn: Carolina Panthers (4-8) rookie linebacker/safety Jeremy Chinn made history as the first defensive player to notch back-to-back fumble returns (in a mere 10 seconds of game time!). On top of those two touchdowns, he also added seven tackles for good measure, but it wasn't enough for a win over the Minnesota Vikings (5-6).
King of the Hill: With 203 yards in the first quarter alone, Kansas City Chiefs (10-1) WR Tyreek Hill became just the third player in 30 years to record over 200 yards in a single quarter. Hill ended the 27–24 win over the Tampa Bay Buccaneers (7-5) with 269 yards, three TDs and one backflip. But let's not forget: being a good football player doesn't make you a good person.
#CoachLikeAGirl: The Cleveland Browns (8-3) made herstory yesterday when Callie Brownson subbed in as the tight ends coach, becoming the first-ever female positional coach to work an NFL game. And, of course, the Browns won 27–25 over the Jacksonville Jaguars (1-10).
Awesome. What's up next?: The Seattle Seahawks (7-3) are in the City of Brotherly Love to face the Philadelphia Eagles (3-6-1) tonight for Monday Night Football at 8:15 p.m. ET, and that Steelers-Ravens game is still supposed to happen tomorrow at 8 p.m. ET...but who can really say?
⚽
🏆
Kristie Mewis, USWNT End 2020 With Win
November 30, 2020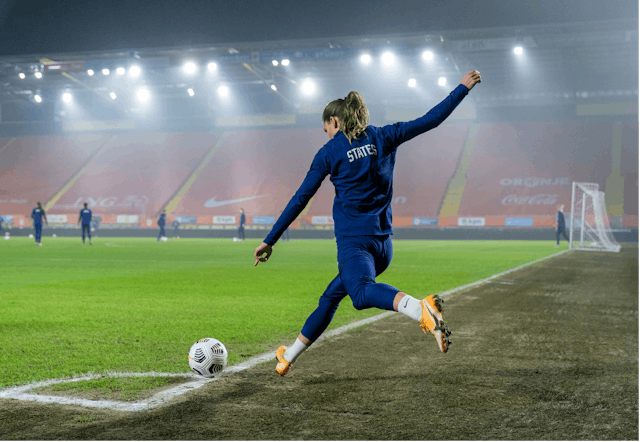 SOURCE: USWNT/TWITTER
🏎Formula One: French racecar driver Romain Grosjean is counting his lucky stars today. During the opening lap of yesterday's Bahrain Grand Prix, Grosjean's car crashed into a metal barricade, split in two and burst into flames. While crashes are pretty common in F1, accidents of this magnitude are once in a lifetime: this was the first F1 crash to involve fire since 1989.
⚽️Soccer: The Netherlands women's national soccer team never stood a chance against the U.S. women's national soccer team's (USWNT) star-studded lineup. The American aces beat their Dutch hosts 2–0 in Friday's friendly, thanks to goals from Kristie Mewis (her first since 2013!) and Rose Lavelle. The USWNT will get together next in January for a three-week training camp.
In other soccer news, the MLS is down to six teams. The New England Revolution continued their underdog journey with a win over Orlando City SC yesterday, and will face Columbus Crew SC in the Eastern Conference finals. The Western Conference semis are set for tomorrow and Wednesday. Keep up with the action here.
🏒

Looking Ahead to the PWHPA and NWSL Seasons

November 26, 2020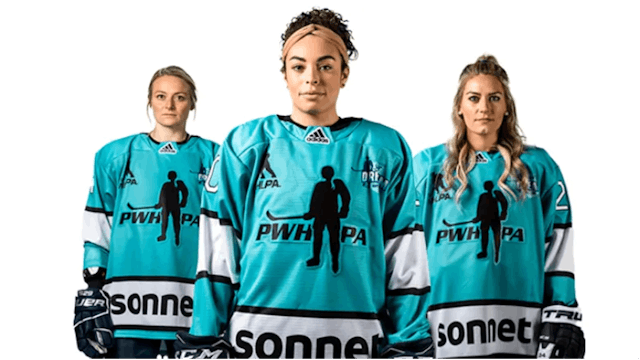 SOURCE: LORI BOLLIGER/CANADIAN PRESS
The GIST: While the NHL's January 1st start date may be in jeopardy and the Team Canada World Junior camp is in quarantine for two weeks, it's a good thing we have women's hockey to keep us entertained.
Give me the details: Ahead of the Secret Dream Gap Tour (and the inaugural Secret Cup), the Professional Women's Hockey Players Association (PWHPA) have introduced a new Toronto-based team called Team Sonnet, named after the PWHPA's big new partner, Sonnet Insurance.
Along with the unveiling of their sharp turquoise jerseys, the Toronto team also announced their star-studded roster that includes Sarah Nurse, Renata Fast, Natalie Spooner and Brianne Jenner. So stacked.
Tell me more: Meanwhile, the National Women's Hockey League (NWHL) announced that their upcoming sixth season will be jam-packed into a two-week schedule. The league's six teams will compete in a bubble environment in Lake Placid, NY, playing each other once before heading to a playoff round, then semifinals, and finally a one-game final for the Isobel Cup.
The bubble environment will accommodate the newest expansion team, Toronto Six, as the border to the U.S. remains closed. How thoughtful.
Wait, there are two leagues?: Not quite. The NWHL is a professional league in every sense, with set teams, a set schedule, player salaries (albeit very small), game broadcasts and plans to expand. The PWHPA, on the other hand, has a more fluid set-up, with a pool of players and showcase events in various cities.
The PWHPA was created in May 2019 after the Canadian Women's Hockey League (CWHL) folded. It has the support of over 200 of North America's top hockey players and a steadfast mission "to provide a united voice to players advocating for the creation of a sustainable professional league." Here, here!
They acknowledge the NWHL as a league, but not the league to officially represent women's hockey at the highest level in North America.
🏈

Thanksgiving Football

November 26, 2020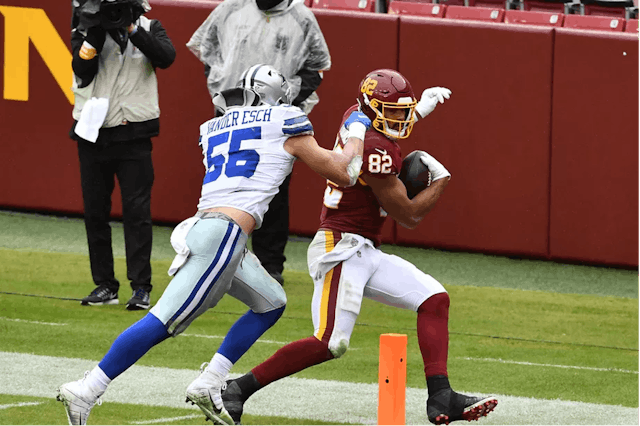 SOURCE: BRAD MILLS/USA TODAY SPORTS
The GIST: It's Thanksgiving in America, which means two great things for Canada: tomorrow's Black Friday deals, and today's NFL games.
Sweet! When does it start?: Thanksgiving football kicks off as it always does: with a Detroit Lions home game at 12:30 p.m. ET. The Lions have been hosting Thanksgiving games since 1934 (save for a hiatus during WWII), and they're joined this year by the Houston Texans.
Neither team has had a particularly stellar season so far, with the Texans at 3-7 and the Lions at 4-6. The Texans are coming off a clutch win over the New England Patriots on Sunday and will look to carry that momentum to give the Lions yet another Thanksgiving Day loss. Fun fact: the Lions own a pretty meh 37-41-2 Thanksgiving record.
Nice. Keep 'em coming: The Dallas Cowboys are the other Thanksgiving Day staple, competing during almost every feast since 1966. While they have an impressive holiday record of 31-20-1, the Cowboys and their fellow NFC East division opponents, the Washington Football Team (WFT), have matching 3-7 records this season.
The Cowboys will be playing with heavy hearts as they mourn the death of their strength and conditioning coach, Markus Paul. Paul, who won five Super Bowls as a member of the Patriots' and New York Giants' coaching staff, suffered a medical emergency during team practice on Tuesday and passed away yesterday.

We expect this one to be a messy matchup between two below .500 teams, but we think the Cowboys will continue their holiday tradition and take the win in honor of Coach Paul. Kick-off is set for 4:30 p.m. ET.
Any other games?: Unfortunately, that's it. The undefeated Pittsburgh Steelers were supposed to host the 6-4 Baltimore Ravens in primetime but, of course, 2020 had other plans.