🏆

Do the two step, then cowboy boogie

May 11, 2020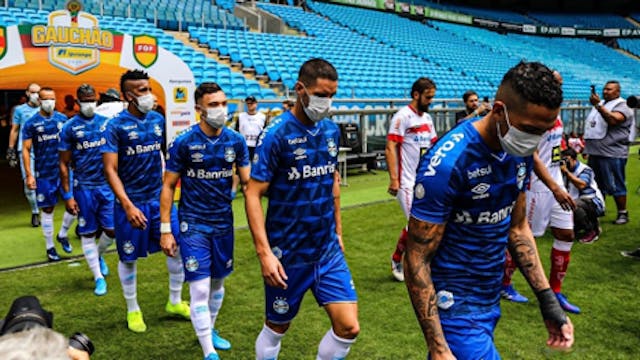 LUCAS UEBEL/GETTY IMAGES
The GIST: We're making progress, people! Well...sort of. While the COVID-19 pandemic is still raging, sports leagues around the world are slowly restarting. But, unfortunately, it seems to be a bit of a "two steps forward, one step back" situation.
How so?: Take the Ultimate Fighting Championship (UFC), for example. After a nearly two month hiatus, the mixed martial arts league hosted their first fight night on Saturday in a spectator-less arena in Florida, and the event went off almost without a hitch.
The only complication? One of the fighters, Ronaldo Souza, tested positive for COVID-19 just a day before his fight, but not before participating in the weigh-in with his opponent, Uriah Hall, and UFC president, Dana White, and hanging out with other fighters. So not okay.
That's not great: It's really not. Meanwhile, over in Europe, Germany's pro soccer league Bundesliga is set to restart on Saturday (yay!), but Dynamo Dresden, a team in the second-tier league, is now in isolation after two players tested positive for COVID-19 (not yay). Still, the Bundesliga CEO was adamant that they will proceed with the restart, even without an entire team.
On a similar note, another five players in Spain's La Liga (which recently began individual training) have tested positive, and the English Premier League's "Project Restart" has hit a roadblock, as three players on Brighton have also tested positive. Maybe, just maybe, we're getting ahead of ourselves?
Yeah, seems like it. Are any other leagues restarting?: The MLB is talking with team owners today to discuss a potential July start featuring a modified 80-game season with a regionalized schedule (and, TBH, we're totally okay with it — we've always found the 162-game regular season too long).
And the NBA has started letting players train again, though they may not have a decision on how the regular season will proceed until June. It's been reported that once the season starts, players will be tested for COVID-19 daily, and should a player test positive and need to be quarantined, there would be no stoppage in play. Not sure how we feel about that.
🏆

A little louder for the people in the back

May 07, 2020
MATT SLOCUM/AP
The GIST: On Monday, we said we were so sick of the holier-than-thou student athlete culture, after seven women sued the NCAA for failing to protect them from alleged sexual assaults by male athletes. Turns out the NCAA is finally sick of it, too. That, or they're also GISTers.
Good! Okay, start from the beginning: About five months ago — thanks to some excellent investigative journalism — a report known as the "Predator Pipeline" was released. The exposé revealed that college athletes are implicated in an outsized share of campus sexual assaults. And that at the time, nothing in the NCAA's 440-page rulebook stopped those found responsible for sexual or violent misconduct from competing. SMDH.
But it gets worse. The piece also revealed that even when an athlete was expelled or criminally convicted of sexual offenses, athletes easily transferred to other NCAA schools, often recruited by other coaches, and returned to their sport within a year or less.
Got it — hence the "Predator Pipeline": Exactly. These athletes could go from school to school to school and repeatedly offend along the way, as the NCAA had no personal conduct policy and no specific penalties for those who committed sexual assault. And apparently, despite being well aware of the issue for years, the NCAA Board of Governors even resisted pressure from US senators to fix it.
So what is the NCAA going to do about this?: Now, the NCAA is saying that athletes must annually disclose acts of violence that resulted in an investigation, discipline through a Title IX proceeding or criminal conviction. And if you're thinking, "How wasn't this a rule before?" we had the same response.
Jeez. So it's all fixed now?: Well, not quite. To us, this new policy is missing one glaring thing: there are still no rules that restrict the eligibility of athletes who have committed these acts. So, technically, even if a student does disclose an act, a school, in theory, could turn a blind eye and allow them to play.
The new policy puts a big onus on the schools and the athletes themselves, and the NCAA, as the all-seeing regulator, needs to figure out how they'll deal with the rulebreakers. Regardless, this is definitely a step in the right direction.
🏆

Squad up

May 07, 2020
ALLISON FARRAND/NBAE
The GIST: Because we all need something to make us smile right now, here's some good news about athletes working together amidst COVID-19.
Graduate Together: In honor of the high school seniors missing their graduations this year, the LeBron James Family Foundation is producing a TV special called Graduate Together: America Honors the High School Class of 2020, which will air May 16th. The special will feature athletes like LeBron and Megan Rapinoe, and former president Barack Obama will deliver the commencement speech. Oh, our hearts!
The Real Heroes Project: Fourteen pro sports leagues are joining together to honor the real heroes of the COVID-19 pandemic: healthcare workers. The collaborative initiative has players from around the world replacing their own names on their jerseys and uniforms with those on the frontline. They're the real MVPs.
🏀
🏒
🏈
⚽
Not so fast
May 07, 2020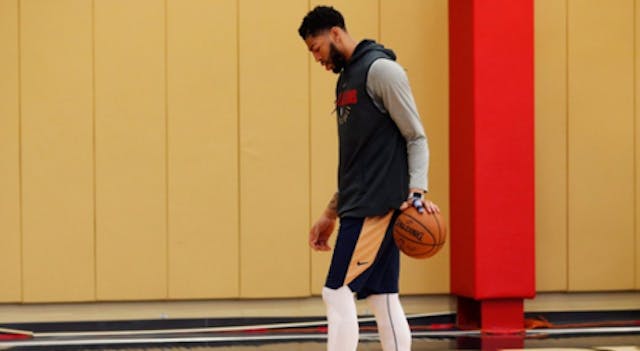 GERALD HERBERT/AP
The GIST: It's a good thing the NWSL is leading the charge, because other major leagues in North America still have a lot of work to do before they can get back on the court/ice/field/our screens.
NBA: Earlier this week, the NBA gave the all-clear for teams to reopen their practice facilities to allow for individual workouts starting tomorrow...which sounded great in theory. But when the rules of the workouts were announced yesterday, it seems very unlikely league-wide practices will begin anytime soon.
Only teams in cities with laxed restrictions can take part, and even then, teams will need to adhere to safety and distancing rules. Based on state guidelines and individual team decisions, as few as three teams plan to open their facilities tomorrow. Like we've mentioned before, this could lead to a v. unfair advantage for some teams once the season eventually restarts.
NHL: The NHL has been pretty tight-lipped lately, but this "bubble city" idea might actually work to restart the season. The plan has four North American cities acting as host cities for (maybe) the rest of the regular season and the playoffs (of which the format has yet to be announced) which would take place over the summer.
Up to 14 cities submitted a bid to host before last Friday's deadline, and each had to show that they had enough empty hotels to safely house between 600 and 1,000 people (you know, to avoid popping the bubble), and a nearby practice facility.
NFL: Although there's still a ton of time before the NFL regular season starts in September, they're not exempt from impacts of the COVID-19 pandemic. The league is currently estimating a possible loss of $3.2 billion if the season has to be played without spectators. And the international series has been canceled, which would have seen one game take place in Mexico City and four games in London. Bloody hell.
Speaking of football in Europe, at least fútbol is on its way back. The German pro league Bundesliga got the official okay from Chancellor Angela Merkel to resume the season on May 15th, and Spain's La Liga has opened training camps, so between these leagues and the NWSL, it looks like we're all going to be big soccer fans this spring.
⚽

Now back to the good part

May 07, 2020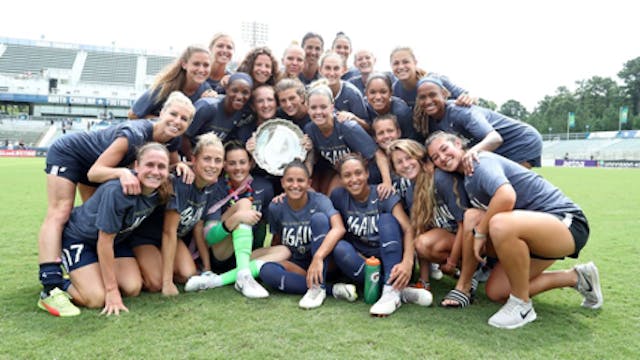 ANDY MEAD/ISIPHOTOS.COM
The GIST: The COVID-19 pandemic has proven what we've already known for a long time: women are damn good world leaders. Now the National Women's Soccer League (NWSL) is looking to prove that point in the sports world, too.
Awesome! How?: By making the NWSL the first North American league to safely start up again since the whole world basically stopped back in March. The 2020 NWSL season was supposed to start on April 18th before being pushed back indefinitely. But yesterday, the league began the first phase of its "Return to Play Phased Protocol," allowing players to take part in voluntary, individual workouts in team practice facilities.
The league is still holding off on team practices, but plans to start training camps on May 16th. If all goes well, we could see games start back up (without fans in the stands, of course) by the last week of June. Thank goodness.
So great. Why aren't all the leagues doing this?: While other major leagues are mostly made up of 20-plus teams, field international players and hold games across the US-Canada border, the NWSL has only nine teams with mostly American rosters, all located in the US, making it a good starting point to get the sports world turning again.
And because we're all about silver linings, we can't help but think of what a great opportunity this could be for women's sports. With other pro leagues in North America still working on contingency plans, the NWSL has the chance to fill the gaping hole in sports networks' broadcast schedules and sports fans' hearts. We're so here for this.