🎾

Silver linings playbook

April 23, 2020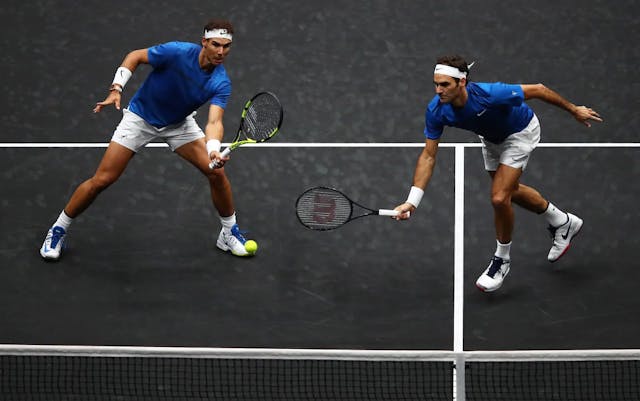 SOURCE: TELEGRAPH/GETTY IMAGES
The GIST: Something good has to come out of this awful pandemic, and tennis legend Roger Federer has the perfect idea: merge two professional tennis associations to make one supreme powerhouse.
Sweet. What's the current setup?: Professional tennis currently has two governing bodies: the Association of Tennis Professionals (ATP) for the men and the Women's Tennis Association (WTA) for the women. These two organizations run pretty differently, with different ranking systems, regulations, schedules and, of course, revenue (we'll let you guess who makes more…).
So what does Federer propose?: One governing body to oversee all professional competition. In a series of tweets, Federer explained that merging the two organizations would help fans better follow and understand pro tennis.
By merging, men's and women's tennis would follow the same schedule and ranking systems, and would allow for a more balanced marketing and media presence for each. For a sport that's already leading the way in gender equality, this sounds like a no-brainer.
Could this actually happen?: We certainly hope so. Federer has apparently already spoken to his best friend/rival Rafael Nadal about this, and their idea quickly gained backing from fellow players Garbiñe Muguruza, Simona Halep and the legend herself, Billie Jean King (who's been calling for this since forever).
Not only are Federer and Nadal two of the greatest players of all time, but they're also members of the ATP Players Council and have very powerful voices in the tennis world. If anyone can make it happen, it's these two...and probably Serena Williams.
🏈

Sure know how to pick 'em

April 23, 2020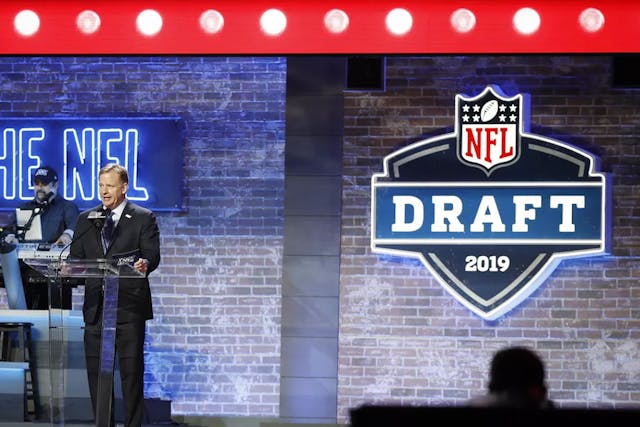 SOURCE: FREDERICK BREEDON/GETTY IMAGES
The GIST: After the WNBA showed us how it's done, it's time for the NFL to step up to the challenge. It's Virtual Draft Day!
Okay wait, what's a draft again?: A player draft allows a professional league's teams to select the best eligible amateur players to add to their rosters. In the NFL Draft, all 32 teams have one pick in each of the seven rounds (unless they traded them), and the eligible player pool is mostly made up of college players.
Usually the NFL Draft takes place live in a centralized location, with athletes, fans and team executives attending the three-day event. This year's Draft was originally set to take place in Las Vegas, with draft picks arriving by boat across the famous Bellagio fountain and 750,000 fans expected to attend. A low-key affair.
But now...?: They're going digital. The Draft will be broadcast live from NFL Commissioner Roger Goodell's basement (seriously) in New York, with athletes and teams joining via Microsoft Teams and Zoom, from their respective homes across America.
The NFL did a practice draft earlier this week to work out any technical glitches, and while it got off to a rocky start, everything seems to be in tip-top shape for tonight's primetime event at 8 p.m. ET. Let's just hope for a strong WiFi connection.
Fingers crossed. So who's up first?: That honor goes to last season's worst team, the Cincinnati Bengals, who are projected to take QB Joe Burrow first overall. Burrow was the star QB for Louisiana State University (LSU) for two years and won last season's College Football National Championship after being named the Heisman Trophy winner (aka the best college football player).
If/when the Bengals pick Burrow, he'll become just the third player (the others being Cam Newton, who was drafted in 2011 and Jameis Winston, who was drafted in 2015) this century to win the Heisman, National Championship and go first overall in the Draft. Now there's a fun fact if we've ever seen one.
🏈

Thank you for being a friend

April 23, 2020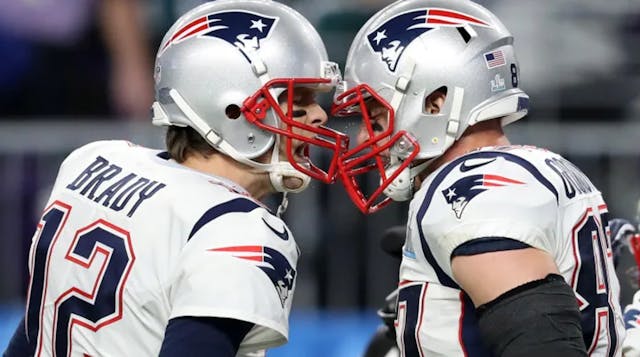 SOURCE: MATTHEW EMMONS/USA TODAY SPORTS
The GIST: New England Patriots fans, you might want to skip this one. Beloved former Pats tight end Rob "Gronk" Gronkowski has joined his quarterback (QB) bestie Tom Brady as the newest member of the Tampa Bay Buccaneers. Look out, Florida!
What?! I thought he retired?: Yeah, same. Gronk was drafted by the Patriots in 2010 and spent his career in New England until he retired last March. At just 29 years old, his retirement was a pretty big shock to the sports world.
That said, Gronk suffered numerous injuries during his career, which took a toll on his mental health. After retiring, Gronk became an NFL analyst for Fox Sports and signed a contract with WWE, where he recently won the WWE 24/7 Championship.
So why is he back?: That's the power of Brady, baby. The legendary QB created his own shockwaves when he signed with the Buccaneers in March, after 20 seasons and six Super Bowl wins with New England.
The Bucs have solid wide receivers, but Brady's always best when he has a tight end he can trust. Gronk and Brady won three Super Bowls together, and if Gronk can get back into playing shape by the time the season starts in September *knock on wood*, we think this dream duo can make it four.
🏀

Becky with the good hair

April 20, 2020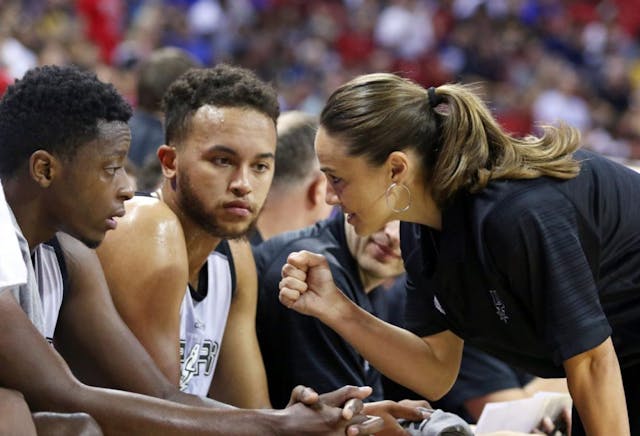 SOURCE: RONDA CHURCHILL/AP
The GIST: April was supposed to be one of the best months for sports: the MLB would have been in full swing, the MLS and NWSL would have been kicking it into high gear, the NHL would have dropped the puck on their first round of playoffs and the NBA postseason would have tipped off on Saturday. So, in honor of the NBA playoffs that would have been, we're giving #thegist on female coaches in the NBA.
The background: Without a doubt, the NBA is the most gender-inclusive pro men's sports league. Thanks to leadership that has always valued building the most diverse environments, the NBA touts: the most female majority team owners, the most women serving as team president/CEO at seven (which, BTW, is more than all other men's pro sports leagues combined) and the highest number of women serving as full-time coaches at 11.
On top of this, they promote and support the WNBA like nobody's business and Commissioner Adam Silver wants 50% of all new NBA ref and coach hires to be female. Yes, we're applauding too.
The first: Our OG ceiling smasher is the one, the only, Becky Hammon. After a 16-year WNBA career, the six-time All-Star became the first full-time assistant coach in NBA history when she was hired by the San Antonio Spurs in 2014. Over the last six years, she's climbed the coaching ladder and, on top of becoming the face of the female coaching movement, is now the lead assistant coach of the team. Heck yes, she is.
On top of that, in 2015 Hammon became the first-ever female head coach in the NBA's Summer League, and in 2016 became the first woman to be part of an All-Star coaching staff. Hey, now.
The girl gang: What might be more important is that Hammon became a role model and paved the way for several other women to become coaches in the NBA. Since Hammon began coaching with the Spurs, 10 women (!!!) have earned full-time NBA coaching jobs:
🏆

Empty spaces

April 20, 2020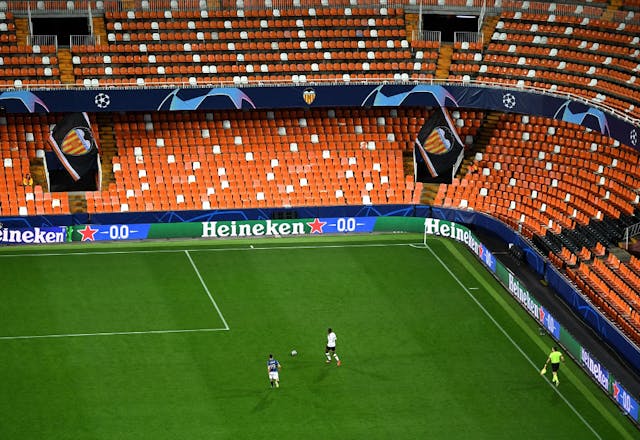 SOURCE: UEFA
The GIST: Although we're still in the thick of the COVID-19 pandemic, sports leagues around the world are seriously looking at options to start play again. The most popular plan? Games without spectators. Weird.
As long as I can watch from home…: Oh, for sure. We'll just have to wait a bit longer. As Germany eases out of lockdown, their top soccer league, Bundesliga, has already begun the process to restart the season. All teams returned to practice last Monday, with players adhering to strict physical distancing guidelines as they get back in game shape. Play is set to potentially resume in mid-May.
And over in Spain, one of the most severely impacted countries, La Liga is gearing up for its return. The Spanish pro soccer league is looking at three possible dates (the soonest being May 28th), and like the Bundesliga, all remaining matches will be played without spectators over the summer months.
Well, that's great...isn't it?: Not totally. In theory, a game without fans would cut down on tens of thousands of people gathering in one spot, which is good. On the other hand, as English professional football club West Ham CEO, Karren Brady, pointed out this weekend, it's still a dangerous option. She estimates between 300 and 500 people would need to be present for a single soccer match, including security, facilities staff, media, players and team staff.
There's also the issue of on-field injuries. If a player gets hurt in a game and needs to be taken to a hospital, medical resources could be taken away from COVID-19 patients and increase the risk for the player to contract the virus while in hospital. Not ideal.
Ah, makes sense. Is it just soccer?: Nope. Tennis, too. Serena Williams' coach Patrick Mouratoglou is starting Ultimate Tennis Showdown, an independent league where players will face off in a controlled environment (i.e., no fans) at his tennis academy in France. And tennis star Rafael Nadal is also getting in on the fun, inviting fellow pros to his academy in Spain to train for the upcoming season and compete against each other for practice (and our television viewing enjoyment!).
On top of that, Nadal is joining forces with the rest of the Big Three of men's tennis as they look to help their fellow ATP players. Nadal, Roger Federer and Novak Djokovic (pronounced JOKE-OH-VITCH) have proposed a relief fund, encouraging top ranked players to donate money to help affected lower ranked players. You love to see it!
And what's happening here in North America?: Money's a bit tight over here. The NBA and NBPA (the National Basketball Players Association) came to an agreement to reduce players' twice-monthly paychecks by 25% starting May 15th, with the funds being held until a decision about the season is made.
The NHL has decided to hold off another month on making any pay decisions, deferring the final paycheck of the year and giving themselves time to maybe (hopefully!) reschedule the remainder of the season instead of canceling outright. Crossing all our fingers and toes!