⚽

Last man standing

March 30, 2020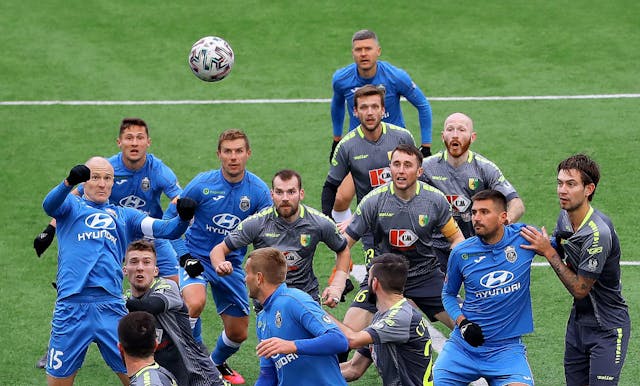 The GIST: Looks like there's only one country in the world that is completely ignoring social distancing suggestions, and like the true soccer, or shall we say, football-obsessed Europeans they are, have still allowed their professional soccer league to operate.
You're kidding. What country?: Belarus, a small eastern European country of 9.5 million people. They currently have 94 confirmed cases of COVID-19, but that doesn't seem to bother their president Alexander Lukashenko, who said last week that vodka, farmwork and saunas are the best pandemic prevention. Science.
Without a mandate from their leader, the country is continuing with business as usual, which includes filling up soccer stadiums for Vysheyshaya Liga, the Belarusian Premier League.
Isn't that dangerous?: Yes, incredibly. All other soccer leagues in Europe have suspended their seasons due to the pandemic, leaving the Belarusian league as the only professional sports league on the continent that is still actively playing matches.
The teams are taking some precautions though. Before entering the stadiums, which hold anywhere from 1,500 to 22,000 attendees, fans are screened for symptoms including fever, and some wear masks. Still seems super sketchy to us.
Surely they can't keep playing...: We wouldn't be so sure. The president staunchly believes "there are no viruses here" (uh, but there are though) and in the few weeks since literally all other sports were put on hold, the Belarusian league has signed TV rights in at least 10 different countries to broadcast their weekly games. Oh, capitalism.
With all that TV money flowing in and a pandemic-denier in charge, it looks like sports fans desperate for a fix will be FC Dinamo Minsk supporters before we know it.
🏆

Oh no she better don't!

March 30, 2020
The GIST: The coronavirus has crossed a line in sports. First it came for our players, and then our coaches, managers, arena staff and team owners. But now it has come for our lord and savior NBA analyst and ceiling smasher Doris Burke and we are not okay with it.
Not Doris!: Yes, Doris. During Friday's episode of The Woj Pod, the ESPN personality revealed that she had tested positive for COVID-19 after falling ill on March 11th. Her symptoms included extreme fatigue and headaches, and she's been in self-isolation for nearly two weeks.
Do any other sports folk have COVID?: The Colorado Avalanche said on Saturday that a second player has been diagnosed, and the Ottawa Senators' play-by-play announcer Gord Wilson, who was on a roadtrip with the team when the NHL season was suspended, also tested positive. The owner of the New York Knicks and New York Rangers, James Dolan, has it too.
Awesome. Any more good news?: But of course. Los Angeles Clippers owner Steve Ballmer and his wife Connie Ballmer are pledging $25 million for COVID-19 relief funds as well as vaccine research, despite Ballmer predicting that his team will lose around $10 million during the season suspension. Now this is what we're talking about!
Yes! Gimme more!: Over in Italy, soccer superstar Cristiano Ronaldo, coach Maurizio Sarri and the rest of the Juventus squad have agreed to give up four months' wages, allowing the team, which plays in one of the hardest hit areas in the world, to save €90 million. Ronaldo has already donated €1 million to pandemic relief in his home country of Portugal.
⚾

There's no crying in baseball!

March 26, 2020
The GIST: If you can believe it, the 2020 Major League Baseball (MLB) season was supposed to start today, but due to the COVID-19 pandemic, the season has been postponed until mid-May at the earliest. Sad. So to fill your baseball void, we're here to give a brief history GISTory lesson on women in baseball. Hell yeah, baby.
The 1800s: It may come as a shock, but organized women's baseball first got its roots all the way back in 1866 when Vassar College formed two teams. Many other colleges followed suit, but due to backlash from the public saying that playing baseball was "unladylike," these teams were shut down within a handful of years. *rolls eyes*
And thanks to those organized teams pushing the boundaries, the first paid professional women's teams — the "Blondes" and the "Brunettes" (very original) — were formed in 1875 in Springfield, Illinois. But for the same reason mentioned above, these teams were forced to fold relatively quickly too. Bummer.
The 1900s: Let's fast forward to WWII. With many men away at war, there was space for women to thrive in traditionally male-dominated fields, including — you guessed it — sports. If you've watched the classic 1992 film A League of Their Own (and if you haven't, add it to your isolation watch-list) you're probably familiar with the All-American Girls Professional Baseball League (AAGPBL) which was founded in 1943.
Though it was a women's league, the AAGPBL was founded by former Chicago Cubs owner Philip K. Wrigley (yes, that Wrigley) and men still owned and managed the teams. As you can imagine, there was no shortage of sexism, as Wrigley was once quoted saying, "Femininity is the keynote of our league; no pants-wearing, tough-talking female softballer will play on any of our four teams." If only he could see us in our sweats today.
That said, the league lasted for 12 years and saw over 500 women hit the diamond. And, at the height of its popularity, the league saw almost 1 million (!!!) in attendance. Who said people don't watch women's sports? Unfortunately, the end of WWII and the re-establishment of a men's professional league led to the demise of the AAGPBL.
The 2000s: Although softball is the most popular bat and ball sport for women in North America and there's no pro baseball league, the women who preceded us paved the way so that we can play, coach and talk about America's pastime. Some women we bow down to today are:
Alyssa Nakken: In January she became the first female full-time head coach in the MLB after being hired by the San Francisco Giants.
Jessica Mendoza: Five years ago, she became the first female MLB analyst and in March 2019 she became the New York Mets senior advisor to the general manager.
Mo'ne Davis: In 2014 she became the first girl to earn a win and to pitch a shutout in Little League World Series history. She's currently playing softball at Hampton University.
🏆

Good as hell

March 26, 2020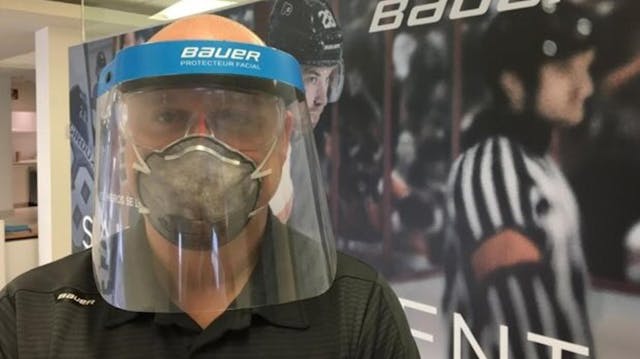 We salute you: The Vancouver Canucks put a hockey spin on the growing movement to salute healthcare workers. While Spaniards and Italians are continuing their nightly displays of gratitude, the Canucks are encouraging their fans to join them for a daily stick tap at 7 p.m. Just give it a little tap, tap, taperoo!
Take my money: Over a hundred athletes and sports organizations have joined Athletes for COVID-19 Relief, which is collecting and auctioning off sports memorabilia to raise funds for the Center for Disaster Philanthropy, and others, such as tennis legend Roger Federer and European soccer coach Pep Guardiola, are pledging huge (like 1 million euros huge) monetary donations to help other relief funds around the world.
Suit up: Hockey equipment manufacturer Bauer is in the PPE (personal protective equipment) business now. With no immediate demand for hockey garb, Bauer is repurposing its resources to make protective visors for medical staff. They're planning on pumping out 2,000 visors a day. So awesome.
Quid pro quo: Sportscaster Joe Buck is using his voice for good. In an attempt to stay in mid-season form, the commentator is doing play-by-play of random videos that fans are sending him on Twitter. The catch? If Joe picks your video, you have to pledge to donate to a charity. A good laugh for a good cause!
🏆

Bad for business

March 26, 2020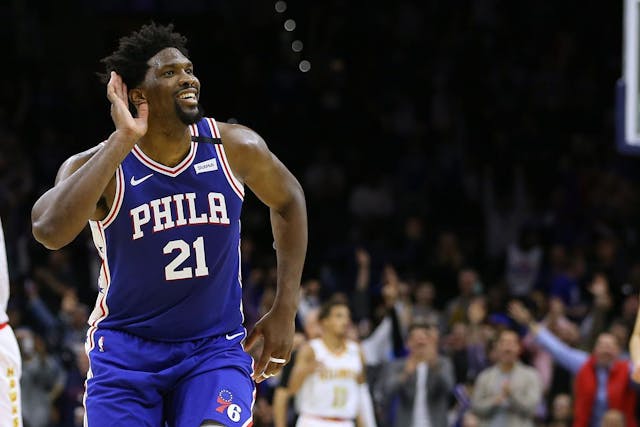 The GIST: During wars and recessions, the sports industry usually remains pretty status quo. Turns out the only thing that's bad for sports business is a global pandemic. Who woulda thought?
How are the leagues dealing with it?: They're doing their best. The NHL decided to cut front office staff salaries by 25% starting on April 1st in order to prevent layoffs. Not an easy decision, but it's definitely the lesser of two evils. The league is preparing to lose anywhere from $500 million to $1 billion when this is all said and done.
Meanwhile, after the NBA's trouble with China back in October, the NBA was already at risk of losing hundreds of millions of dollars before COVID-19 reared its ugly head. Now they're looking at nearly $1 billion in losses, and though we haven't heard about any front office layoffs yet, the rumor mill says it won't be long.
And the teams?: Sadly, NBA and NHL teams are also starting layoffs as the seasons suspensions wane on. Groupe CH, who own the Montreal Canadiens, cut 60% of their staff temporarily, but have pledged $6 million for a staff assistance fund. And on Monday, Harris Blitzer Sports and Entertainment (HBSE), the organization that owns the New Jersey Devils and Philadelphia 76ers, also said they'd be requiring employees making over $50,000 to take up to a 20% pay reduction.
So how will the seasons look when sports start again?: Because we're still waiting to see how this pandemic will pan out, we don't really know. However, rumor has it the NHL has reached out to teams about ice availability in August, meaning we could see late summer playoffs (weird, right?). They're hoping to make a call on the season around April 6th and they'll also have to reschedule the draft, which they just postponed yesterday.
Apparently, the NBA has said it'd be fine playing into September (which isn't as weird); however, Dallas Mavericks owner (and everyone's favorite Shark Tank shark) Mark Cuban thinks they could be playing as early as mid-May (in empty arenas, but still).