🏅

Next thing you know, I'm big in Japan

February 10, 2020
The GIST: This weekend, Team Canada qualified for not one, but two huge spots at the 2020 Tokyo Summer Olympics, and TBH, we can't say we're surprised.
Explain, please!: You got it. First, our women's national soccer team clinched an Olympic spot by winning their semifinal match in the CONCACAF Olympic Qualifying tournament (reminder: the top two teams in the tournament qualify for Tokyo 2020). They beat Costa Rica 1–0, with our fave 18-year-old Jordyn Huitema (pronounced HEIGHT-AH-MA) scoring the game's lone goal. It wasn't much, but it was enough!
That set the stage for the CONCACAF final yesterday, where we were treated to our favourite thing ever: a Canada-USA final. Although the Americans took it 3–0 and get to keep the bragging rights for now, we'll hopefully see them for a rematch in Tokyo.
And the other Olympic spot?: Over in Belgium, our Canadian women's basketball team was playing in a FIBA Olympic qualifying tournament. All they had to do was win two of their three games to qualify, but like the absolute queens they are, they swept the tournament, dominating their games against Belgium, Sweden and Japan.
Canada's currently ranked No. 4 in the world, and after this strong showing, we're thinking this crew could bring home some serious Olympic hardware.
🏆

All the fun stuff

February 06, 2020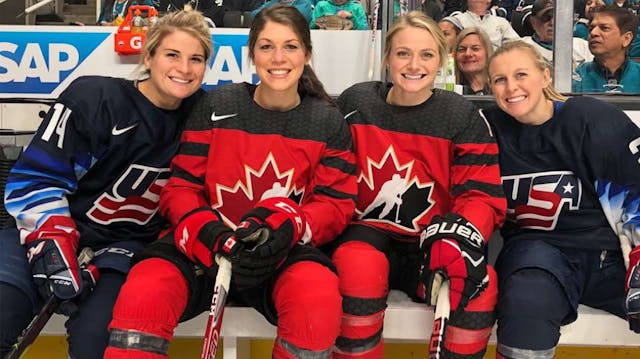 Women's hockey: The Rivalry Series, a five-game series featuring the US and Canada national teams, continued last night, with Team USA winning the series three games to one. Whomp whomp. On the bright side, they're still playing the fifth and final game on Saturday night because Saturday night's alright for fighting.
NHL: Washington Capitals star forward and captain Alexander Ovechkin is once again proving why his nickname is "Alexander The Great". In the last six games, he's recorded three hat tricks and has scored 14 goals since January 13th — the same amount of goals the entire Calgary Flames team has scored over the same period. At the pace he's at, he'll likely score his 700th career goal this weekend. Hope we didn't jinx it.
Raptors: Can't stop, won't stop. The Toronto Raptors have officially set a new franchise record, winning 12 straight games. Last night's game against the Indiana Pacers looked dicey, with the Raps down by 15 points at the half, but a late game comeback gave them just enough to keep us on the edge of our seats and beat the Pacers 119–118. Now, on to the next one!
Baseball: The Boston Red Sox made a crazy huge trade in a three-team deal with the LA Dodgers and Minnesota Twins on Tuesday, trading away one of their best players, Mookie Betts, and one of their most expensive, David Price, to the Dodgers.
The BoSox traded these studs to avoid paying a "luxury tax" for the third straight year. And, given the Dodgers are looking to go all-in for a World Series win this season, LA was the best landing spot.
🏅

Tokyo 2020 get at us

February 06, 2020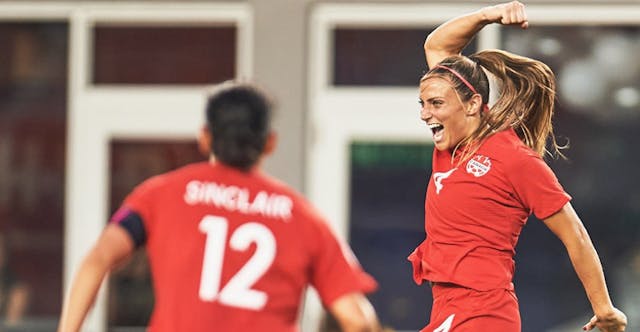 The GIST: We're less than six months away from the Tokyo 2020 Summer Olympics. And you know what that means? It's Olympic qualifier season, baby!
Sweet! Who's up first?: That would be our women's national soccer team, currently competing in the CONCACAF Olympic Qualifying tournament. They absolutely dominated in the group stage, winning all three matches and outscoring their opponents 22–0. Having swept their group, Canada will now face Costa Rica in tomorrow night's semifinal at 7 p.m. ET.
This is a must-win match, because the winners of the semis book their ticket to Tokyo. Not, not anxiety-inducing.
You're telling me. Do we have a good chance to win?: Well, Costa Rica won two of their three group stage matches, but Canada is still expected to take this one. *knocks on wood furiously*
In the other semifinal, Mexico is taking on the United States, who, as reigning FIFA World Cup champions, are also expected to win, setting us up for an always-fun Canada-USA final. Can't. Wait.
Got it. Anyone else qualifying?: Yep — our women's national basketball team.They're competing in one of the four FIBA Women's Olympic Qualifying tournaments taking place this weekend. Canada is in a group with Sweden, Belgium (where the tournament is being played) and Japan (who already qualified for the Olympics as the host nation).
The tournament consists of three games for each team, with two Olympic spots up for grabs. So, all Team Canada needs to do is finish the tournament with a better record than Sweden or Belgium. And, as the fourth-ranked team in the world and rocking those sweet new OVO jerseys, we'd say things are looking pretty good.
🏀

Trading places

February 06, 2020
The GIST: It's trading season! And no, we're not talking about trading stocks. The NBA trade deadline is today at 3 p.m. ET.
Remind me, what's a trade deadline?: It's the last time in a season that teams are able to trade players. That said, teams are still allowed to sign free agents.
And why does it exist?: To encourage competition and keep competitive balance among teams before playoffs start in April. By February teams kind of know which teams will likely be in the playoffs (like the Milwaukee Bucks), which teams are on the cusp (like the Memphis Grizzlies), and which teams won't make it (like the Cleveland Cavaliers). So today, expect some trade activity as playoff-contending teams try to add some top talent for their playoff push.
Got it. Who's been traded already?: After days of speculation, on Tuesday, the Houston Rockets pulled off a mega-deal involving four (!!!) different teams. Houston moved starter Clint Capela and Nene Hilario to the Atlanta Hawks and Gerald Green to the Denver Nuggets. In return, the Rockets received Robert Covington and Jordan Bell from the Minnesota Timberwolves.
The Nuggets also received three other players and the Wolves acquired four, bringing the number of total players traded to 12. Talk about dizzying.
Anyone else?: Former Golden State Warrior turned Memphis Grizzly Andre Iguodala (pronounced EE-GOO-DA-LA) is officially heading to Miami to play with the Heat, with Memphis getting Justise Winslow in exchange. Iguodala hadn't played for the Grizz all season as he was holding out to be moved to another team.
Actually though. The 36-year-old veteran has been living in California (not close to Memphis) and was willing to miss the entire season if he wasn't traded, which obviously rubbed his teammates (especially star rookie Ja Morant) the wrong way. Drama.
Wow. So what can we expect today?: A new-look NY Knicks squad. Sitting at 13th in the Eastern Conference, look for them to send a couple of players packing in return for some future prospects.
🏈

Comeback Kings

February 03, 2020
The GIST: For the first time in 50 years, the Kansas City Chiefs are Super Bowl champions after defeating the San Francisco 49ers 31–20 last night in Miami!
Quick, fill me in: It was a pretty close, nail-biting, back-and-forth game that came down to the wire. The San Francisco 49ers held a 10-point, 20–10 lead heading into the fourth quarter (thanks to star running back Raheem Mostert's touchdown) and looked like they had the win within their grasp. But, as we know, no lead is ever safe.
After throwing his first two career postseason interceptions, Kansas City quarterback Patrick Mahomes bounced back and led his team to 21 unanswered points in the fourth quarter to get the win. In every postseason game this season, Kansas City came from behind to win, solidifying Patty as the ultimate comeback kid. There's truly no give up in this guy.
So, was he the best player last night?: We think so. Mahomes' heroics made him the youngest quarterback to win a Super Bowl and the NFL MVP award (which he won last season). If that's not a reason to go to Disney World, then we don't know what is.
Wow! Anything else?: The real MVP should go to KC's head coach Andy Reid, who ended the streak of most career wins without a Super Bowl title (at 221, wild) and finally got a well-deserved Gatorade bath after 21 years as an NFL head coach. Doesn't get any better than that, baby!