⚽

Let's get this bread

June 25, 2020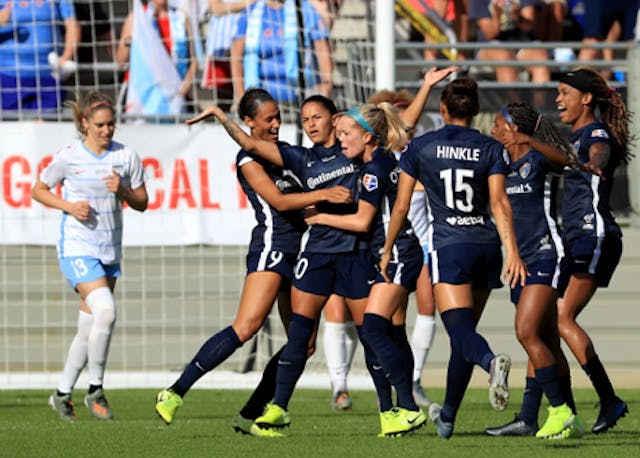 STREETER LECKA/GETTY IMAGES
The GIST: The moment we've all been waiting for has almost arrived: North American pro team sports will finally be back in action on Saturday, thanks to the NWSL. As they say, ladies first.
So stoked! How are they coming back?: Instead of a normal 24-game regular season, the league is hosting the Challenge Cup. The eight-team tournament will take place in Salt Lake City, Utah, and all players, team staff and officials will live, practice and play in a "bubble," between two hotels and two stadiums around Salt Lake.
The tournament, which starts Saturday, has a similar format to the World Cup. It will start with a group stage (two groups, four teams each) to decide seeding for the knockout stage, set to begin July 17th. All matches will be closed to spectators but will be broadcast live on CBS All Access.
Wait, I thought there were nine teams in the NWSL?: Oh, there are. Unfortunately, earlier this week, the Orlando Pride had to withdraw from the tournament after six players and four staffers tested positive for COVID-19. Such a bummer.
Whoa — that's a big deal. Any other soccer news?: FIFA is expected to announce the host country of the 2023 FIFA Women's World Cup today. Australia and New Zealand put forth a joint bid and are the favorites to host over Colombia. Japan was also in the mix, but they pulled themselves out of contention earlier this week. We're thinking the Tokyo 2020 Olympics is probably leaving a bad taste in their mouth.
⚽

⛳

🎾

⚾

Baby come back

June 11, 2020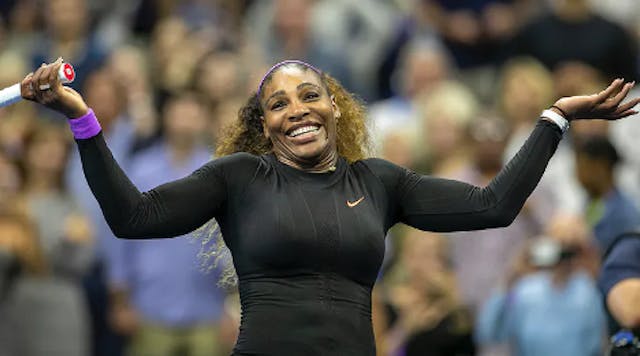 TIM CLAYTON/GETTY IMAGES
The GIST: Like we said, sports are coming back...but not all sports...yet! This week has seen some positive steps forward, a few setbacks and yet another proposal to salvage the baseball season (spoiler alert: it's not looking promising).
Start with the good news: Will do. The MLS confirmed their plans for a tournament to start the season. The month-long "MLS Is Back" tournament, clearly inspired by the Backstreet Boys, will begin on July 8th in Orlando, Florida, and will feature all 26 teams. The winning team will earn a 2021 CONCACAF Champions League berth, and the regular season will continue with a revised schedule that is TBA.
And the setbacks?: Speaking of golf, the LPGA has lost one of its five majors. The Evian Championship, held annually in France and originally set to start on August 6th, has been canceled, with officials citing travel concerns during the COVID-19 pandemic as the main reason.
The US Open (the tennis one, not golf) is considering moving the tournament from NYC to California or Florida (even though Florida's COVID-19 numbers are rising) and most Canadian fall semester varsity sports have been canceled. Meanwhile, the NCAA is trying to adapt.
Okay, I'm ready. Tell me about the MLB: Oh boy. In an attempt to start the 2020 season, the MLB and the MLB Players Association (MLBPA) have been lobbing proposals and counter-proposals back and forth for the last month with little success.
While back in the MLBPA's court (sorry for the mixed sports metaphors), on Tuesday they proposed an 89-game regular season, an expanded 16-team postseason and "broadcast enhancements," including having players mic'd up during games. Are you not entertained?

But the issue is, and always has been, the players' salaries. The players are proposing prorated salaries, but the teams say they don't have the money (each game without fans can lose a team about $640,000). Moral of the story: we don't feel good about this counter-counter-counter-proposal's chances.
🏀

🏒

⚽

⛳

It's all comin' back to me now

June 08, 2020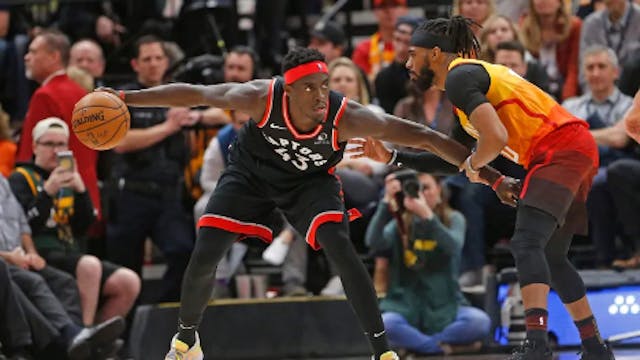 RICK BOWMER/AP
The GIST: If you made plans for the summer (audacious move), cancel them now. With the NBA finally making their return-to-play Facebook official, our summer lineup is set.
When will the NBA return?: Thanks to the NBA players association approving the NBA's restart plan, Friday, July 31st is the magic date. The final schedule is still TBD, but 22 of the league's 30 teams will take part in the restart.
To prep for the big day (TBH, not that different from a wedding day), one-week training camps will begin on June 30th at each team's home facility before everyone travels to Disney World on July 7th.

Then the 22 teams will play eight "seeding games," with postseason entry determined by winning percentage and tiebreakers. Let the 53-day countdown begin!
Any WNBA news?: Rumor has it they're hoping for a July 24th start date. The league has apparently proposed a shortened regular season with just 22 games (instead of 36), which would all likely take place in Florida (although Vegas is still an option).
Now it's up to the players union to decide if the proposal is financially and logistically feasible. Keep your ears to the ground.
What about the NHL?: They're gunning for a late July or early August start date, and to help make that possible, the league is transitioning to Phase 2 of their Return To Play plan today. This phase will allow players to return to their home facility and take part in voluntary on- and off-ice practices in groups of up to six. A stride in the right direction.
Phase 3 of the plan involves opening training camps and Phase 4 includes finishing the regular season, a seeding tournament and ensuring the Stanley Cup Playoffs go off without a hitch.

Speaking of hitches, there are two: the league and the players association still have to figure out roster sizes and pick two "hub" cities.
What else can I watch this summer?: Lots of soccer. The NWSL's month-long return-to-play tournament, the Challenge Cup, starts on June 27th in Salt Lake City, Utah. And players are praising their league for consulting with players who are also mothers to learn how to best accommodate their children while the teams live in nearby hotels. About it.
But much to the chagrin of the league, her team and her coach, there is one key player who won't be participating: superstar Megan Rapinoe. All the power to her.
Meanwhile, the MLS is looking at an early July start date, Spain's La Liga begins this Thursday and the English Premier League starts next Wednesday. The PGA Tour also returns Thursday with the Charles Schwab Challenge.
🏆

⚽

🏀

Quick hits

June 08, 2020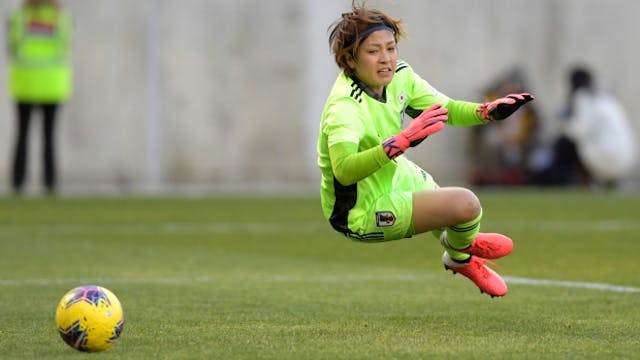 SAKIKO IKEDA, THE CANADIAN PRESS
Start the show: Japan's new women's professional soccer league has a name! Last week, the WE League, which stands for Women Empowerment (um, love), was officially approved by the country's soccer federation. They plan to begin play in 2021 and field six to 10 teams in the inaugural season.
While no teams have been announced yet, the soccer federation has decided that teams will need to have an executive suite and staff of at least 50% women to gain entry into the league. Here for it.
Stay awhile: NBA star rookie Zion Williamson has been granted a temporary stay (legal jargon for a pause in the proceedings) in his ongoing legal battle with his former agency. The agency, Prime Sports Marketing, is suing Williamson for breach of contract and has been trying to get Williamson to admit on record that his parents illegally accepted money and benefits.
The temporary stay means Williamson won't have to answer any of the agency's questions for the time being. Interesting.
Out on top: MMA and UFC star Conor McGregor has retired...for a third time. Late Saturday night, the Irishman tweeted the announcement, crediting the offers of "stupid fights" and a lack of excitement as his latest reasons for retiring.
McGregor won his last UFC match in January (almost a year after his second "retirement") in just 40 seconds and planned on fighting twice more in 2020 to prove he's still competitive in the sport that he's dominated for the past seven years. Seems a little "boy who cried wolf" to us.
🏈

⚽

🏆

Be the change

June 04, 2020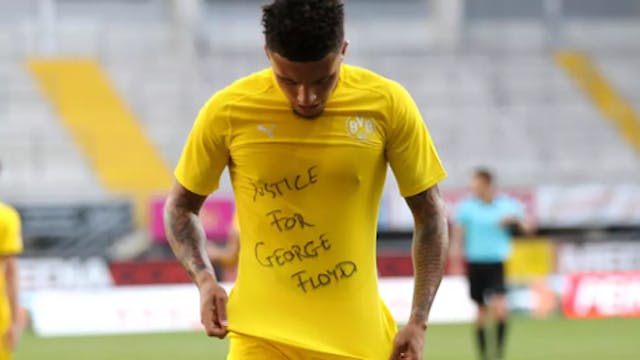 LARS BARON/AFP
The GIST: While athletes' voices are powerful on their own, backing from teams and strong action taken throughout organizations are imperative if we want to see real and necessary change driven by sports.
What soccer is doing: Germany's Bundesliga, one of the only major leagues currently playing, saw four players publicly show their support during matches last weekend. One of the players, Borussia Dortmund star Jadon Sancho, received a yellow card after taking off his jersey (a no-no) to reveal a handwritten "Justice for George Floyd" message on his undershirt.
FIFA (soccer's highest governing body), thankfully, was having none of that. In a unique official statement, the president of FIFA, Gianni Infantino, called for Sancho to be praised instead of punished.

On-pitch activism is usually discouraged in soccer, but Infantino's statement is a powerful door-opener in a sport that battles longstanding racism. Progress, people!
How the NCAA is helping: Kevin Warren, the commissioner of the Big Ten Conference (the oldest Division I sports conference in the NCAA) has created the Big Ten Conference Anti-Hate and Anti-Racism Coalition. The coalition will partner with existing diversity councils on school campuses in an effort to empower and educate students.
Warren, who is the first and only Black commissioner of a Power Five conference (the top five conferences in the NCAA Division I), said in the official coalition announcement that "George Floyd's death cannot be in vain."
The Philly Special: While many (not all) NFL teams have made official statements regarding the Black Lives Matter movement, the Philadelphia Eagles took it a step further: Eagles chairman and CEO Jeffrey Lurie, who rarely participates in team meetings, joined a closed meeting with players and coaches for a discussion on race relations.
Lurie encouraged an open and honest dialogue between the Eagles team, which compelled players like Jason Kelce to speak out on social media.

And, Lurie also pledged to dedicate more resources to work on reform within the organization, and the team will continue to raise money for the Eagles Social Justice Fund.