⚾
🏒
🏀
Sports Quick Hits: November 19th, 2021
November 19, 2021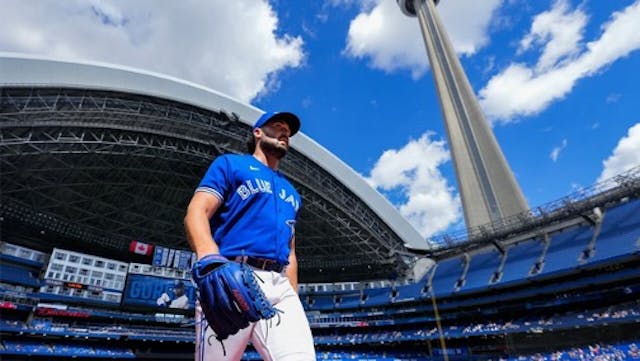 ⚾️MLB: LA Angel Shohei Ohtani might have bested Toronto Blue Jay Vladimir Guerrero Jr. to win the American League (AL) MVP, but the Jays still notched a win with Robbie Ray winning the AL Cy Young Award (given to the best pitcher in each league).
🏒NHL: Don't look now but the Toronto Maple Leafs are back to their winning ways, rattling off five straight after last night's 2–1 win over the NY Rangers. You already know the 6ix needs a sixth, and they'll have a shot tomorrow at 7 p.m. ET against the (soon-to-be sold?) Pittsburgh Penguins.
Meanwhile, Edmonton Oilers star Connor McDavid helped his squad down the Winnipeg Jets in a 2–1 shootout victory last night. That's one way to silence the haters.
🎓🏀College basketball: We're a little more than a week into the NCAA college basketball season, and a couple of Canadians are making us proud south of the border. No. 2 UConn's Aaliyah Edwards contributed nine points in just 17 minutes during the Huskies' season-opening win. And she'll be back in action tomorrow at 12 p.m. ET against Minnesota.
Elsewhere, No. 1 Gonzaga's Andrew Nembhard (who hails from Aurora, ON) played every minute of the Bulldogs' big win over then-No. 5 Texas last week. Talk about dependable.
⚽
🏒
⚾
Sports Quick Hits: November 17th, 2021
November 17, 2021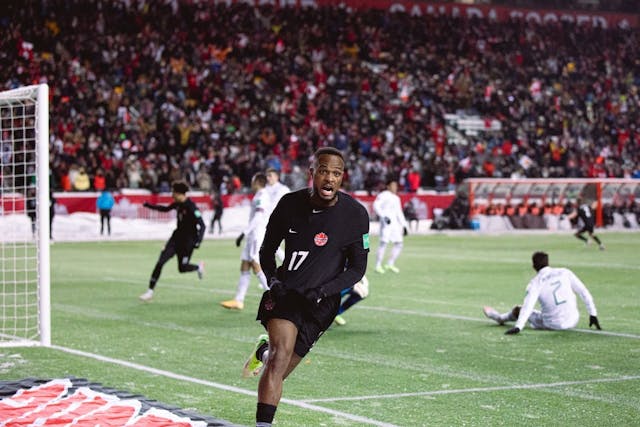 SOURCE: CANADA SOCCER/TWITTER
⚽️CanMNT: As soon as we saw the snowflakes falling ahead of yesterday's World Cup qualifier hosted in Edmonton, we knew the CanMNT would pull out the win. The home team topped Mexico 2–1, helping them move up to first place in the CONCACAF standings.
Quick refresher: the top three teams automatically advance to next year's World Cup in Qatar, and there are only six qualifying games to go. Keep your fingers crossed.
🏒NHL: It's been a terrible, horrible, no good, very bad stretch for the 4-10-1 (wins, losses, overtime losses) Ottawa Senators, and now their season is on pause for at least three games as they struggle with a COVID-19 outbreak that's landed 10 players on the COVID-19 list. Yikes.
⚾️MLB: The MLB season may be long gone, but Toronto Blue Jays ace pitcher Robbie Ray still has a chance to win big. Ray is one of three candidates for the American League Cy Young Award, given to the league's best pitcher. The winner will be announced tonight at 6 p.m. ET, and we're thinking it'll be Ray all the way, eh?
⚽
🏒
🏎
⛳
Sports Quick Hits: November 15th, 2021
November 16, 2021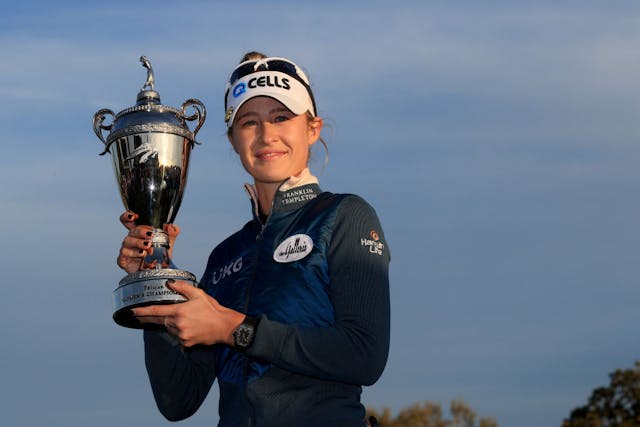 ⛳️LPGA: As if Sundays weren't scary enough, yesterday's LPGA Pelican Women's Championship went to a four-player playoff. American and World No. 1 Nelly Korda birdied the first playoff hole to claim her fourth LPGA title win of the season.
And we have to shout-out Canadian Brooke Henderson, who came in fifth, her seventh top-10 finish of the season. Proud.
🏎️F1: Mercedes' Lewis Hamilton kept his repeat world champion title hopes alive thanks to a thrilling win during yesterday's São Paulo Grand Prix. Three races remain, and Hamilton trails his archrival, Red Bull's Max Verstappen, by just 14 points. Couldn't write a better ending.
🏒Hockey: While some of the game's best women were showing out here at home, Team Canada took their talents abroad, defeating world No. 3 Finland 5–1 yesterday to sweep the three-game exhibition series. Bust out those brooms.
⚽️Soccer: Paris Saint-Germain (PSG) Féminine forward Aminata Diallo is speaking out following a disturbing attack on her PSG teammate Kheira Hamraoui (pronounced AHM-row-wee) last week. ICYMI: Diallo was arrested in connection with the attack but was later released from police custody without charge.
⚽
🏒
⚾
🏈
Sports Quick Hits: November 10th, 2021
November 10, 2021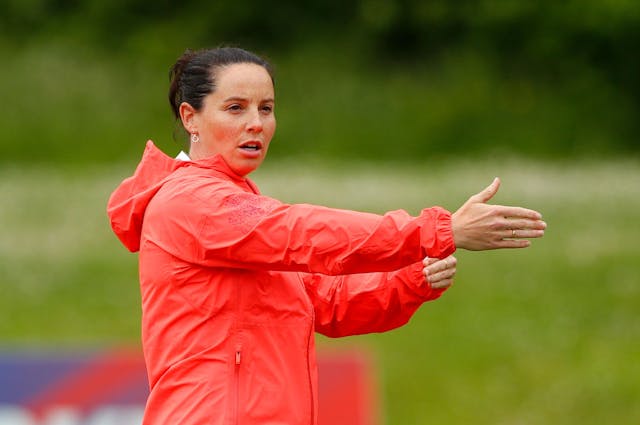 SOURCE: LYNNE CAMERON - THE FA/THE FA VIA GETTY IMAGES
⚽️NWSL: While we wait for a Canadian team, we're claiming the Portland Thorns as The North's unofficial squad. Christine Sinclair is the captain, former CanWNT goalkeeper Karina LeBlanc became their general manager last week and news broke yesterday that CanWNT defender Rhian Wilkinson will be hired as their new head coach. #SheTheNorth.
🏒NHL: More good news from the hockey world? Is that hope we feel? After being traded to the Vegas Golden Knights last week, center Jack Eichel is finally set to have disk replacement surgery — which his former team, the Buffalo Sabres, wouldn't allow — on Friday and hopes to return to the ice in three months' time.
⚾️MLB: What's better than one MVP candidate? Two MVP candidates! Blue Jays infielders Vladimir Guerrero Jr. and Marcus Semien are two of the three American League (AL) MVP finalists.
And star pitcher Robbie Ray is a finalist for the AL Cy Young Award. The winners will be announced next week, but we already have Drake's "Trophies" queued up.
🏈NFL: With (former) head coach Jon Gruden ousted in October and 2020 first-round pick wide receiver Henry Ruggs III released from the team after killing a 23-year-old woman during a horrific drunk driving accident earlier this month, the Las Vegas Raiders are facing another scandal.
The team cut 2020 first-round pick and cornerback Damon Arnette yesterday, after videos surfaced of Arnette wielding guns and making death threats. Just awful.
🏒

NHL: Is Carey Price changing hockey culture?

November 10, 2021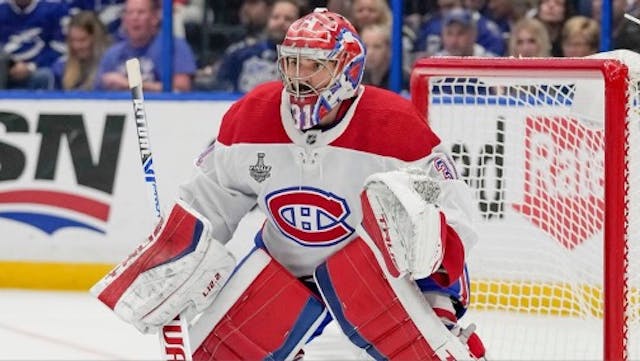 SOURCE: TSN HOCKEY/TWITTER
The background: After having knee surgery in the offseason, on October 7th, Price voluntarily entered the program, which is designed to support NHL players and families with mental health, substance abuse and other matters.
Few details were released at the time, but Price's wife did share a powerful message about the importance of prioritizing mental health.
The latest: Yesterday, Price interacted with his teammates for the first time since entering the program. He also shared a statement on why he entered the program, detailing his struggles with substance use and mental health, and saying, "asking for help when you need it is what we encourage our kids to do. And it was what I needed to do."
It will take some time for the Canadiens' star goalie to return to the ice, but Price's true leadership in sharing his story is perhaps his most impressive display yet.