🏒

Boy bye

May 11, 2020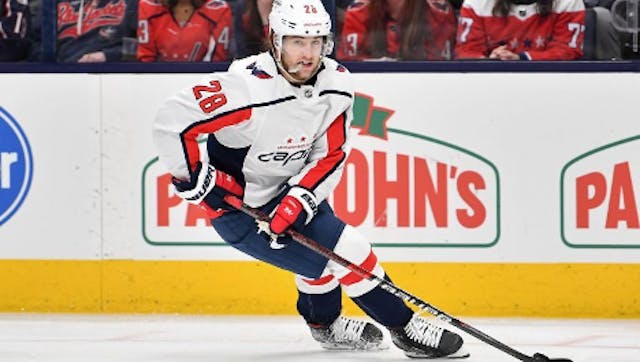 JAMIE SABAU/NHLI
The GIST: After some incredibly horrible private messages from Washington Capital Brendan Leipsic (pronounced LIPE-SIC) and other hockey players were publicly leaked last week, the NHL has found itself in a familiar position: fighting against toxic hockey culture.
What happened?: Screenshots of the private messages between Leipsic, Florida Panthers prospect Jack Rodewald and other friends showed a pattern of derogatory comments about women, including misogynistic statements about women they had dated and other NHLers' wives. Leipsic even badmouthed his own Capitals linemates.
The Capitals terminated Leipsic's contract on Friday, and the likelihood of him getting another job in the NHL is slim. His brother Jeremy was kicked off of the University of Manitoba hockey team, and the University of North Dakota began an internal investigation into another friend, Jackson Keane.
That's good, right?: Yes. We're happy the NHL took quick action in denouncing the comments, and the Capitals made the right decision by essentially firing Leipsic. In a league that has dealt with multiple accounts of racism, sexism and abuse over the past few years, decisive action is a necessary first step in fixing the problem.
I feel like there's a "but" coming…: You're right. Hockey needs a culture change. It's a big ask, and, to be fair, it will need more than just a few statements and policies from the NHL. It needs a promise to do better and be better, which includes full buy-in from players (current and former — we're looking at you, Brett Hull), fans, media and team officials, from the big leagues down to youth hockey. We have to be all in.
Here's some food for thought to leave you with: Leipsic was an expendable player. And we can't help but wonder how Leipsic's lack of star power played a factor in the Capitals' decision. If, say, captain Alexander Ovechkin — one of the greatest hockey players of our generation — had been involved, would we have seen the same reaction?
🏀

🏒

🏈

⚽

Not so fast

May 07, 2020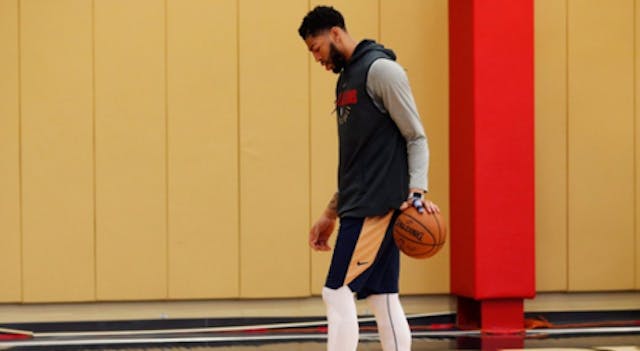 GERALD HERBERT/AP
The GIST: It's a good thing the NWSL is leading the charge, because other major leagues in North America still have a lot of work to do before they can get back on the court/ice/field/our screens.
NBA: Earlier this week, the NBA gave the all-clear for teams to reopen their practice facilities to allow for individual workouts starting tomorrow...which sounded great in theory. But when the rules of the workouts were announced yesterday, it seems very unlikely league-wide practices will begin anytime soon.
Only teams in cities with laxed restrictions can take part, and even then, teams will need to adhere to safety and distancing rules. Based on state guidelines and individual team decisions, as few as three teams plan to open their facilities tomorrow. Like we've mentioned before, this could lead to a v. unfair advantage for some teams once the season eventually restarts.
NHL: The NHL has been pretty tight-lipped lately, but this "bubble city" idea might actually work to restart the season. The plan has four North American cities acting as host cities for (maybe) the rest of the regular season and the playoffs (of which the format has yet to be announced) which would take place over the summer.
Up to 14 cities submitted a bid to host before last Friday's deadline, and each had to show that they had enough empty hotels to safely house between 600 and 1,000 people (you know, to avoid popping the bubble), and a nearby practice facility.
NFL: Although there's still a ton of time before the NFL regular season starts in September, they're not exempt from impacts of the COVID-19 pandemic. The league is currently estimating a possible loss of $3.2 billion if the season has to be played without spectators. And the international series has been canceled, which would have seen one game take place in Mexico City and four games in London. Bloody hell.
Speaking of football in Europe, at least fútbol is on its way back. The German pro league Bundesliga got the official okay from Chancellor Angela Merkel to resume the season on May 15th, and Spain's La Liga has opened training camps, so between these leagues and the NWSL, it looks like we're all going to be big soccer fans this spring.
🏒

⚾

Does that make me crazy?

May 04, 2020
BILL SMITH/NHL VIA GETTY IMAGES
The GIST: The COVID-19 pandemic is making the hockey world do some crazy things. San Jose Shark Joe Thornton shaved off his iconic beard. Montreal Canadien Brendan Gallagher is speaking French. And now the league wants to go ahead with the 2020 Draft before the regular season is even over. Weird.
How does the draft normally work?: The NHL Draft, which allows the league's teams to select from a pool of eligible players to add to their rosters, is usually held in late June, not long after the Stanley Cup is awarded.
The selection order is based on a combination of regular and postseason records, as well as a draft lottery. So in theory, the 2019–20 season would need to end before the draft order can be set.
But the regular season isn't over…: Exactly. The NHL suspended the season on March 12th and has yet to decide if it will resume the season this summer (yes, we hate to be the bearer of bad news, but cancelation is still on the table), meaning draft order can't really be determined yet.
But in an attempt to "execute a major fan-friendly hockey event during a time where there is likely to be no (or very limited) live sports competition," the league sent out a memo on Friday to outline how the unusual draft would work, ranking teams by points percentage.
Is this a good idea?: Just like most team general managers, we're on the fence. While this could really make things wonky, we appreciate the NHL trying to give us the sports fix we so desperately need.
Any other COVID-19 news?: Unfortunately, yes. The Little League World Series, which brings together youth baseball teams from around the world to compete for ultimate glory, has been canceled for the first time in its 73-year history. Guess we'll just have to watch reruns of Big Al's dingers to get us through.
🏒

Walk it like I talk it

April 30, 2020
CHRISTIAN PETERSEN/GETTY IMAGES
The GIST: As much as we all really, really, REALLY want live sports back, some players are speaking out against the proposed process for resuming play. Because players are human too.
What are they saying?: Over in the NHL, the league is proposing each team play games in one of four cities, based on their division, and that the playoffs be held in a figurative bubble, a la Bubble Boy. Heavily restricting the players' movements could see some players apart from their families for up to four months.
Montreal Canadiens' Phillip Danault said that if the NHL put it to a vote, he's not sure it would be positive for the league. It can't be easy knowing the further your team goes in the playoffs, the longer you'd be away from your loved ones.
What about other players from other leagues?: Turns out EPL soccer players might not be so stoked about their June 8th targeted return date either. A source told ESPN that a lot of players are "uncomfortable" with coming back and the league will only take things seriously if someone in the league dies. Um, let's not have it come to that, shall we?
🏒

🏀

⚽

Bring it all back now

April 27, 2020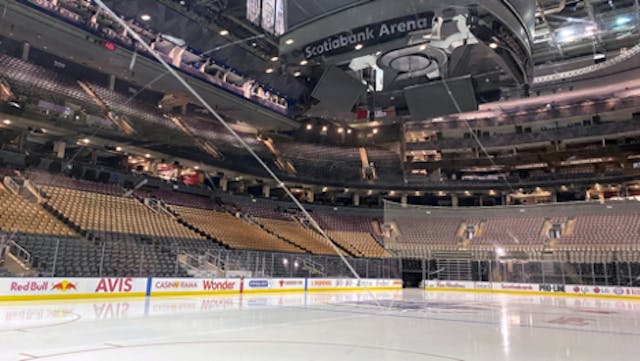 SOURCE: JOSHUA CLIPPERTON/CANADIAN PRESS
The GIST: Remember live sports? Those were the days, huh? But don't fret! While COVID-19 continues to keep us locked up for a little while longer, the major leagues are working to bring our beloved sports back.
What are they working on?: The NHL's latest idea would have each team play games in one of four cities, based on their division. The league, which along with the players' association has developed a Return to Play Committee, is still considering whether they'll play out the rest of the regular season (each team had about 12 games left) or skip ahead to a modified version of the playoffs.
These games will likely be scheduled for the summer, as rumor has it that NHL training camps will open on June 1st. That means that some players who went back to their home countries when the season was suspended (some have already begun practicing), will have to return to North America soon to complete a mandatory two-week quarantine.
Interesting. Who else is coming back?: In a serious plot twist, the NBA is going to allow some players to start practicing Friday. Players that live in cities with loosened restrictions on personal movement will be allowed to take part in voluntary, individual workouts in athletic facilities, starting May 1st. Until now, players were adhering to strict stay-at-home (i.e., workout-at-home) guidelines.
But we're not totally stoked about this. While some cities may be slowly adjusting back to "normal" life, others are still virus hotbeds. Allowing players in states like Oklahoma or Georgia, where lockdowns are being eased, to begin practicing while players in harder-hit places like New York or California are still under strict lockdown seems pretty unfair to us. As Scar would say, "Life's not fair, is it?"
Any other leagues?: The NWSL and MLS have extended their training moratoriums to May 15th, while the LPGA and PGA both have their first post-lockdown tournaments set for June 11th. And considering golf is a sport where you can actually physically distance, we wouldn't be surprised if these dates stick. No updates on potential start dates for the WNBA or MLB seasons.
What about the rest of the world?: Many European countries will begin easing lockdown restrictions next week, and since soccer is basically the lifeblood of Europe, we can look forward to some sports action from across the pond soon. In Italy, Serie A players are set to resume team training on May 18th in hopes of restarting the season in June.
Germany's Bundesliga is set to return Saturday, May 9th. And with that comes some interesting rules for players, including no...ahem, intimate relations if their significant others show coronavirus symptoms. Good luck enforcing that!